Jurassic World: Fallen Kingdom | 2018 | PG-13 | - 1.7.4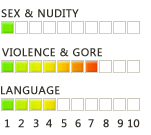 When the island from the 2015 installment of Jurassic World is threatened by a volcanic eruption and the remaining dinosaurs are threatened by imminent extinction once again, a rescue mission is planned. With Chris Pratt, Bryce Dallas Howard, Rafe Spall, Justice Smith, Daniella Pineda, James Cromwell, Toby Jones, Ted Levine, Jeff Goldblum, BD Wong, Geraldine Chaplin and Isabella Sermon. Directed by J.A. Bayona. [2:08]
SEX/NUDITY 1 - A man and a woman kiss. A clothed man and woman sleep sitting up and the woman has her head on his shoulder with her hand in his shirt opening; the man wakes up, smells the woman's hair and smiles.
VIOLENCE/GORE 7 - A man tranquilizes a dinosaur and moves into its cage to pull one of its teeth: the dinosaur awakens and attacks the man, biting his arm off (we see the arm separate and the bloody hand is swallowed by the dinosaur), the man is then attacked again and we hear crunching and activity in the background as the man screams; another man enters the cage and is also attacked (we hear yelling and crunching). A large dinosaur eats a man (we see the man's body pulled behind a display base and hear slurping and crunching. A man encounters a dinosaur that roars at him and he tries to calm it; someone off-screen shoots the dinosaur with a tranquillizer dart and the creature thrashes and attacks an armed man, biting his face (we see blood spurt and hear the man yell) before he shoots the dinosaur (we see the creature with a large bloody wound later). A man hides under a car as many dinosaurs charge out of an enclosure, the car is trampled and the man yells, it is lifted up and dropped on the man, he crawls out from under the car and is snatched into the mouth of a large dinosaur and eaten; another dinosaur pulls at the man and we see one leg separate from his body before he is chomped and swallowed by the first dinosaur (we see some blood on the limb).
► A man with a pillow moves toward another man as the scene ends and we understand that he has smothered him. A man holds a gun on a woman and shoots another man in the chest with a tranquillizer dart (he falls immobilized). A man stabs another man in the neck with a tranquilizer dart (he collapses).
► A dinosaur reaches for a young girl hiding in her bed until a man shoots it (it falls briefly) and then another dinosaur attacks the first one and they fight as the man and the girl climb along a ledge outside; they are knocked off the ledge and fall down a roof, followed by one of the dinosaurs, the girl nearly falls off the roof, the dinosaur crashes through a glass portion of the roof and it is impaled by the horns of a dinosaur on display below. A dinosaur chases and snaps at a man and a woman as they climb spiral stairs (they get away). A man runs from a large dinosaur and jumps onto a ladder attached to a helicopter to make an escape; the dinosaur grabs and thrashes the ladder causing the helicopter to be thrown around in the air until the ladder breaks and they get away briefly before a giant underwater dinosaur leaps out of the water and snatches the man on the ladder away. A large dinosaur eats a small goat chained inside an enclosure (we see the small creature in the teeth of the dinosaur).
► A dinosaur charges an elevator and when the doors open a man looks up in terror and we hear him scream (presumably eaten although we do not see the action). A dinosaur moves through a tunnel toward a man and a woman trapped in a building; the dinosaur roars and snaps at the man and the woman and lava drips on its head causing it to flinch and thrash as the man and the woman climb a ladder to the surface with the dinosaur climbing up behind and biting the man's pant leg (they close a hatch at the top and trap the dinosaur inside). A large dinosaur thrashes inside a cage and a man is pinned until he jumps through the dinosaur's open mouth as it roars and gets to safety. A creature with a mouth full of large teeth moves toward an underwater vehicle and we hear the people inside scream over a radio (we don't see them again). A dinosaur charges across the screen taking two men off-screen and we hear yelling as other people run to safety. A dinosaur jumps on a man and an explosion blows up the area and throws the dinosaur onto a walkway (it seems OK). A large dinosaur breaks through the glass of a display area and lunges toward a man , a woman and young girl; the woman is jabbed in the leg by the dinosaur's sharp claw (we see blood), the girl runs away chased by the dinosaur and she hides in a dumb waiter, and then in her bed under the covers. A pterodactyl snatches a man and takes him into the air (he's screaming).
► A man lying immobilized from a tranquilizer dart is sniffed and licked by a large dinosaur (we see the dinosaur's large tongue and a smear of saliva left behind); when the dinosaur walks away it kicks the man and rolls him over. A large dinosaur roars at three people and threatens them until a larger dinosaur grabs it and they fight briefly. A young girl backs toward a giant dinosaur behind bars and we see its sharp claws reach toward her and its sharp teeth as it roars; the girl runs away screaming. A dinosaur head-butts the wall of a cage until it breaks through and then crashes through the cage door throwing itself into a metal pole outside (it is stunned briefly but seems OK). A dinosaur runs through a crowded room and head-butts many people (we see them being thrown into the air and crashing onto furniture, but do not see injuries). A woman is handcuffed to a cage and a man with a gun threatens her.
► Many armed men surround a man and woman and threaten them; we then see the man and the woman in a cage and the woman lunges toward one man that's outside, the man inside the cage twists other man's arm nearly breaking it and the woman slams the man's head against the bars of the cage (we hear a loud ringing). Many men with guns are shown around a vehicle and on a plane in a few scenes. A man with a cattle prod tries to zap a man and they fight with punches and shoving. A woman speeds a truck with two men inside toward a ship that pulls away from the dock; the vehicle jumps and lands at the edge of the ship's ramp nearly slipping back into the water (they are safe).
► A wounded dinosaur twitches on a table and blood spurts on a man's face from a bullet wound on the creature. A woman jumps on a large dinosaur's back and plunges a needle in a vein to draw blood (we see blood draining into a tube and a large bag filled with blood); the dinosaur thrashes back and forth pinning a man against a wall (he is unharmed other than getting saliva on his face). A man pulls a large tooth out of a dinosaur and we see it with some blood as he drops it into a handkerchief full of other large teeth. We see rib bones and the skull of a large dinosaur under water and a piece of bone is cut off and sent to the surface.
► We watch as an island is overcome by lava and dinosaurs die: we hear them calling out in agony and see one large dinosaur rear up and then fall in a cloud of smoke. Lava moves quickly across an island and many dinosaurs stampede to get away from it; they are pushed to a ledge and we see them and two people in a glass ball vehicle crash to the water below (the dinosaurs struggle to stay afloat and many cannot) and the people in the ball are trapped as it fills with water; they do eventually get out and swim to the surface safely. Lava moves toward an immobilized man and he struggles to get away before being burned up (he's OK). We see an active volcano spewing lava and throwing large rocks in several scenes. A large storm blows across an ocean and on an island as men struggle to get samples onto a helicopter and leave. A young girl climbs out her bedroom window and walks along ledges.
► Two men are shown in an underwater vessel and one of the men appears very nervous; one man says, "Anything in here would be dead by now." People discuss whether dinosaurs on an island where a volcano is erupting should be left there to die. A man talks about having "genetic power" and that certain acts will cause cataclysmic change. We hear that a man's daughter died in a car accident. A man and a woman argue about who left whom. We hear that hydrogen cyanide has been released in an enclosure and that dinosaurs will die from it; we see the creatures trying to get away from the gas.
► A large dinosaur walks slowly near a vehicle carrying several people and we see it eat part of a tree as it goes; we see flying dinosaurs and hear them screeching overhead. A man is shown on a video as he feeds several young dinosaurs; in one scene of these encounters one of the dinosaurs lunges at him and bites his arm (he is wearing a protective sleeve so we see no injury). A young girl jumps up behind a woman and startles her, and she then roars like an animal as they talk.
► An elderly man is shown in a wheelchair and then in bed with monitors and oxygen tubes. A man sprays himself with bug spray. We see X-rays illuminated in a lab and we see large eggs in incubators. A young girl is locked in her room. A man on a small plane is shown to be nervous while they are in the air.
LANGUAGE 4 - 3 scatological terms (1 not fully enunciated), 2 anatomical terms, 10 mild obscenities, name-calling (bum, stubborn, silly sausage, wild animals, great white hunter, unholy thing, nasty woman, beefcake, idiot), exclamations (oh boy, relax, you gotta be kidding me, holy cow), 12 religious exclamations (e.g. Jesus, Oh God, Oh My God, Unholy Thing, Play God, Holy Cow, Holy [a not fully enunciated scatological term deleted]). | profanity glossary |
SUBSTANCE USE - A man talks about "his medicines" (we do not see him taking any). People in a bar are shown with bottles of beer and we see a man drink from one bottle.
DISCUSSION TOPICS - Genetic manipulation, extinction, avarice, dinosaurs, weaponizing living creatures, idealism, miracles, guilt, obedience, empathy, greed, cloning.
MESSAGE - Humans will never learn not to mess with nature.

Be aware that while we do our best to avoid spoilers it is impossible to disguise all details and some may reveal crucial plot elements.
We've gone through several editorial changes since we started covering films in 1992 and older reviews are not as complete & accurate as recent ones; we plan to revisit and correct older reviews as resources and time permits.
Our ratings and reviews are based on the theatrically-released versions of films; on video there are often Unrated, Special, Director's Cut or Extended versions, (usually accurately labelled but sometimes mislabeled) released that contain additional content, which we did not review.
---
We are a totally independent website with no connections to political, religious or other groups & we neither solicit nor choose advertisers. You can help us keep our independence with a donation.
Become a member of our premium site for just $1/month & access advance reviews, without any ads, not a single one, ever. And you will be helping support our website & our efforts.
We welcome suggestions & criticisms -- and we accept compliments too. While we read all emails & try to reply we don't always manage to do so; be assured that we will not share your e-mail address.
We are a totally independent website with no connections to political, religious or other groups & we neither solicit nor choose advertisers. You can help us keep our independence with a donation.
Become a member of our premium site for just $2/month & access advance reviews, without any ads, not a single one, ever. And you will be helping support our website & our efforts.
We welcome suggestions & criticisms -- and we will accept compliments too. While we read all emails & try to reply we do not always manage to do so; be assured that we will not share your e-mail address.