Motherless Brooklyn
| 2019 | R | – 4.6.10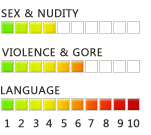 Why is "Motherless Brooklyn" rated R?
The MPAA rating has been assigned for "language throughout including some sexual references, brief drug use, and violence." The Kids-In-Mind.com evaluation includes a few intimate moments, conversations about a rape and sexual activity, and some cleavage revealing outfits; several shootings ending with bloody wounds and death, several scenes of extensive beatings resulting in bloody wounds and unconsciousness, and discussions of Tourette Syndrome and OCD; and over 70 F-words and other strong language. Read our parents' guide below for details on
sexual content
,
violence
&
strong language
."
---
Set in the 1950s, a Brooklyn private detective (Edward Norton) afflicted with Tourette Syndrome (which was at that time a bewildering and little-understood condition), is determined to use his obsessive mind to solve the murder of his mentor (Bruce Willis). He unexpectedly uncovers government corruption and scandal along the way. Also with Gugu Mbatha-Raw, Bobby Cannavale, Cherry Jones, Dallas Roberts, Alec Baldwin, Ethan Suplee and Willem Dafoe. Directed by Norton. [Running Time: 2:24]
Motherless Brooklyn SEX/NUDITY 4
– A man and a woman (both are fully clothed) fall asleep on a bed (no sex is implied); in the morning, she gets up wearing a floor-length robe and walks away (her buttocks jiggle slightly through the fabric) and when she returns she kisses the man briefly and they hold hands for a few seconds. A man and a woman sit together on steps to a house and she puts her arm around his waist.
► We hear that a man followed a waitress into a backroom and raped her; he says, "I never felt lust like that before," and that he does not consider it rape, because he gave her nice things, the sexual relationship became regular and they had a child (disavowed by the man). A woman complains to three detectives that police came to her house and searched her underwear drawers; as she leaves, she tells one of the detectives that he should call her and we later hear that the man began having a sexual relationship with the woman (we do not see any sexual activity).
► A man says that he has been with some girls, but never slept in a bed with anyone before. A man says that a rabbi's wife was "banging" a guy who is not kosher. A man chants, "French kiss my cats" and later, he talks to a woman and blurts out, "Kiss her face all night!"
► A few women in half a dozen scenes wear long dresses with deeply cut necklines that reveal significant cleavage. A woman shown from the waist up at a bar wears a very deeply cut neckline showing large cleavage. We see a man from the back as he exits a swimming pool wearing mid-thigh length swim trunks (we see his bare shoulders, back, arms and lower legs). A man wearing a robe in an apartment is seen with the front of the robe open to reveal his bare chest. A woman wearing a mid-thigh robe is seen (we see her bare legs to the mid-thighs).
Motherless Brooklyn VIOLENCE/GORE 6
– A man hits another man in the head with a club, knocking him down as a third man sets fire to a trashcan; the first man hits the victim again to knock him unconscious (we see bruises over one eye later). Two men shove another man out of a club and into an alley, where one attacker punches him and the second attacker threatens to kill him; the man then wakes up on a friend's couch. Two men push a man into a limo and take him to a city official, who talks to him and releases him. A man throws hot water into the face of another man, who screams and chokes the first man, who then hits him in the head with a sugar shaker twice, knocking him unconscious. A man punches another man unconscious.
► A man rushes in a taxi to an apartment building, runs up several flights of stairs with a handgun drawn, and stops a woman from opening her door to enter; she backs off and a man opens the door, grabbing the first man, who shoots him in the foot (we see a lot of blood) and the wounded man limps and chases the first man and woman through a window to a fire escape, shatters the window and grabs the man; the woman breaks a flowerpot over his head, the man kicks him in the face, and the woman breaks another pot over the man's head causing him to fall several stories to the pavement, apparently dead in a long shot from the fire escape. A man and a woman walk onto a roof and are met by a man with a gun and he shoots at them until another man appears and hits him over the head with a trumpet, knocking him unconscious.
► Two men in a car hit the back end of a car parked too close in front of them (we see a slight dent), then they speed through traffic and hit the rear bumper of a taxi, doing no damage; they pass the taxi, speed ahead, and cut off the taxi, dodging an oncoming van and passing an alley where they see and hear a man shoot a handgun in the air and when they double back, they are shot at but not struck; they find a man behind a bag of trash, wounded in the abdomen, and they rush him to a hospital as he groans in pain.
► A man enters an empty nightclub and finds another man sitting on a barstool in the middle of the floor with blood covering him from his shirt down to his knees, and a gelled spot of blood covers the heart area. We see an EMT pull a body under a sheet on a gurney out of a building with one arm hanging below the sheet and a woman runs forward and cries over the body briefly. A hospital scene shows a wounded man rushed on a gurney into an exam room where we see a large hypodermic needle squirt clear liquid into the air as the man mumbles, passes out, and another man is pushed out of the room as a nurse leaves bloody handprints on the door; we hear that the patient died and a man with blood on his hand leaves a handprint on the doctor's white coat. A man returns to his office after visiting a club and has a bloody face from a beating we do not see; he groans and tells his partners that he was told not to ask any more questions there.
► A man barges into a meeting of four men and shouts, berates them, forces one of them to sign a document, and storms out. Four men argue with one another in an office. Two men argue in a car a few times. Two men argue several times. A woman argues with a government official loudly during a town hall-type meeting, while two men are carried out of the meeting and a group of people stands and shouts down the official. A large group of protesters cheers and shouts at an outdoor protest about housing. A man tells another man that he has real power and can destroy careers, or even kill anyone who gets in his way.
► A man sits and cries on a staircase, enters his apartment, lies down, and has a vision of falling into deep water and floating under the surface and in narration later the man says that he was an orphan and the orphanage's nuns used to beat him. A family lives in the basement of a condemned apartment building, among broken windows, rubble, dirt and debris.
► A man affected by medical conditions that include compulsive actions, as well as many tics and mannerisms often jerks his head as if in pain and then blurts out rhymes and obscenities (please see the Language category for more details). A man has a long ragged scar running from mid-forehead, down the side of the nose and across the cheek (we hear that he fought in WWII). A man is said to have a useless arm from being shot in the war.
Motherless Brooklyn LANGUAGE 10
– About 70 F-words and its derivatives, 25 scatological terms, 31 anatomical terms, 14 mild obscenities, 2 derogatory terms for African-Americans, 1 derogatory term for gay people, 1 derogatory term for Caucasians, name-calling (giant-[derogatory term for homosexuals deleted]-munchkin-meat, freak-show, chuckle-heads, [derogatory term for African-Americans deleted] broad, clown, cabbage heads, mook, amateurs, dumb, clam brain, crazy, weird, bunk, molasses, goody-goody, louse, rat man, thread head, blackmailing gumshoe, [derogatory term for African-Americans deleted] slum, weenie Tony, Nervous Nelly), exclamations (jeez), 5 religious profanities (GD) , 13 religious exclamations (e.g. God Bless You, Jesus, For God's Sake, Jesus Christ, Christ). | profanity glossary |
Motherless Brooklyn SUBSTANCE USE
– A few drinks are seen on nightclub tables (no one is seen drinking) and a man and a woman at the bar drink short glasses of amber liquor while a man sits in front of a large cocktail, a few men in a nightclub sit at a table in the afternoon and drink from beer bottles, glasses of wine are seen at each place setting on banquet tables (no one drinks), two men drink short glasses of whiskey in an office and a third man later drinks alcohol from a flask, a man chugs a shot of dark liquor at a café, and a man alone at a bar chugs a short glass of whiskey. One or two different men in several scenes smoke cigarettes in an office, in an apartment, in an alley, on a sidewalk and at an indoor swimming pool as well as in a smoky club and in a car, we see an ashtray containing cigarette butts in an office and in a club, three men smoke cigars while a fourth man smokes a cigarette in an office meeting, a woman in a club holds a cigarette (she does not smoke), a woman smokes a cigarette in a home, and a man lights and smokes a pipe in his apartment and in an alley.
Motherless Brooklyn DISCUSSION TOPICS
– OCD (Obsessive-Compulsive Disorder), Tourette Syndrome, photographic memory, gentrification, Harlem jazz clubs, murder, death, secrets, scandal, betrayal, grief, compassion, racketeers, orphans, class differences, helping others, fighting for equality, 1950's racial injustices, older white male politicians, the Tammany Big Bosses, defeating corruption, relationships, friendship.
Motherless Brooklyn MESSAGE
– A medical condition need not interfere with your work or your mission in life.

Be aware that while we do our best to avoid spoilers it is impossible to disguise all details and some may reveal crucial plot elements.
We've gone through several editorial changes since we started covering films in 1992 and older reviews are not as complete & accurate as recent ones; we plan to revisit and correct older reviews as resources and time permits.
Our ratings and reviews are based on the theatrically-released versions of films; on video there are often Unrated, Special, Director's Cut or Extended versions, (usually accurately labelled but sometimes mislabeled) released that contain additional content, which we did not review.
---
We are a totally independent website with no connections to political, religious or other groups & we neither solicit nor choose advertisers. You can help us keep our independence with a donation.
Become a member of our premium site for just $1/month & access advance reviews, without any ads, not a single one, ever. And you will be helping support our website & our efforts.
We welcome suggestions & criticisms -- and we accept compliments too. While we read all emails & try to reply we don't always manage to do so; be assured that we will not share your e-mail address.
We are a totally independent website with no connections to political, religious or other groups & we neither solicit nor choose advertisers. You can help us keep our independence with a donation.
Become a member of our premium site for just $2/month & access advance reviews, without any ads, not a single one, ever. And you will be helping support our website & our efforts.
We welcome suggestions & criticisms -- and we will accept compliments too. While we read all emails & try to reply we do not always manage to do so; be assured that we will not share your e-mail address.