Hereditary | 2018 | R | - 7.7.6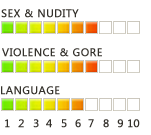 The matriarch of a prominent family dies after suffering several serious mental disorders. Her relatives, led by her eldest daughter (Toni Collette), learn many disturbing family secrets and the discoveries become overwhelming as they attempt to escape a sinister fate. Also with Alex Wolf, Milly Shapiro, Ann Dowd and Gabriel Byrne. Directed by Ari Aster. Phrases in a foreign language from a spell casting book are read aloud and written on walls without translation. [2:07]
SEX/NUDITY 7 - A nude man stands in a shadowed closet doorway and we see full frontal nudity, including genitals. We see two men fully nude and a woman partially nude in an outdoor sequence (bare breasts and nipples are visible and although it is night, there is enough light to see male genitals; the woman's genitals are obstructed by a shrub). Two men and a woman appear nude in an attic, from the waist up (bare breasts abdomens, chests and backs are seen). Several men are nude in a room, but are kneeling with their hands and faces to the floor, revealing bare backs, shoulders, buttocks and thighs.
► In a miniature dollhouse bedroom, the figurine of a woman wearing a long nightgown has the neckline pulled down and the figure is holding one of her breasts out toward a figurine of her clothed adult daughter who is sitting up under covers on the bed, with a grimace on her face.
► A woman kisses her husband briefly twice.
► A 13-year-old girl whines that her grandmother wanted her to be a boy, even naming her Charles, and the girl's mother tells her that as a child she was made into a tomboy by the grandmother. A woman gives a teen boy the name Charles and tells him that she eliminated Charles' inappropriate female body (please see the Violence/Gore category for more details). A teen boy tells three other teen boys that another boy is having sex with (using a crude sexual reference) all the girls, as he makes a sexual gesture with his hands.
VIOLENCE/GORE 7 - A teen boy runs up a ladder and pulls a door in the floor shut after him to hide in an attic, followed by his mother who levitates and beats her head repeatedly on the door while shouting while the boy slaps his own face three times and tells himself to wake up; the boy finds many lit candles around the attic and sees his mother hanging from the ceiling, her bloody hands holding knives as she alternates hands to stab herself in the neck dozens of times (blood covers the top part of her body and spews out as she grimaces), he turns to see two nude men and a nude woman (please see the Sex/Nudity category for more details) and jumps out the attic window, hits the grassy ground face-down and dies. A 13-year-old girl suffers a nut allergy at a party and goes to her brother while gagging and gasping with blotches on her face as she says that she can't breathe; he carries her to the back seat of their car, where she convulses, opens the rear window, hangs her head out for air and while driving fast to an ER, the boy driving sees a body lying in the road, swerves the car, and the girl's head hits a utility pole with a loud thud (the scene cuts to the boy as he cries and drives home). A wife begs her husband to burn a sketchbook, she pours paint thinner on it and he refuses to burn it; she shouts, grabs the book, tosses it into the fireplace and her husband instantly goes up in flames, grimacing (we later see his charred body lying beside the fireplace, with his blackened hands grasping the air). A teen boy lies in bed with his open eyes and vacant as we hear his mother scream off-screen; we see the mother kneeling on her bedroom floor, crying and screaming as she rocks up and down and see a girl's severed head lying on its side in grass, covered in ants and flies with some blood at the neck.
► A shimmering light enters a dead teen boy's body and he raises his head, staring, and he rises and climbs the ladder of a large treehouse to see a room full of lighted candles after his mother levitates up the ladder; a woman walks up from behind him and places a crown on his head as we hear an older woman's voice tell the silent boy that he is a king of hell and the people in the room will pray to him, and when the camera cuts to outside the treehouse we hear voices shout, "Hail Paiman" three times. Many people lie prostrate with their faces to the floor in a prayerful attitude in a candlelit room before a grimacing mummy wearing a crown; a blackened headless body is also in the prostrate position, as is a blood-soaked woman.
► A woman climbs a ladder to an attic where she encounters many buzzing flies, and finds a dead body on the floor beside a lit candle on a pillow (the body is headless and blackened) and above it on a wall is painted a symbol in blood. A girl sees her dead grandmother sitting in a grassy area with fires burning on both sides of her; her mother finds her and yells. A man climbs up an attic ladder and the camera moves off-screen; we hear the man give a blood curdling yell and the camera cuts to the man accusing his wife of digging up her mother's grave and she shouts and cries. A teen boy awakens one night and sees his dead sister sitting in a chair, but she disappears; another night, he awakens and sees her standing in a corner, where her head falls off (there's no blood) and turns into a soccer ball and the bedroom door slams shut on a growling pet dog.
► A bird slams into a school window, leaving a bloody smear as the class of children, except for one girl, chatters about it; after class, she calmly walks outside and cuts the bird's head off with a pair of scissors (we see some blood and gore), and she later carries it home in her pocket and keeps it on her desk at home. A dead dog lies on the ground in the background of a scene (no blood).
► A boy in a classroom sees a reflection of himself smirking in a glass bookcase when something grabs his arm and yanks it up causing him to grimace and something grabs his head and slams it hard into his desk twice, leaving a large spot of blood (we later see him in the back of his father's car, with bandages on his nose and he is groaning). A teen boy awakens to a bang and something grabs his head and tries to choke him and pull out his hair when his mother appears, he sits up, and they argue. A middle school girl sees the ghost of her dead grandmother, waving, across the street from her school. A teen boy sees a ghost of a woman across the street from his high school, screaming "Get out!" A woman crawls fast across a shadowed wall and is then shown on the ceiling of another room.
► We see a funeral for an elderly woman: we see her in an open coffin and her adult daughter dabs oil on the dead woman's lips before walking away. We see men and women dressed in black at a funeral. A few men and women stand at a gravesite as the coffin of a girl is lowered into the ground; her mother cries and screams as the scene ends. A middle school girl sits in her bedroom as a shimmering light moves across the screen; in a school, the light moves across a classroom and down a hallway. We see dark shadows in a house race across the screen. A sketchbook turns its own pages and we see them filled with cartoons of a teen boy's screaming face.
► A woman awakens her teen son and husband insisting they come downstairs where a candle is burning on a table in a dark room; the husband argues strenuously against séances and the woman argues, asks her dead daughter to move a drinking glass on the table and it slides a long way toward the camera causing the teen boy to gasp and gag and the candle flame shoots very high, extinguishes, and relights itself; the woman places a sketchbook on the table and asks the daughter to draw, then screams and the husband turns on the lights and throws a glass of water into his wife's face (she stops screaming). A woman invites another woman to a séance where in the dark, a candle is lit and a drinking glass is placed on a table, wind blows and the second woman startles as the first woman asks her dead grandson to move the glass and it slides across the table as a piece of chalk writes on a slate, "I luv you grannie"; the second woman becomes shaky and gets up to leave, and the first woman says, "You didn't kill her!" A woman visits the apartment of another woman who does séances and there is no answer; we see dozens of lit candles inside the apartment, sheets draped from walls, and a magic symbol painted over a makeshift altar. A woman smashes a roomful of miniature houses as she grunts and hits them with her fists and she later throws a sketchbook into a lit fireplace to burn, but her sleeve catches fire; her sleeve fire extinguishes when she pulls the book out of the fireplace.
► A woman in a dream says she sleepwalks and remembers waking up one night at her teen son's bed with her younger daughter present and they were all covered in paint thinner, she had struck a match which woke her up and the boy sits up in bed and yells, "You tried to kill me!" (the woman wakes up in bed with a start). A woman tells her teenage son that she tried to miscarry him when she was pregnant, but nothing worked; he cries and shouts, "You tried to kill me!" A woman stands up from the dinner table, berates her son and shouts twice, "Your sister is dead!" and she shouts that the boy should apologize for the accident that killed the girl, and then she stalks out. A newspaper obituary fills the screen while we hear ominous music and the camera cuts to a dollhouse, zooms into a bedroom and the room becomes a real room as a man enters it. A woman builds a scenario of a car crash including a headless body in the back of the car. A woman in a support group says that her mother had multiple mental illnesses, her father was depressed and committed suicide, and her schizophrenic brother committed suicide and says that it is all her fault. A man receives a call that his mother-in-law's grave was desecrated. A husband and his wife argue in a few scenes. A woman approaches another woman from a grief support group; the second woman says her daughter was killed and the first woman admits that her son and grandson drowned. A woman searches her dead mother's packed boxes and finds a supernatural book of spells on the cover of which is a design worn on a pendant by both herself and her mother (a pendant was buried with her); inside the book is a line drawing of the King of Mischief holding three severed heads by their long hair in a bunch (no blood is shown). A dollhouse hospital room depicts a woman under covers in a hospital bed. We see odd homemade toys, like a spool with a screaming head on top of it. A woman finds two books with notes from her dead mother about the first woman having future unnamed losses. A woman finds photos of her mother and friends in rituals involving tossing coins and raising their hands to something not in the frame. A middle school girl draws black ink cartoons of an ugly woman's face and her brother with his eyes crossed out.
► A teen boy gags and gasps, as if he has caught a nut allergy like the one his dead sister had. A 13-year-old girl has a persistent tongue-popping tic that sounds like a soda bottle opening, her eyes are blank, and her skin is blotchy, with dark patches on the cheeks. A teen boy has a tic in which he clicks and makes popping sounds with his tongue.
LANGUAGE 6 - About 17 F-words and its derivatives, 3 scatological terms, 5 anatomical terms, 3 mild obscenities, name-calling (crazy, stupid, retarded, crock), 2 religious profanities (GD), 15 religious exclamations (e.g. Oh My God, Oh God, Oh Jesus, Jesus Christ, Holy [scatological term deleted], For God's Sake, we reject the Trinity and will pray to the eighth king of hell).
SUBSTANCE USE - A teen girl chops up a large amount of marijuana and we see a teen boy use some in a bong he lights and smokes, a teen boy holds up a large baggie of marijuana and later lights a large bong and smokes it as it bubbles, four teenage boys smoke from the same bong filled with marijuana under school bleachers, a teen boy texts another teen boy saying "You want to smoke a bowl?", a man holds a glass of water in one hand and something unseen between his other fingers (might be a pill), a man swallows two pills, a woman swallows a pill with water, and a few prescription bottles are seen on a bedside table. Many teen girls and boys drink beer and cups of alcoholic punch at a house party, a teen girl holds a wine cooler and does not drink it, a teen boy and his mother argue about not drinking before he left for a party and he said he would not drink (he did not mention drugs), and a man holds a short glass of whiskey at home.
DISCUSSION TOPICS - Severe mental illnesses, gender confusion, dementia, hereditary conditions, family curses, suicide, death, murder, family secrets, skeptics, demon possession, the paranormal, séances, magic symbols, anger, fear, panic.
MESSAGE - Untreated mental illnesses and obsession with the paranormal can be deadly.

Be aware that while we do our best to avoid spoilers it is impossible to disguise all details and some may reveal crucial plot elements.
We've gone through several editorial changes since we started covering films in 1992 and older reviews are not as complete & accurate as recent ones; we plan to revisit and correct older reviews as resources and time permits.
Our ratings and reviews are based on the theatrically-released versions of films; on video there are often Unrated, Special, Director's Cut or Extended versions, (usually accurately labelled but sometimes mislabeled) released that contain additional content, which we did not review.
---
We are a totally independent website with no connections to political, religious or other groups & we neither solicit nor choose advertisers. You can help us keep our independence with a donation.
Become a member of our premium site for just $1/month & access advance reviews, without any ads, not a single one, ever. And you will be helping support our website & our efforts.
We welcome suggestions & criticisms -- and we accept compliments too. While we read all emails & try to reply we don't always manage to do so; be assured that we will not share your e-mail address.
We are a totally independent website with no connections to political, religious or other groups & we neither solicit nor choose advertisers. You can help us keep our independence with a donation.
Become a member of our premium site for just $2/month & access advance reviews, without any ads, not a single one, ever. And you will be helping support our website & our efforts.
We welcome suggestions & criticisms -- and we will accept compliments too. While we read all emails & try to reply we do not always manage to do so; be assured that we will not share your e-mail address.