The Dead Don't Die
| 2019 | R | – 2.8.7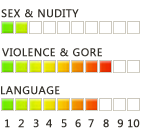 Why is "The Dead Don't Die" rated R?
The MPAA rating has been assigned for "zombie violence/gore, and for language." The Kids-In-Mind.com evaluation includes a few suggestive remarks and bare legs (both zombie and human), many scenes of zombie attacks and zombie beheadings that result in blood and gore and intestines being gnawed on, and at least 25 F-words. Read our parents' guide below for details on
sexual content
,
violence
&
strong language
."
---
In a bucolic town things go awry when the moon suddenly looks odd, daylight hours are inconsistent and animals do peculiar things. When newscasts report frightening events, three police officers (Bill Murray, Chloë Sevigny and Adam Driver) lead a battle against zombies that are suddenly rising from their graves to consume the townspeople. Also with Tilda Swinton, Danny Glover, Selena Gomez, Tom Waits, Carol Kane, Rosie Perez, Iggy Pop and Steve Buscemi. Directed by Jim Jarmusch. A line of dialogue is spoken in an unidentified language without translation. [Running Time: 1:45]
The Dead Don't Die SEX/NUDITY 2
– A man makes a suggestive comment that if he sleeps next to a female corpse in his sheriff's office, it will bring back old memories. A man asks a teen boy if he wants to be a girl since his two friends are girls; the boy denies it.
► A zombie woman wears a micro-mini kilt and over-the-knee hosiery, revealing normal skin from above the knee to the upper thighs. A non-zombie woman wears short shorts in several scenes.
The Dead Don't Die VIOLENCE/GORE 8
– The film includes many scenes of zombies limping and mumbling, groaning, roaring, and banging their bodies against windows and doors to gain entrance; they look like pale humans covered in dirt and some runny black grime on their faces and hands and sometimes with red-rimmed eyes. Zombies often commit violence that includes grabbing and knocking people down, gory chomping, crunching and chewing below the frame, followed by zombies moving into the frame to show blood on their dirty faces and clothing.
► Two zombies poke their hands out of graves at night, followed by their bodies, they go to a diner after closing, they each grab a screaming waitress and drag them below the frame as we hear ripping, crunching, and chewing; one zombie squats over one woman and moves her head as if eating and the other zombie removes a section of intestine and sucks on it (we later see the victims on their backs in pools of blood, with blood covering their bodies, their abdomens sliced open and bloody intestines are visible); the zombies stand up, with blood and gore on their faces, chests and arms, and they exclaim, "Coffee! . . . Coffee!" and drink cups of coffee, break the cups on the floor, drink from pots of coffee and take the pots with them as they leave.
► Two men board up glass windows and a door on a store as dirty hands squeeze through; others zombies pound at the back door, swarming the two shouting men, whom we later see as zombies. A cursing farmer in his house opens his door and a zombie grabs his neck, but the farmer shoots the zombie under the chin, leaving a red-black wound, but not killing him; the man shoots several zombies in the head, but many more of the growling ghouls pull him into the yard, overpowering him as he shouts; we see him as a zombie near the cemetery later. Zombies grab a man and he becomes a zombie; we see him eating a bloody human arm and hear crunching as blood pours onto his face and down the detached arm to the ground. Two men get out of a car, shooting and using a machete to remove zombie heads (many puffs of black dust rise and we see a few heads on the ground); the men stand back to back to continue fighting until they are swarmed as they shout. In a long shot, we see a woman lying on a corpse face down and moving her head as if eating. A teen boy and two teen girls in a juvenile detention center talk about a zombie apocalypse coming to town; they escape with a horde of zombies that grab guards (we see them slide down frosted windows, screaming).
► A woman and two men behead dozens of zombies using a machete, a Samurai sword and shotgun blasts that cause heads to roll as black dust clouds come out of the necks; one head is sliced down the middle and falls off, emitting a large black cloud. Zombies surround a car when it stops and a woman screams at seeing her grandmother as a zombie; she gets out of the car, the ghouls swarm her and she shows up later as a zombie until a man beheads her as another man yells, "Noooooo!" A woman mans the sheriff's office as officers patrol the streets and a group of growling zombies pound on the windows; she types a lot of programming language into a computer and smiles, takes a sword outside and beheads dozens of zombies that emit black dust as their heads fall and roll. Two bodies lie under sheets in a mortuary and one twitches, the undertaker later puts green and red makeup on them (they're a man and a woman), they both sit up and the undertaker cuts their heads off with a sword (we see the ends of spines sticking out of the necks as black dust flies with no blood). A dead woman's body twitches under a sheet and the camera cuts away and back to show her standing, reanimated as she chants, "Chardonnay" twice, a man shoots her, and another man beheads her with a machete, sending up clouds of black dust. Two men in a hardware store talk about killing zombies and gather an ax, a hedge trimmer, a hand saw, and load two shotguns; one man beheads a zombie with a hedge trimmer, sending up black dust. Three people lock themselves into a motel room and the next day they are found dead, with blood on their abdomens, arms, legs and faces, and bloody intestines are exposed on one corpse; a man beheads them off-screen and we hear cutting sounds and then see him wipe blood off a machete and he stands in the doorway holding a woman's head by its hair and another woman becomes hysterical. Leaning out a car window, a man beheads many zombies.
► A large cemetery is shown while mournful music plays in the background as two men (one with a shotgun) walk through nearby woods and find a skinned rabbit beside a doused campfire and a few flies crawl on it; a man with long gray hair and beard and dirty clothing fires a shot at the men, and the men accuse him of stealing a chicken and he denies it.
► A man drives into a zombie in the street, it falls, and then it gets up and walks away, uninjured. Two men visit a cemetery and one man falls with his leg landing in an opened grave (he's unhurt), and the men find another open grave. A man discovers that all his cats are missing. We see footage of dark tornado-like weather with high winds, and footage of a woman with her arms scratched deeply with red marks from her cat that attacked her. Cell phones won't work and radios and TVs bog down in static, swarms of ants cover many square feet in a clearing, cats disappear, a cow vanishes, a herd of cows hides in the woods, and a dog runs away from its owner and never returns.
► We see some zombie heads lying a few feet from bodies in a street at night (no blood is seen). Two men and a woman look at victims of a zombie attack and speculate that wild animals killed them. A man covers the bluish face of a woman lying dead in a jail cell bunk with a sheet and we hear that she is the town drunk. Two men and a woman patrol streets at night and see piles of trash and debris, a few dead bodies in shadows, and many limping zombies. An undertaker practices Samurai sword skills in slow motion in front of a Buddha statue in a room in a funeral home. A woman in the sheriff's office admires a row of shotguns on a wall. A UFO arrives in a cemetery and beams up a woman; it then spins fast and warps out of the scene.
► A horde of zombies drag their feet, stagger, and chant their favorite things in life: "free Wi-Fi," "baseball," "guitars," "tools," "Snickers," "fashion." A group of zombie children in a hardware store chant, "Toys!" and some of the kids carry knives, but we never see a child harm or kill anyone and we don't see any of the child zombies killed. A woman and two men buy a CD called "The Dead Don't Die," joke about zombies and check into a motel. Two men argue a few times. A man says a dozen times, "This will not end well." Townspeople begin talking about zombies. A man says several times, "Kill the head" to ensure zombies are really dead and not undead. On radios and TV screens we hear that polar fracking knocked the Earth off its axis so that nighttime and daylight hours keep changing.
► A woman at the scene of a zombie attack walks behind a car, bends and we hear her cough and retch and hear unseen vomit splat on the ground. A man spoons cat food into a bowl and licks the spoon.
The Dead Don't Die LANGUAGE 7
– About 25 F-words and its derivatives, 19 scatological terms, 7 anatomical terms, 5 mild obscenities, name-calling (strange, weird, creepy, liars, alarmists, stupid, black, jacked up, hairy lunatic, drunken old goat, Bonzo, Harry Potter, Frodo, Bobby Baggins), exclamations (shut-up, up your hole with a wooden pole, eat me, yuck, dang, heck, oh man, oh boy, what in the name of …), 8 religious profanities (GD), 25 religious exclamations (e.g. Oh My God, Oh God, God, Jesus, Jesus Christ, Dear Lord, Dear Lord In Heaven, Thanks God, God Help Us, Holy [scatological term deleted]). | profanity glossary |
The Dead Don't Die SUBSTANCE USE
– We hear that a woman is the town drunk. Two men drink from the same can of an energy drink, and a woman drinks from a can of something unknown.
The Dead Don't Die DISCUSSION TOPICS
– Absurdism, irony, memories, consumerism, environmental decline, small-town life, zombies, people who are different, disasters, survival skills, danger, fear, panic, violence, bigotry, death, murder, funeral homes.
The Dead Don't Die MESSAGE
– Americans are sleepwalking through a mindless life of consumerism, conformity and environmental waste.

Be aware that while we do our best to avoid spoilers it is impossible to disguise all details and some may reveal crucial plot elements.
We've gone through several editorial changes since we started covering films in 1992 and older reviews are not as complete & accurate as recent ones; we plan to revisit and correct older reviews as resources and time permits.
Our ratings and reviews are based on the theatrically-released versions of films; on video there are often Unrated, Special, Director's Cut or Extended versions, (usually accurately labelled but sometimes mislabeled) released that contain additional content, which we did not review.
---
We are a totally independent website with no connections to political, religious or other groups & we neither solicit nor choose advertisers. You can help us keep our independence with a donation.
Become a member of our premium site for just $1/month & access advance reviews, without any ads, not a single one, ever. And you will be helping support our website & our efforts.
We welcome suggestions & criticisms -- and we accept compliments too. While we read all emails & try to reply we don't always manage to do so; be assured that we will not share your e-mail address.
We are a totally independent website with no connections to political, religious or other groups & we neither solicit nor choose advertisers. You can help us keep our independence with a donation.
Become a member of our premium site for just $2/month & access advance reviews, without any ads, not a single one, ever. And you will be helping support our website & our efforts.
We welcome suggestions & criticisms -- and we will accept compliments too. While we read all emails & try to reply we do not always manage to do so; be assured that we will not share your e-mail address.