Rebecca
| 2020 | PG-13 | – 5.5.2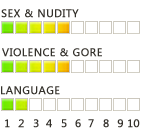 Why is "Rebecca" rated PG-13?
The MPAA rating has been assigned for "some sexual content, partial nudity, thematic elements and smoking." The Kids-In-Mind.com evaluation includes a sex scene from a great distance with some nudity, a couple of implied sex scenes and a few kissing scenes, several scenes of people being berated and yelled at by others many trying to demean and mislead people into believing things that might or might not be true, a punch in the face, a suicide by jumping from a cliff, reports of accidental death or murder, and some moderate language and name-calling. Read our parents' guide below for details on
sexual content
,
violence
&
strong language
.
---
Based on the Daphne Du Maurier novel, set in the 1940s: After a quick, impulsive romance a naïve newlywed (Lily James) moves into her husband's (Armie Hammer) massive estate on the English coast, but finds herself fighting the omnipresent shadow of his first wife, Rebecca, who died under mysterious circumstances. The haunting legacy of the sophisticated Rebecca is kept alive by the head housekeeper (Kristin Scott Thomas), who also relentlessly undermines the young wife. Also with Tom Goodman-Hill, Keeley Hawes, Sam Riley and Ann Dowd. Directed by Ben Wheatley. Several lines of dialogue are spoken in French, a few with English subtitles. [Running Time: 2:03]
Rebecca SEX/NUDITY 5
– In a long shot we see a nude couple (we cannot distinguish genders) on the deck of a yacht, writhing in an embrace (sex is implied and we see a bare back, a bare thigh, two arms, and the side of a buttock); a woman glimpses them through a spyglass, gasps loudly and turns away. A man and a woman kiss briefly in several scenes and hug in three scenes for several seconds. At a beach, a clothed man rubs a little sand on a woman's bare back and carries her a short distance (she wears a one-piece swimsuit we see her bare back and legs); he lies on top of her on the beach and they kiss passionately for several seconds. A husband and his wife, wearing pajamas, lie in bed together and kiss twice (sex is implied). A husband and his wife lie side-by-side under covers, talking; his chest is bare (we cannot see any of her body). A clothed woman and a shirtless man (we see his bare chest and abdomen) hug and kiss for several seconds.
► A man mounts a horse behind a woman rider and slaps her thigh suggestively. A man tells a woman's husband that he may try his luck with her, and the husband punches him in the face, giving him a bloody nose (the first man falls and stumbles).
► A woman tells another woman, "When you trap a man between your legs he won't stick around long." A man says his female cousin had a parade of men for sex even after she was married and later we hear that the cousins were also lovers. A woman is accused by her husband of having an affair and they argue, but he then believes she is innocent. A man says that his female cousin who was also his lover told him, "If I had a child, you would never prove it was yours." A woman tells another woman that her blouse is see-through, but it is not.
► At a party, a woman wears a floor length gown with a deeply cut neckline that reveals cleavage. In a desk drawer, we see an open catalog that features a few line drawings of long corsets. In a bedroom scene one morning, we see a woman's bare thighs and legs as she gets out of bed.
Rebecca VIOLENCE/GORE 5
– Gasoline is poured over letters and a diary and a lit match is tossed, causing a fast-spreading fire that engulfs an entire mansion; we see tall flames and thick smoke spread along curtains and furniture while men and women scream and run from the house. A woman walks to a boathouse on a cliff as another woman chases her and the first woman stands on the cliff's edge, as the two women argue; one woman jumps down into a bay as the camera cuts to her floating dead body below the surface in a long shot. We see a skeleton with some flowing fabric around its legs floating in a bay, and then see a yacht pulled up; an inquest later reports that four holes were punched in the bottom of the hull and some people say this was suicide, and others say it was murder. Two dogs growl at a desk and a woman knocks a figurine over, cutting her hand and we see a line of blood on her palm and a little blood on a handkerchief later.
► A man loads a gun and puts it into the hand of his wife, she points it at his stomach, he asks her to shoot and then she lowers the gun. A woman says that a house came back from the dead in her nightmares and in one such dream she walks through a hallway covered with vines that grab her by the legs and pull her beneath the floor, as she awakes with a gasp and we see some small scratches on one of her forearms. In a dream a woman walks away from the camera through a misty dark stand of trees and she is startled awake, gets up and follows her husband as he sleepwalks and she reaches out to him; another woman tells her to leave him alone, and the wife jumps and gasps. During a family visit, a woman berates another woman, fiercely grabs her wrist, other women and a man intervene, and they yell and scuffle until the first woman is finally guided into a car to leave. A woman slaps a man's face with a glove.
► At a masquerade ball, men and women wear 18th century clothing and some wear masks with long noses; firework rockets are set up and we later hear muffled popping as we see the fireworks in the sky. At a party, a woman wears a long gown and dozens of men and women stare at her and look shocked; her husband berates her and orders her loudly to go change clothes, which she does (we hear that his deceased first wife used to wear that dress). A group of men and women join hands and dance around a woman, chanting the name of her husband's dead wife as the current wife looks scared; she walks upstairs and another woman encourages her to jump out the window to commit suicide (it does not happen).
► A man states that his wife taunted him with affairs and he shot and killed her. We hear that a 16-year-old girl beat a horse bloody and likely killed it. In court, a man states that a body he saw buried was decomposed, bloated, had its arms ripped off and had nothing left of its face, as another man in the courtroom stands, shouts loudly, and police pull him away and off-screen. A man enters the room and the scene cuts to the woman speaking with three men, explaining that the patient had been thought by friends to be pregnant, but had suffered severe pain from uterine cancer; one of the men states that she indicated she did not want to live any longer. We hear that a woman died at sea and that another woman's parents died of influenza. A woman is insulted, yelled at, and berated by wealthy women as being low class and worthless in several scenes; the woman sobs half a dozen times. In several scenes a head housekeeper in a mansion taunts a woman, telling her she appears to be a maid and that her new husband will never love her and still loves his dead wife. A woman tells another woman that her husband's dead wife is "still there" in the house as a spirit. A man in a few scenes tells a woman that her husband has a very bad temper and may do her harm; and in another scene, he tries unsuccessfully to blackmail the couple. A man hides information from his wife and shouts at her several times, leaving her confused. Two women in a mansion argue a few times for several seconds. A boy cries when he is wrongly accused of breaking a figurine until a woman says that she broke it and clears him. At a police station, many newspaper reporters shout questions at a man and woman, who do not answer.
► A woman enters a doctor's office late at night and steals a file, finding out that a female patient had uterine cancer. Two outdoor scenes feature an ominous wide and long group of birds flying overhead, with their wings flapping audibly. Two dogs growl at a curtain in a boathouse and a woman is startled as she finds a man sitting behind the curtain and he babbles, speaking of another woman, who went to sea and did not return. A speeding sports car narrowly misses a truck in one scene and a large car in the other scene, and we hear honking both times.
► A moaning woman in bed calls for a bucket and another woman raises a large bucket to nearly cover the sick woman's face and we hear but don't see loud retching and vomiting. A woman brushes her hair and then finds hair in her brush that is not hers, pulling it out of the bristle in a long clump.
Rebecca LANGUAGE 2
– 5 mild obscenities, 13 instances of name-calling (silly, stupid, old man, arrogant, ghastly, murdering bastard, worthless, ridiculous, playthings), exclamations (dry up, bosh, bugger off, bloody, shame on you, oh my goodness, goodness gracious), 6 religious exclamations (e.g. God, Oh God, Oh My God, Oh Christ). | profanity glossary |
Rebecca SUBSTANCE USE
– A woman pours and sips wine in her hotel room and later sits with three other women, all sipping wine and smoking cigarettes, a woman groans and complains of a hangover (please see the Violence/Gore category for more details), a woman sips champagne in her room and elsewhere, men and women sip champagne at a party, two men hold glasses of wine and talk very loudly as if drunk, a man in a study drinks a small glass of whiskey and slurs his words somewhat, a man pours a small glass of alcohol for a woman and she sips it, a man sips from a small glass of whiskey in a house, and a woman is startled awake and pours and drinks a glass of clear liquor. Two men in different scenes smoke cigarettes in a restaurant as well as on a terrace, on sidewalks, and in a bedroom.
Rebecca DISCUSSION TOPICS
– Emotional and physical abuse, gas-lighting, trickery, exclusion, intimidation, pride, murder, blackmail, class differences, putting on airs, grief, fear, courage, standing up for oneself, relationships, love, marriage, communication, obsession, ghosts, nightmares.
Rebecca MESSAGE
– Love can help people survive trying times.

Be aware that while we do our best to avoid spoilers it is impossible to disguise all details and some may reveal crucial plot elements.
We've gone through several editorial changes since we started covering films in 1992 and older reviews are not as complete & accurate as recent ones; we plan to revisit and correct older reviews as resources and time permits.
Our ratings and reviews are based on the theatrically-released versions of films; on video there are often Unrated, Special, Director's Cut or Extended versions, (usually accurately labelled but sometimes mislabeled) released that contain additional content, which we did not review.
---
We are a totally independent website with no connections to political, religious or other groups & we neither solicit nor choose advertisers. You can help us keep our independence with a donation.
Become a member of our premium site for just $1/month & access advance reviews, without any ads, not a single one, ever. And you will be helping support our website & our efforts.
We welcome suggestions & criticisms -- and we accept compliments too. While we read all emails & try to reply we don't always manage to do so; be assured that we will not share your e-mail address.
We are a totally independent website with no connections to political, religious or other groups & we neither solicit nor choose advertisers. You can help us keep our independence with a donation.
Become a member of our premium site for just $2/month & access advance reviews, without any ads, not a single one, ever. And you will be helping support our website & our efforts.
We welcome suggestions & criticisms -- and we will accept compliments too. While we read all emails & try to reply we do not always manage to do so; be assured that we will not share your e-mail address.