The Grudge
| 2020 | R | – 1.8.5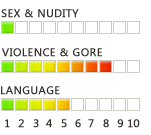 Why is "The Grudge" rated R?
The MPAA rating has been assigned for "disturbing violence and bloody images, terror and some language." The Kids-In-Mind.com evaluation includes a couple of kisses and some partial nudity; many scenes of dead people with decayed skin and blood on their bodies that make unnatural creaking sounds and terrorize people resulting in several deaths with a lot of bloodshed; and at least 3 F-words and other strong language. Read our parents' guide below for details on
sexual content
,
violence
&
strong language
."
---
Sort of a reboot of, as well as sequel to, the eponymous
2004 movie
and its own sequel
The Grudge 2
, based on the Japanese
Ju-On
series: Ghosts of people who die due to fits of rage haunt their places of death and there seems to be no way to stop the deadly curse. With Tara Westwood, Junko Bailey, David Lawrence Brown, Zoe Fish, Andrea Riseborough, John J. Hansen, Demián Bichir, Joel Marsh Garland, Lin Shaye, John Cho and Betty Gilpin. Directed by Nicolas Pesce. [Running Time: 1:33]
The Grudge SEX/NUDITY 1
– A husband and his wife kiss. A husband kisses his wife on the forehead.
► A man showers and we see his bare shoulders, chest, back and abdomen as well as flesh tones of his body through a curtain. Part of a woman's abdomen is seen when she undergoes an amniocentesis procedure. A man in a psychiatric hospital cell is shown shirtless behind a door and we see his bare chest and abdomen.
The Grudge VIOLENCE/GORE 8
– A dead woman with long hair hanging over her face, discolored flesh and making creaking sounds is seen in many scenes.
► A wife attacks her husband and hits him with a heavy object causing him to fall down a flight of stairs (we hear cracking and see blood on his head and face) and we then see the woman drowning her young daughter in a bathtub filled with water; the woman then stabs herself in the throat (blood spurts). A man in the passenger seat of a car draws a handgun and shoots himself in the head and face (out of view) and we see him with a very bloody face wound with exposed jaw and teeth; we later see him alive and with a badly scarred face. A woman in a hospital climbs a flight of stairs and drops over the railing hitting her head on railing as she falls to the floor below and blood spurts and splatters. A woman hears a door open in her house and follows the noise to find her husband standing in the kitchen holding a pair of scissors; he moves toward her without speaking and she seems nervous as the man lunges toward her and the scene cuts to her dead body in a large pool of blood (bloody smears are also around the room) and his dead body is shown with his head in a bathtub full of water and blood smears on the tub around him. A woman wakes up to a woman's crying in a house and finds the woman in the kitchen cutting her own fingers off (we see the bloody stumps) while standing next to her dead husband who is lying on the floor with a fork in his neck; the first woman screams and runs out of the house, speeds away in her car, and drives off the road when a dead man with maggots wriggling in his bloody face sits up in the backseat and crashes into a tree (we see her arm break in the accident and blood spurts from the wound and she is found dead later).
► A woman sees a dead young girl in her house as a dead woman grabs the first woman by the hair and drags her through a hallway as she screams and the scene ends with a view outside the house. A woman puts her face into a sink filled with water and a dead woman with blue-tinged skin and dark hair hanging over her face appears behind her and holds her head under the water; she thrashes and frees herself to find no one there. A man showers and blue-tinged fingers push through the back of his head; he panics when he touches them and opens the shower curtain to see if anyone is there. A sleeping man is awakened when something pulls the covers down from the foot of the bed; a woman with decayed skin, stringy hair and blood on her mouth lunges toward him, he recoils, switching on the light, and the woman disappears. A dead young girl grabs a woman's hand in a grocery store, blood spurts from the girl's hand startling the woman, and the girl disappears. A man hides in a closet and a dead woman in the shadows with blood on her mouth and decayed skin lunges toward him as the scene ends. A police officer approaches a house that has garbage bags around the yard and front porch; when she enters the house she finds a woman crying and when the woman grabs the officer's hand we see that her fingers have been cut off (a lot of blood is shown and we see the stumps along with saliva and blood on the woman's face); the officer finds a dead man seated in another room and we see decayed flesh on his face with maggots squirming around it and flies buzzing (the officer runs out of the house and gags, but we do not see any goo).
► A woman sees a garbage bag that seems to be breathing and when she steps away from it, a discolored, dismembered arm breaks through another bag and tries to grab her leg. A woman drives along a dark road and swerves to avoid a young girl standing in the road; when the woman gets out of the car, there is no evidence of a girl. A man enters a house and walks through trying to find a young girl; he sees a tub filled with murky water (he reacts to a smell) and when he moves toward the tub it gurgles and two hands reach out of the water to grab his head (he pulls away and runs out of the house). A man is startled when a young girl appears outside a house and her nose starts to bleed; we see her later with blood gushing from her nose and she holds her hand over her face trying to stop it. A sick woman appears to be talking to someone that we don't see initially and then we see that it is a young girl that is dead. Three orderlies hold a man on a stretcher as he screams and we see that he has gouged his eyes out (blood is on his face and hands). A woman in a police station restroom hears noises in a stall and leaves the room followed by a dead man with blood on his face and decayed skin; she draws her weapon and follows noises, she turns off lights and sees a dead man with maggots wriggling on his face and he disappears when she turns the lights back on. A woman lying on a bed is shown as a dead woman moves over her and drools thick blood on her face; the first woman screams. A dead woman stands outside a car and slams on the driver's side window causing a man inside the car to scream and panic. A dead woman moves through a woman's house and lunges toward her in her young son's room (the boy is unaware of the dead person being there). A woman drives with her young son to a house that she splatters with gasoline and ignites; we see the house in flames and a dead child is shown engulfed.
► Police at a crime scene investigate a dead body in a car and we see a severely decayed body with goo on the driver's side door; an investigator says that the body had been there for months and that it seemed like something had been inside the car with the body. A young girl stands in a grocery store aisle and we see that she is standing in a pool of blood (she then disappears). People are shown in cells in a psychiatric hospital and we see one man pounding on a glass door as a woman walks through the hall. A man is shown restrained to a table in an interrogation room and he struggles to free himself unsuccessfully.
► Several references are made to a murder case and that a police officer became obsessed with the case while his partner never set foot inside the house where the murders happened. Newspaper headlines read that an entire family was murdered. We see a bed in a house with oxygen tanks and an IV stand on either side of it; we understand that a man's mother had died there. A young boy talks about missing his father and we understand that he died of cancer. People talk about assisted suicide and a woman makes reference to being an "exit guide." A doctor tells a husband and his wife that their unborn child is likely to have "ALD." A husband tells his wife, "I'm gonna murder us with deliciousness," as he leaves the room to prepare food. A few scenes have static on radios, power outages and blinking clocks. A woman talks about helping people end their lives on their own terms and describes the process of putting a hood over the person's head that fills with gas and they fall unconscious before they die. A man talks about his wife being very sick. A woman tells a man that she cannot help his wife end her life because she is not mentally competent. A man talks about wanting to gouge his eyes out to not see "them." A man pleads with a woman saying, "Kill me." A man tells a woman, "You're losing it." A woman has a nightmare and hears a man's voice yelling at her.
► A woman looks at meat in a grocery store case, we see flies buzzing around, and the meat turns grey. A man opens a box and offers a woman a piece of pie (we see flies on the pie and one buzzes around it). A woman is shown with drool running down her chin and a man feeds her baby food from a jar. A woman undergoes an amniocentesis procedure, we see a long needle entering her abdomen, and we see the needle on the screen as it moves through the embryonic sac and near a fetus.
The Grudge LANGUAGE 5
– About 3 F-words, 9 scatological terms, 1 mild obscenity, name-calling (new chick, assisted suicide broad, weird, monster), exclamations (you're losing it, relax, drop it), 5 religious exclamations (e.g. Oh My God, Oh God, Jesus Christ). | profanity glossary |
The Grudge SUBSTANCE USE
– A man drinks a glass of whiskey in his home. A man smokes cigarettes in his house as well as in his car and outside, man offers a woman a cigarette and she says that she quit, a woman smokes outside her house, a woman smokes in her house, and a woman smokes in a diner.
The Grudge DISCUSSION TOPICS
– Death, terror, curses, death of a parent, death from terminal disease, fear, starting over, adjusting to change, assisted suicide, coincidences, spirits, ghosts, distractions, hope, murder, suicide.
The Grudge MESSAGE
– There is no way to outrun a death curse.

Be aware that while we do our best to avoid spoilers it is impossible to disguise all details and some may reveal crucial plot elements.
We've gone through several editorial changes since we started covering films in 1992 and older reviews are not as complete & accurate as recent ones; we plan to revisit and correct older reviews as resources and time permits.
Our ratings and reviews are based on the theatrically-released versions of films; on video there are often Unrated, Special, Director's Cut or Extended versions, (usually accurately labelled but sometimes mislabeled) released that contain additional content, which we did not review.
---
We are a totally independent website with no connections to political, religious or other groups & we neither solicit nor choose advertisers. You can help us keep our independence with a donation.
Become a member of our premium site for just $1/month & access advance reviews, without any ads, not a single one, ever. And you will be helping support our website & our efforts.
We welcome suggestions & criticisms -- and we accept compliments too. While we read all emails & try to reply we don't always manage to do so; be assured that we will not share your e-mail address.
We are a totally independent website with no connections to political, religious or other groups & we neither solicit nor choose advertisers. You can help us keep our independence with a donation.
Become a member of our premium site for just $2/month & access advance reviews, without any ads, not a single one, ever. And you will be helping support our website & our efforts.
We welcome suggestions & criticisms -- and we will accept compliments too. While we read all emails & try to reply we do not always manage to do so; be assured that we will not share your e-mail address.