Solo: A Star Wars Story | 2018 | PG-13 | - 2.6.3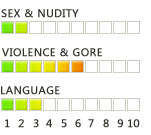 The origin story of Han Solo (Alden Ehrenreich) follows the high-flying adventurer from his home planet, where young people were forced to steal to survive, to his friendship with the wookiee Chewbacca (Joonas Suotamo) and his acquisition of the Millennium Falcon from Lando Calrissian (Donald Glover) after wining a card game. Also with Woody Harrelson, Emilia Clarke, Thandie Newton, Paul Bettany and the voices of Jon Favreau, Phoebe Waller-Bridge and Linda Hunt. Directed by Ron Howard. Several lines of dialogue are spoken in alien languages with English subtitles or translation. [2:15]
SEX/NUDITY 2 - A woman asks what a man's plan is and he says, "I thought we'd talk a little and then you know..." turning toward a bed and she changes the subject; they then kiss passionately and lean back into a closet until they are interrupted by another man. A man and a woman kiss several times in a few scenes. A man and a woman kiss tenderly and talk about going away together. A man and a woman hug a couple of times and he cradles her face in his hands. A man kisses a woman's hand in greeting.
► A woman in a nightclub-like setting sings while dancing with suggestive moves and she is accompanied by a creature in a jar of liquid.
► People ask a man about a girl in his life and he admits there is someone. An android asks if two men are "done flirting." A female android talks about a man having feelings for her but that it could never happen. A man talks about "intertwined celestial bodies."
► A woman wears a low-cut top that reveals cleavage. Several women and alien beings wear gowns that reveal cleavage and backs. A woman wears a low-cut dress that is slit to the mid-thigh and we see cleavage and her bare leg to the thigh. A woman's dress reveals her bare back to the waist. A man showers (we see his bare lower legs and his upper chest) and is joined by a large hairy creature (we see the creatures large feet).
VIOLENCE/GORE 6 - A man and an alien creature free themselves from shackles and fight with guards on an elevator; we hear a crunch and see the alien creature holding two arms (blood sprays on the walls) that he apparently ripped off a guard (we do not see the guard). A man with a blade that glows red slashes another man across the chest and he falls dead (we see a red spot on his clothing). A woman stabs an alien in the chest and we see her retrieve the weapon from the body. Two men fight in a room where one man uses bladed weapons and the other uses a gun; a woman using a sword slices one man's gun in half and holds the blade to one man's chest and the woman stabs one of the men in the chest (he falls dead and we see a blade sticking out of his chest later). A man shoots a man in the chest and he falls back with a bloody wound on his chest before he dies.
► A battle scene shows explosions blast on the ground throwing people into the air while people shoot back and forth at each other; one man is struck by an explosive and we do not see him again.
► A train on an elevated track speeds around a mountain side as two men and a creature jump from a flying vessel onto a train car, they attach cables to one car, a woman prepares to blow up a bridge and they are attacked by guards that shoot at them and the creature is nearly crushed between the train and the mountain side and a man nearly falls off the train as marauders approach and shoot at the group, striking the pilot of the flying vessel, who dies (we see blood and torn flesh on his shoulder); one of the marauders is shot out of the sky in flames, a woman ignites an explosive that blows her up (we do not see the result) as well as a train track, causing the train to fall off the track and into a deep ravine, the flying vessel lifts a car into the air by cables and the flying vessel and several smaller vessels struggle over the train car as they approach a shear wall and the train car falls causing a giant explosion that blows up part of the mountain. A flying vessel is chased by many smaller fighters and they shoot at it as they dodge rubble in the atmosphere and rock formations crashing together around them.
► Many people shoot at guards as the guards shoot at them and their ship and an android is shot twice and when a man goes to retrieve it he is shot (we see a bloody arm wound) and the android separates at the midsection; the man carries the upper portion onto a vessel and the android's lights go out and the man grieves. A man is chained around the ankle and thrown into a pit where we hear growling and a large hairy alien creature enters the area and roars loudly (we see large sharp teeth); the two struggle and fight, the man is thrown against a pole a couple of times, the man bites the creature on the arm and the creature sits on the man pushing his head under thick mud on the floor until the man speaks in the creature's language and they reach an agreement to help each other. We see robots fighting in a cage fight with people and alien creatures standing around the cage cheering them on as sparks fly. A man punches another man in the face (no blood is seen). A woman punches a man in the stomach and calls him names. A man kicks another man in the crotch and he falls to his knees moaning.
► A flying vessel flies near a giant creature with many tentacles, many eyes and a giant mouth that tries to eat the ship as they are both pulled toward a gravity hole; we see the creature pulled into the hole and the ship is nearly pulled in but manages to blast away and through a narrow passage. A man is held across the throat with a metal bar by guards and taken away to a giant centipede-like creature that questions him; he is struck on the back by a guard and he throws a rock through a window in the distance allowing light to pour through and burn the centipede-like creature (we see blisters appear on the flesh as it dives under water). A man and an alien creature are shackled and are taken away by guards that use cattle prods on them as we are told that they are slaves that are to be clipped and tagged. A man speaks to another man threateningly and asks for a reason not to kill him. A man is shown with scars on his face and one seems to be held closed by a metallic strip; the scars turn deep red when he becomes angry. A woman is shown with a brand on her wrist.
► A flying vessel flies through an area where we see planets colliding and see rubble and dust clouds plume. A man and a woman speed away in a vessel while being chased by a larger vessel; the large vessel bumps the other and it nearly careens into oncoming vehicle, they speed through a check point and an android is struck (we see its head bounce on the ground), a man is struck in a pedestrian area and thrown into the air (we hear a scream), and the vessels speed through a factory area where one vessel flips on its side to get through a narrow passage and becomes stuck forcing the occupants to run and they are shot at (no injuries are seen).
► A man and a woman attempt to bribe an agent to be able to leave a planet and the woman is grabbed and taken away by guards as the man yells and pounds on a divider. Guards hassle people in an area where they wait to have their IDs checked before being allowed to leave a planet; we see a woman being separated from her two young children as they all yell and scream and a man is thrown on the ground and asked for his documents. Guards taser many large alien creatures and one of the creatures attacks them with a weapon and throws them into the ceiling and ground so they can make their escape. A woman loads a weapon and says that she is going to have to shoot a man while another man says to snap his neck (they don't do either). Vicious creatures on leashes snarl and growl as they are walked through crowds of people in several scenes. A man speeds away in a vessel as we hear voices calling out in the distance (he has blood on his head). A man thanks another man for killing a woman and the other man says that he pushed her, but he's pretty sure the fall killed her. An android frees a robot from a restraining bolt and tells it to go free and another android frees slaves held with collars around their necks. Several armed alien creatures threaten two men and an alien creature over canisters that contain a power source. A man yells at another man and tells a large alien creature to rip his arms off (the creature doesn't).
► Several people and creatures prepare for a heist from a train carrying an energy source. Many people, including many children, are shown in dark tunnels as they scrounge through items they have stolen. Two men and several aliens gamble with cards and the two men wager their flying vessels. A man and an alien creature play chess with hologram creatures as the pieces and we see them fight on the board.
► An android yells at robots fighting in a cage fight and tries to convince them that they are being used for entertainment purposes; the android later talks about freedom and equal rights.
► A variety of alien creatures are seen: one type is very large and covered with hair and with large teeth, another is shown with two large eyes on long stalks, another is a giant centipede-like being, another has six eyes around its "face," another has tendrils on its head, and others have horns like mountain goats.
► A young woman talks about a group cutting off the tongues of every man, woman and child who resisted them. People talk about risking war with a syndicate. A man talks about goons jumping him. We hear about a planet where young people are forced by an evil creature to steal to get "credits" and to survive. A creature with four arms talks about the joy of sleeping in a Wookie's lap. Two men talk negatively about their fathers. A man tells another man, "Trust no one. Assume everyone will betray you and you'll never be disappointed." A man says that a friend of his crashed and died while doing a dangerous move with a vessel.
LANGUAGE 3 - 2 scatological terms, 1 anatomical term, 11 mild obscenities, name-calling (scrumrats, sparky, hostiles, liar, trouble maker, dumb, mangy, morons, relentless, broken down old crook, junk, touchy, degenerate scum, adorable, disaster, outlaw, arrogant), exclamations (shut-up).
SUBSTANCE USE - People and alien beings are seen drinking in a few nightclub-type scenes, people and alien beings drink at a reception, an alien creature drinks two shots of an alcoholic beverage, a couple of people drink brandy in a bar, and a man invites others to eat a little and drink a lot.
DISCUSSION TOPICS - Lessons, love, consequences, excuses, predictability, the Empire, luck, following rules, love, trust, peace and prosperity, freedom, equal rights, subjugation, compromise, running away, debt, principles, betrayal, sacrifice, survival, rebellion, traffickers.
MESSAGE - Everybody needs somebody.

Be aware that while we do our best to avoid spoilers it is impossible to disguise all details and some may reveal crucial plot elements.
We've gone through several editorial changes since we started covering films in 1992 and older reviews are not as complete & accurate as recent ones; we plan to revisit and correct older reviews as resources and time permits.
Our ratings and reviews are based on the theatrically-released versions of films; on video there are often Unrated, Special, Director's Cut or Extended versions, (usually accurately labelled but sometimes mislabeled) released that contain additional content, which we did not review.
---
We are a totally independent website with no connections to political, religious or other groups & we neither solicit nor choose advertisers. You can help us keep our independence with a donation.
Become a member of our premium site for just $2/month & access advance reviews, without any ads, not a single one, ever. And you will be helping support our website & our efforts.
We welcome suggestions & criticisms -- and we accept compliments too. While we read all emails & try to reply we don't always manage to do so; be assured that we will not share your e-mail address.
We are a totally independent website with no connections to political, religious or other groups & we neither solicit nor choose advertisers. You can help us keep our independence with a donation.
Become a member of our premium site for just $2/month & access advance reviews, without any ads, not a single one, ever. And you will be helping support our website & our efforts.
We welcome suggestions & criticisms -- and we will accept compliments too. While we read all emails & try to reply we do not always manage to do so; be assured that we will not share your e-mail address.