Midway
| 2019 | PG-13 | – 2.5.5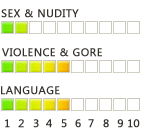 Why is "Midway" rated PG-13?
The MPAA rating has been assigned for "sequences of war violence and related images, language and smoking." The Kids-In-Mind.com evaluation includes a couple of cuddling scenes between a husband and his wife; many scenes of naval battles between aircraft carriers, destroyers and planes leaving a lot of destruction and dead bodies with some blood shown, and people are shown smoking throughout the movie; and at least 1 F-word and other strong language. Read our parents' guide below for details on
sexual content
,
violence
&
strong language
."
---
Based on the events of early June 1942, six months after the attack on Pearl Harbor by the Japanese: the American fleet and the Imperial Japanese Navy clashed in a decisive naval battle that became a major turning point in the Pacific theater during WWII. With Ed Skrein, Patrick Wilson, Luke Evans, Woody Harrelson, Mandy Moore, Dennis Quaid, Alexander Ludwig, Aaron Eckhart, Darren Criss and Nick Jonas. A few lines of dialogue are spoken in a Japanese dialect with English subtitles or translation. Directed by Roland Emmerich. [Running Time: 2:18]
Midway SEX/NUDITY 2
– A wife asks her husband to come to bed; we see them clothed and snuggling together later. Men and women dance at an officers' club.
► Women wear low-cut dresses that reveal cleavage in several scenes. A woman wears a low-cut nightgown that reveals cleavage.
Midway VIOLENCE/GORE 5
– Many aircraft carriers in a harbor are struck by planes flying overhead and are shooting and dropping bombs; we see many men struck by bullets (some bloody wounds are seen and a few men are shown in flames and they scream) and blow up into the air by explosions, while some of the planes are shot down and crash into the sea or onto the carriers. During an attack a plane crashes on a carrier and a man grabs a piece of molten metal badly burning his hands (he screams and we see his reddened hands); he continues to scream as he uses his wounded hands to climb across a rope between two carriers to get away from flames and the sinking vessel, while another man on the rope is shot by a passing plane and a third falls into the ocean below; the injured man gets to the other ship and we see his pants in flames (they are put out and he recovers). Enemy planes fly through a naval base and shoot men walking through the area (we see some struck and blood spurts).
► Two men are shown bound and on the deck of an enemy vessel where they are questioned and threatened until one man is tied to an anchor and thrown overboard (we see him being pulled underwater where he presumably drowns). A plane tries to take off from an aircraft carrier and is unable to get enough speed and lift; the plane dips down and crashes into the water, directly in front of the carrier as it sails into the plane and crushes it under its weight (we understand that the pilot was killed). A plane nearly crashes into a carrier and hits the tale of a plane on the platform as it falls into the ocean; the plane on the platform falls into the ocean and we see the man that was in the plane with bloody wounds later. A plane dives toward a carrier and drops a bomb, the pilot pulls up hard and flames blow up behind the plane as it narrowly escapes. Bombers fly over carriers and drop bombs on them; we see anti-aircraft weapons firing on the planes and a few are struck, burst into flames and fall from the sky. A pilot dives toward an airfield, drops an explosive and pulls up hard to avoid crashing into the ground (we see planes on the ground exploding into flames). Planes maneuver through mountains while shooting at each other and we see that one pilot has been shot (he has a bloody wound on his shoulder) and a plane is later shown with many bullet holes in it. Air raid sirens blare in Tokyo as planes fly through and drop explosives. Planes fly through heavy storms and through mountains; one lane loses an engine and the occupants parachute out and we see one man being held at gunpoint when he lands on the ground below. Several planes fly over carriers and destroyers and drop torpedoes and bombs on them (some strike their targets). Planes fly over a village, open fire on people and drop bombs (we see dead bodies on the ground later with some bloody wounds). A submarine sails under many enemy vessels and fires torpedoes while the surface vessels drop depth charges that explode and knock the sub around. Several bombs are dropped from planes toward carriers and destroyers and they miss landing in the water around the vessels and spraying water onto the decks of the ships; one ship is struck and blows up. A carrier is shown badly damaged and in flames and the fuel spilled below decks ignites causing a large explosion. Two officers order their men to leave their ship and explain that they will stay on board and go down with the ship to avoid having it fall into enemy hands; the men watch as two torpedoes are fired into the hull of the ship and it explodes. A film director is shown filming soldiers as an attack begins and the men on the ground are fired on (the director is shown with a bloody piece of shrapnel in his shoulder after he is thrown to the ground). We hear that body parts are being collected and we see a makeshift morgue with bodies or parts of bodies covered by sheets; we see two badly charred bodies as one is identified by his watch and ring.
► A pilot lands his plane on a carrier and the plane slides over the side of the ship (we see the man with bloody wounds and we hear that he has a back injury). A pilot lands his plane on an aircraft carrier and a smoke bomb is accidentally dropped onto the deck; a man on the vessel jumps on the explosive to try to stop it before it hits anything and he manages to stop it without incident. Two men in a plane practice maneuvers in case an engine fails: the plane dips below the landing platform, and then pops back up and lands without incident. A plane is shot out of the sky and the pilot and co-pilot are shown floating in a life raft; they discuss dehydration and liver failure. A co-pilot grips the burning muzzle of a gun and burns his hands (we hear a sizzle and see his charred gloves). A ship is shown upside down in the ocean and we hear that everyone that had been below decks is now trapped inside the ship (and probably dead). Several men are shown in a hospital and we see some bandaged and others in wheelchairs or using crutches. A man is shown to have a horrible rash on his back and we hear that it is shingles.
► A co-pilot tells a pilot that he is afraid and that the pilot "flies like he doesn't care if he comes back." The wives of pilots sit together and wait for news of their husbands. Men discuss that Japan is trying to cut off the US from its lifeline in Australia. Men discuss the fact that the US navy has far fewer vessels than the Japanese. People discuss a rumor that a man's life is in danger and that he is a target for assassination. We hear about Hitler's Blitzkrieg and that he overran Europe. We hear that Japan invaded China. Before the attack on Pearl Harbor, a man says that the US provides 80% of Japan's oil and if that supply were threatened, they would have to take drastic measures. A wife takes her husband's glasses off his head to try to convince him to stop working; he protests and explains what's at stake and she returns the glasses to him. People discuss intelligence information coming from people that can break coded messages from the enemy. A man says that if commanders don't believe someone's intelligence information, "We will all be speaking Japanese, or most likely be dead." A pilot admits to having lost his confidence and being afraid that he can't go through with flying into battle. A man tells another man, "I thought you were dead." A man says that he inhaled "caustic soda" and that his "lungs are shot." We hear that the Japanese killed many civilians for helping an American pilot and his crew after their plane crashed. We hear about people being tortured and executed. We see people grieving over many newly dug graves in a cemetery.
► Two men stumble along a sidewalk and appear to be drunk; one man calls out to a commander that passes in a car. A man jokingly talks about another man being court-martialed. A reference is made to wanting to make sure that a group of new pilots is "better than a bucket of warm spit." A man inhales deeply from his oxygen mask while flying and he coughs; he says that he "got a bad mix" and we hear and see him cough up blood later.
Midway LANGUAGE 5
– At least 1 F-word, 1 sexual reference, 7 scatological terms, 6 anatomical terms, 35 mild obscenities, name-calling (bloody ridiculous, buggers, barbaric, bastard, old fool, firecracker, unbeatable, cowboy, impossible, cocky), exclamations (how dare you, I swear to you ), 7 religious profanities (GD), 9 religious exclamations (e.g. God, For Christ's Sake, Jesus, Thank God, God Bless Those Boys, Godforsaken, Holy [scatological term deleted]. | profanity glossary |
Midway SUBSTANCE USE
– A man takes a pill in a couple of scenes (it's not clear what kind). Several men drink a toast with glasses of whiskey, a man talks about drinking a beer on the beach, many men drink beers in a bar and shots of liquor as a toast to a fallen colleague, and two men drink whiskey from a flask. A man holds a cigarette, men smoke cigarettes in many scenes throughout the movie (including inside ships, submarines, offices, planes, in a war room, etc.), and a man smokes a pipe.
Midway DISCUSSION TOPICS
– WWII, Pearl Harbor, Marshall Island, the Midway Atoll, the disastrous effects of war, responsibility, code breakers, courage, trust, lacking confidence, eccentric, military service, revenge, USO shows, pride, bravery, heroism, intelligence failures.
Midway MESSAGE
– Always stay in the fight.

Be aware that while we do our best to avoid spoilers it is impossible to disguise all details and some may reveal crucial plot elements.
We've gone through several editorial changes since we started covering films in 1992 and older reviews are not as complete & accurate as recent ones; we plan to revisit and correct older reviews as resources and time permits.
Our ratings and reviews are based on the theatrically-released versions of films; on video there are often Unrated, Special, Director's Cut or Extended versions, (usually accurately labelled but sometimes mislabeled) released that contain additional content, which we did not review.
---
We are a totally independent website with no connections to political, religious or other groups & we neither solicit nor choose advertisers. You can help us keep our independence with a donation.
Become a member of our premium site for just $1/month & access advance reviews, without any ads, not a single one, ever. And you will be helping support our website & our efforts.
We welcome suggestions & criticisms -- and we accept compliments too. While we read all emails & try to reply we don't always manage to do so; be assured that we will not share your e-mail address.
We are a totally independent website with no connections to political, religious or other groups & we neither solicit nor choose advertisers. You can help us keep our independence with a donation.
Become a member of our premium site for just $2/month & access advance reviews, without any ads, not a single one, ever. And you will be helping support our website & our efforts.
We welcome suggestions & criticisms -- and we will accept compliments too. While we read all emails & try to reply we do not always manage to do so; be assured that we will not share your e-mail address.