The Harder They Fall
| 2021 | R | – 4.8.7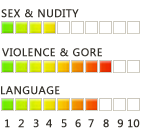 Why is "The Harder They Fall" rated R?
The MPAA rating has been assigned for "strong violence and language." The Kids-In-Mind.com evaluation includes an interrupted sex scene, a few kissing scenes, many scenes of gunfights with bloody wounds shown and bodies falling dead, a young boy witnessing the murder of his parents, a man using a straight razor to cut a young boy's face, an encounter on a train that leaves many soldiers dead, a few fight scenes, a few explosions with one blowing up a man, many threats of violence, and at least 24 F-words and other strong language. Read our parents' guide below for details on
sexual content
,
violence
&
strong language
.
---
A story of revenge set in the old west about a bandit (Jonathan Majors) determined to find and kill the notorious outlaw (Idris Elba) and his gang, who were responsible for murdering his parents when he was a young boy. Also with Regina King, LaKeith Stanfield, Zazie Beetz, Edi Gathegi, Delroy Lindo, Tait Fletcher, Mark Rhino Smith, Danielle Deadwyler, RJ Cyler and Deon Cole. Directed by Jeymes Samuel. [Running Time: 2:10]
The Harder They Fall SEX/NUDITY 4
– A man and a woman kiss and caress each other in her room and they begin to undress: the man lifts the woman up and she straddles him when he sits on a sofa and are then interrupted. A man and a woman kiss deeply in a saloon (please see the Violence/Gore category for more details). A husband and his wife kiss tenderly. A man sings to and nuzzles the neck of a woman; he asks her to marry him, they kiss tenderly and she walks away. A man and a woman hug.
► A man gives a young man a dress to wear for a bank robbery and when the young man changes his clothes, a man is surprised to see that he is female; the man exclaims "Close shave," and makes a remark about having been attracted to the woman.
► A woman seemingly painted with dark blue paint and with strategically placed gold leaves dances in a saloon (the leaves cover her nipples, crotch and partial buttocks). Several women stand on the balcony of a saloon wearing assorted low-cut tops that reveal cleavage, with some undergarments exposed (it is implied that they are prostitutes). A woman performing on stage in a saloon wears a bodice that reveals cleavage and her bare shoulders. A shirtless man is shown being beaten by another man (we see his bare chest, abdomen and back).
The Harder They Fall VIOLENCE/GORE 8
– A man walks next to a carriage that is apparently filled with money owed another man; the carriage explodes and blows the man up as well (his severed and charred arm lands on the ground and we see charred skin and blood). Two men face off in the center of a town and one man is shot through the face (we see a bloody hole open in his face as he falls back dead); another man is shot and blood sprays and a third man is shot through the eye (we see a bloody hole), and a cart filled with money and explosives is blown up throwing the burning bills into the air. A man rides through a town shooting several people and we see bloody wounds as men fall to the ground dead; the man and a woman stand back to back and shoot many other people that are shooting at them. Many men wearing bags over their heads with eyes and a mouth cut out of them ride horses through a desert pass and a man hiding in rocks nearby shoots several off their horses (blood sprays and they fall dead); one man accidentally shoots his own horse (the animal falls and we see blood), he then uses the animal as a shield and it is struck again (blood and tissue are seen) as several men shoot at the first shooter. A man shoots another man in the abdomen twice (bloody wounds are seen), and then continues to shoot him after he falls to the floor until his gun is empty. A soldier on a train holds a shotgun on several men that have boarded the train and are holding guns on the passengers: they take the soldier to another train car with a vault containing a prisoner and guarded by other soldiers, they threaten the soldiers and the first soldier is shot twice (we see blood and he moans) before they are granted access to the car; one person shoots a soldier (he falls dead) when they are refused access to the vault and after the vault is opened they shoot all but one of the remaining soldiers (blood sprays). Several people are shown on horseback as a train approaches, one woman on a horse stands astride the tracks and the train blares its whistle as a warning before pulling the brakes and stopping; the conductor gets off the train yelling, using racist terms, and she shoots him in the head (blood sprays). Someone pounds on the door of a house and a man answers, and seeing who it is, he is alarmed; two men enter the house and one man sits at the table with the first man, his wife and young son, he places two guns on the table (the family becomes nervous), he shoots the woman with both guns knocking her out of her chair (we see her dead and bloody on the floor), and then shoots the man with both guns and he is thrown back with bloody wounds; another man holds the young boy still while a cross is carved into his forehead with a straight razor (he screams and we see blood). A man kneeling at the altar in a church confronts another man that enters asking for money; the man says that he is there to kill him, the threatened man pleads with him and the first man shoots him four times (blood sprays) and the man is thrown into the air before landing hard on the floor. A young man shoots a man in the throat and he stumbles out into the road with blood spurting from the wound; he falls dead on the ground. Two men fight and one slashes the other's throat (blood splatters), and he shoots another man; another man shoots him in the back through a door and we see a bloody wound, the man turns to face the man that shot him and he shoots him again in the chest (he falls dead).
► A man shoots another man's hand (he drops his gun). A man threatens another man with a gun on a train and then slashes him on the legs four times and he falls into a chair moaning (we see blood on the knife). Many people in a town complain about paying a tax to people that have arrived in their town and ousted their sheriff; one of the men that complains is shot in the head and falls dead (we see blood) and the rest of the people are threatened that if they do not comply (they state, "Everything that you love will burn").
► Two women fight in an extended scene: they use punches, kicks, throws, they hit each other with implements like a knife, a bottle, a heavy chain, a horseshoe, and a pitchfork and we see some bloody facial wounds and blood splatters when one woman hits the other in the head with a shotgun knocking her unconscious (the woman screams loudly). An African American man and an African American young woman ride into a town where many white people stare and seem shocked by their presence; they enter a bank and the young woman says that she wants to make a withdrawal, and the teller laughs hysterically until the young woman points a gun at her and the man hits a man in the face knocking him out; the man and the young woman ride out of the town as sirens blare and people shoot at them. A woman rides into a town where she is confronted and asked if she lives there; she is held at gunpoint by several people. We hear that soldiers wiped out a whole town including women and children. A man holds two guns on people in a saloon and tells a young man to put handcuffs on another man that he takes out of the saloon at gunpoint. A man with a bruised face from a beating is held at gunpoint. A man holds a gun on another man and shoves him; the man's hands are tied and when the man with the gun tells him to exhale, we hear a gunshot and see that he has shot the ties to free him. A body in a coffin is shown standing up in a town as a man photographs it.
► A man is tied around the wrists and hangs from a ceiling while another man punches him in the abdomen repeatedly and a woman in a cell is forced to watch. Two men give a young man posted at the door of a saloon a hard time when he tells them that they need to leave their guns; one man puts on brass knuckles and swings at the young man, who knocks them both out with punches. A woman hits another woman in the face with her gun butt and she is knocked to the floor (we see her bloody mouth and lip later). A man wraps a rope around a woman's throat and chokes her, and then releases her and she coughs and gags and we see a bruise on her neck. A man punches another man in the face and he spits out blood; the man then hits him in the face with his gun butt and the man spits out two teeth (blood spurts and the man coughs and gags), and he then points his gun at the man and tells him to leave or die. A man and a woman kiss deeply in a saloon and she punches him in the face and tells him to leave (he falls to the floor).
► A man steps out of a vault and we see that he is handcuffed and shackled. A man practices spinning his guns and doing tricks with them in a few scenes. A man is shown with a cart filled with guns and ammunition and other people arm themselves before going to a town to confront a man. A woman slaps her son's hand when he reaches for food before they say grace. A woman performing on a stage taps a shotgun on the stage in rhythm with her song. A man takes a drink from another man's whiskey and says that he only drinks before or after he kills a man.
► A woman peels an apple with a knife while telling a story about her sister being bullied when they were young and that one bully threw an apple at the sister causing her to fall down some stairs and break her ankle; she says that her father beat her with a belt for not protecting her sister and she then went to the bully's house and slit her throat killing her. A man talks about his father beating his mother to a pulp and that when he tried to intervene the man turned his wrath on him. A man tells another man that he owes him money and that he will rob a bank to pay him the interest he owes on that money. Two men argue about how they handled a gunfight while robbing a gang of their money. A man boasts about his shooting skills to another man and challenges the other man, but they are interrupted by a man telling him to stop. A man touts himself as being a "quick draw" and says that he is "lightning with the blam-blam" at one point. A woman talks about her sister dying of polio.
► A man eats a very bloody steak and we hear squishing as he chews with his mouth open. A man has a scorpion tattoo on his hand. A man stands alongside a stagecoach and could be urinating but we do not see or hear anything.
The Harder They Fall LANGUAGE 7
– About 24 F-words and its derivatives, 1 sexual reference, 24 scatological terms, 9 anatomical terms, 16 mild obscenities, 3 derogatory terms for African-American people, name-calling (egotistical, stinkin', nincompoop, subservient, stupid, shiny, criminal, bastard, dead man walking, bad karma, cheating, coward, motherless scum, rude, feisty, crazy, outlaws, angel of death, predictable, damsel in distress, fat, thin and frail, risky, treacherous, devils, unscrupulous, crooked, old man), exclamations (calm down, shut-up), 5 religious profanities (GD), 1 religious exclamation (e.g. Jesus, a family says grace before a meal). | profanity glossary |
The Harder They Fall SUBSTANCE USE
– People drink in a few saloon scenes, and a man says that his abusive father liked to drink. A man smokes cigarettes in several scenes.
The Harder They Fall DISCUSSION TOPICS
– Revenge, love, death of family members, fear, loyalty, respect, retribution, spousal and child abuse.
The Harder They Fall MESSAGE
– Revenge is invariably a difficult endeavor.

Be aware that while we do our best to avoid spoilers it is impossible to disguise all details and some may reveal crucial plot elements.
We've gone through several editorial changes since we started covering films in 1992 and older reviews are not as complete & accurate as recent ones; we plan to revisit and correct older reviews as resources and time permits.
Our ratings and reviews are based on the theatrically-released versions of films; on video there are often Unrated, Special, Director's Cut or Extended versions, (usually accurately labelled but sometimes mislabeled) released that contain additional content, which we did not review.
---
We are a totally independent website with no connections to political, religious or other groups & we neither solicit nor choose advertisers. You can help us keep our independence with a donation.
Become a member of our premium site for just $2/month & access advance reviews, without any ads, not a single one, ever. And you will be helping support our website & our efforts.
We welcome suggestions & criticisms -- and we accept compliments too. While we read all emails & try to reply we don't always manage to do so; be assured that we will not share your e-mail address.
We are a totally independent website with no connections to political, religious or other groups & we neither solicit nor choose advertisers. You can help us keep our independence with a donation.
Become a member of our premium site for just $2/month & access advance reviews, without any ads, not a single one, ever. And you will be helping support our website & our efforts.
We welcome suggestions & criticisms -- and we will accept compliments too. While we read all emails & try to reply we do not always manage to do so; be assured that we will not share your e-mail address.