Ghosts of War
| 2020 | R | – 5.9.6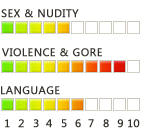 Why is "Ghosts of War" rated R?
The MPAA rating has been assigned for "strong bloody violence, disturbing and grisly images, language and brief nude images." The Kids-In-Mind.com evaluation includes a pornographic magazine and a brief discussion of prostitution; many scenes of violent acts with lots of blood and gore shown, sounds of breaking bones and tearing tissue, the murders of civilians (including children) as well as military service people, encounters with ghosts, and at least 15 F-words and other strong language. Read our parents' guide below for details on
sexual content
,
violence
&
strong language
.
---
As WWII is coming to an end in 1944, five battle-hardened American soldiers (Brenton Thwaites, Theo Rossi, Kyle Gallnera and Skylar Astin) are assigned to hold an abandoned French chateau in Nazi-occupied France. What seems like a respite from sleeping rough outside soon devolves into supernatural horror that seems inescapable. Also with Billy Zane, Shaun Toub, Vivian Gray, Laila Banki and Alan Ritchson. Directed by Eric Bress. A few lines of dialogue are spoken in an Arabic language with English subtitles. [Running Time: 1:34]
Ghosts of War SEX/NUDITY 5
– A soldier looks at a pornographic magazine with pages of topless women wearing undergarments (bare breasts, cleavage, abdomens and legs are seen). Paintings of nude women are shown on a wall in the background with bare breasts, abdomens and legs visible (no additional details are discernable). Nude female statues are seen from a distance a few times (bare breasts, abdomens, legs and partial buttocks are seen). Five men walk along a road where they come upon several male dead bodies wearing only boxers (we see bare chests, abdomens and legs).
► A man asks where the nearest "cathouse" is. Men make crude remarks about the anatomy of French and Japanese women.
Ghosts of War VIOLENCE/GORE 9
– Men with weapons enter a home where a man is tied to his chair and forced to watch as his children are murdered: we see a teen girl hanged and a young boy drowned in a basin before the man is splashed with gasoline and set ablaze (we see the man thrashing in flames) as his wife pleads and is struck in the face by the attackers. A military vehicle and many soldiers arrive at a house where 5 soldiers are inside; the soldiers outside are unable to open the doors and seem to be moving on until loud banging is heard inside and they turn back, throw an explosive inside the house and one man inside dives on the explosive to quell the blast (we see the man with his arms missing at the elbows and blood and tissue splattered around, as well as on his chest, face and head, which is badly burned with reddened and charred flesh); the men shoot at each other as they move through the house, one man stabs another man in the throat (we see the bloody gash and blood sprays), a man tumbles down a flight of stairs to the basement, a man shoots two other men (blood splatters), and a man is drowned in a bathtub (we see him struggling underwater). A soldier uses a sniper's rifle to shoot and kill several attackers at dusk (it is in shadow and we do not see blood). A military vehicle with soldiers in it drives along a road and blows up; several other soldiers walking nearby go to see if there are survivors and find one man dead with bloody wounds on his head, another man pinned under the vehicle and moaning (a soldier shoots him in the head killing him and we see blood spray), another man moans with gashes on his head and face and a soldier pounds him in the head twice with a crowbar causing crunching sounds and blood spray; a final man is helped to his feet and a soldier fights him with several loud punches landing on each man before one of the men is shot in the head by another soldier (blood sprays and he falls dead).
► A soldier cuts the gold teeth out of a dead soldier's mouth (we hear crunching and see blood). Two men move a heavy cabinet and when the door slams closed on one man's hand it breaks his fingers (we see his fingers bloodied and bent unnaturally, as he screams). We see a dead boy standing behind another man in a reflection in bath water; the man is then pushed into the tub and held underwater as he struggles and sees three men wearing gas masks and holding a drill that spins before he can eventually surface and get out of the water. A man has a nightmare of being bound and standing on a stool with a rope around his neck and he falls off the stool and hangs by the neck until he wakes up gasping for air. Four ghosts appear in a hallway and attack three men: the men try to stab and shoot them, a grenade is placed in the shirt of one ghost and it explodes blowing a bloody hole in the body and spraying blood and matter on the wall behind it, and a man is thrown across the room by a ghost. A boy's body is shown with his head completely gone, and we see blood splatter on a wall behind him and a bloody gaping wound at his shoulders. A woman carrying a bomb runs out of a building and a man tackles her as they both explode (blood sprays) and others in the vicinity are thrown by the blast.
► What looks like the ghost of a woman appears in a room and screeches in the face of a man (we see the ghost's face with dark holes where the eyes and mouth would be and dark goo dripping from them); the ghost drags the man outside and he screams for another man to shoot it, and another man shoots but does not hit anything. A man's hand moves involuntarily (as if someone else is moving it) while he writes in a journal and we see the words, "You die." A man sees what looks like a woman in heavy shadow in a hallway and when he tries to focus on her she disappears until he turns around and is startled by her standing right in front of him. Several soldiers walk through an open field and squat to the ground when they hear noises from a tree line; they see emaciated women and children walk up the ridge and along a road in a line. We hear sounds of war with explosions, gunfire and people yelling as soldiers sleep in a forest and one wakes with a start to see someone standing in the shadows lighting a cigar and flinging it at the soldier; we hear a gun cocking and the soldier closes his eyes tightly and then reopens them to see no one. Soldiers walk through a town where there are flames burning on the street. Soldiers approach a military vehicle where a man is lying with his legs dangling over the door and they wonder if he is dead; he is sleeping. A badly injured man screams, "This isn't real" repeatedly, and he grips another man by the lapels (even though he has no hands) until he eventually collapses unconscious. Men find dead bodies in an outbuilding and react to the smell (we see the charred flesh of a man). A man in a hospital room grabs a scalpel and threatens medical staff; he vomits and a woman removes a tube from his throat (we see goo). A soldier holds a knife to the throat of a commanding officer when they are ordered not to intervene during an attack.
► A soldier with a rifle surveys a property from an attic window, and he sees what he thinks is a person hanging where a statue would be; what looks like a blue tinged man then moves in front of his site startling him. Five men walk along a road where they come upon several dead bodies (please see the Sex/Nudity category for more details) with bloody wounds. Men in a hospital room are shown with varying injuries and re all attached to monitoring equipment and IVs; one man has a gaping abdominal wound and we see his intestines out of his body and piled on top of his abdomen, one man is missing both of his legs from the knee down, another is missing his arms, and one man is missing his lower jaw (we see wires in his throat and neck).
► A man alone in a room of a large house hears a door slam by itself and we see someone moving behind him (he leaves the area). Two men follow strange noises in a house and a kitchen door flings open by itself, and we see what looks like a silhouette of someone hanging in the window in the distance. A man alone in a basement hears a something fall on the floor behind him and goes to see what it was but finds nothing. A man alone in a hallway tries to light a cigarette and the match keeps extinguishing; he hears a noise at the end of the hall and approaches a doorway holding a knife, but the door is locked (it opens by itself as he walks away). A candle blows out when a man is alone in a basement. A man alone in a room lies down to sleep and a music box begins to play by itself. A man exhales while alone in a room and we see his breath implying that there is a ghost in the room.
► Several scenes show men trying to find out where strange noises are coming from. We see scratch marks on a wooden floor (like from fingernails). We see a scorch mark on a rug where a chair had once been placed. A photo of a family of four is studied and after a candle blows out and when it is relit, we see that the photo does not contain people. Three men bury four bodies and we see the graves as they pray over them.
► A man describes reading a diary that includes a man having watched his wife and children being murdered before he was burned to death. A man talks about a relative not being able to join the army because he had flat feet and that he hanged himself in his uncle's barn. Two men argue and one accuses the other of lying. A man talks about another man having "carved up 15-year-olds" and that they found them with "their guts on the floor." A man talks about Adolf Hitler being a big believer in the occult. A pentagram is found painted on an attic floor and men talk about it being used for ritualistic killings. A voice on a radio is heard and we hear something about "burning for eternity." A man describes having cut off the head of a boy. Three men discuss giving murdered people a proper burial. A man asks two other men if they are willing to die in a military prison. A man talks about something giving the dead the power to return from the dead.
► A message is read that states, "They've cut out my tongue." A message is translated from Morse code as, "I have no legs." A man talks about someone finding a woman's ear in a sink. A soldier scratches his foot and ankle incessantly with a fork, and we see that his skin seems to have a rash.
Ghosts of War LANGUAGE 6
– About 15 F-words and its derivatives, 1 obscene hand gesture, 7 scatological terms, 2 anatomical terms, 8 mild obscenities, name-calling (schwein, ding-a-ling, ginger, sick pups, evil, demonic, bad juju, rude, Hitler Youth), 1 religious profanity (GD), 8 religious exclamations (Jesus, Amen, I Swear To God, For God's Sake, Oh My God, Oh God, three men pray over a grave). | profanity glossary |
Ghosts of War SUBSTANCE USE
– A man drinks from a flask, a man drinks from a bottle of wine or brandy in a couple of scenes, and several men drink brandy. A man smokes a cigar and a couple of men smoke cigarettes in a few scenes.
Ghosts of War DISCUSSION TOPICS
– War, Nazis, Afghanistan, ISIS, duty to protect, PTSD, suicide, Adolf Hitler, the occult, curses, quantum entanglements, ritual killings.
Ghosts of War MESSAGE
– Not doing everything possible to defend the innocent will haunt you forever.

Be aware that while we do our best to avoid spoilers it is impossible to disguise all details and some may reveal crucial plot elements.
We've gone through several editorial changes since we started covering films in 1992 and older reviews are not as complete & accurate as recent ones; we plan to revisit and correct older reviews as resources and time permits.
Our ratings and reviews are based on the theatrically-released versions of films; on video there are often Unrated, Special, Director's Cut or Extended versions, (usually accurately labelled but sometimes mislabeled) released that contain additional content, which we did not review.
---
We are a totally independent website with no connections to political, religious or other groups & we neither solicit nor choose advertisers. You can help us keep our independence with a donation.
Become a member of our premium site for just $1/month & access advance reviews, without any ads, not a single one, ever. And you will be helping support our website & our efforts.
We welcome suggestions & criticisms -- and we accept compliments too. While we read all emails & try to reply we don't always manage to do so; be assured that we will not share your e-mail address.
We are a totally independent website with no connections to political, religious or other groups & we neither solicit nor choose advertisers. You can help us keep our independence with a donation.
Become a member of our premium site for just $2/month & access advance reviews, without any ads, not a single one, ever. And you will be helping support our website & our efforts.
We welcome suggestions & criticisms -- and we will accept compliments too. While we read all emails & try to reply we do not always manage to do so; be assured that we will not share your e-mail address.