Da 5 Bloods
| 2020 | R | – 1.9.10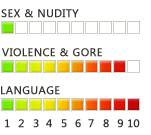 Why is "Da 5 Bloods" rated R?
The MPAA rating has been assigned for "strong violence, grisly images and pervasive language." The Kids-In-Mind.com evaluation includes many Vietnam War scenes and flashbacks with gruesome injuries, death and bloodshed, several arguments, a few fights and discussions of war and the effects war has on soldiers, and about 130 F-words and other strong language. Read our parents' guide below for details on
sexual content
,
violence
&
strong language
.
---
Four Vietnam veterans (Delroy Lindo, Jonathan Majors, Clarke Peters and Norm Lewis) return to the war-torn country to find the remains of their deceased squad leader (Chadwick Boseman), as well as dig up a cache of buried Vietnamese gold. They then have to fight locals and each other for its possession. Also with Isiah Whitlock Jr., Melanie Thierr, Paul Walter Hauser, Jasper Pääkkönen and Jean Reno. Directed by Spike Lee. [Running Time: 2:35]
Da 5 Bloods SEX/NUDITY 1
– A man kisses a woman on one cheek.
► A woman says that she and a male coworker occasionally use each other for sex. An Asian woman with an adult daughter admits to a former US soldier that the daughter is his biological child.
► A man is shown shirtless in two scenes.
Da 5 Bloods VIOLENCE/GORE 9
– A man steps on a landmine off-screen and we hear screams, and we see the man with bloody arm stumps at the elbows, an open bleeding abdomen and gore, more mutilated gore in place of legs and a charred face; he whimpers and dies.
► Several flashbacks and real-time scenes involve Americans and Vietcong soldiers or Americans and former North Vietnamese mercenaries in battle: Scenes are filled with fire flashes from loud assault rifles and handguns, handheld mortar fire, and grenades with several men on both sides falling dead when struck (three men in different scenes suffer headshots with blood gushing out the back or side of the head and one of the victims has his hands handcuffed behind his back). A brief scene shows bleeding and dead women and children. An elderly man throws himself on top of a grenade that explodes with a muffled sound and an overhead shot shows him lying face down in a pool of blood. A man steps on a mine that does not explode; a group of men and a woman pull on a long rope tied around him to yank him off quickly, the mine explodes behind him, and he is uninjured but he cries in fear. A man opens his shirt to show a large abdominal wound and in a flashback we see him struck by friendly fire as an enemy behind him falls dead (no blood is shown). A man bandages the wounded thigh of another man and we see significant bloodstains.
► A vehicle backs up on a wide path and falls over on its side and a man struggles to get out the passenger side window (his face becomes scraped and dirty); he and North Vietnamese mercenaries have a shootout with others (we see a lot of bloodshed and several men fall dead, a woman is unharmed, a man has a bloody thigh wound, a guide has a shoulder wound that bleeds, and three others are dirty but unharmed, and others lie dead in pools of blood in an aerial view). A man is surrounded by four North Vietnamese mercenaries that force him to dig a grave and all four shoot him multiple times until he falls into the grave below the frame. In a flashback, an army helicopter flies over the pieces of a wrecked plane and Vietcong shoot at it; a GI inside dies (there's no blood) and the chopper spirals and lands hard, a lot of gunfire is exchanged between sides and several Vietcong and two GIs fall dead, and a bloody arm dangles out of a parked vehicle (the owner likely dead). Four men tie up a woman and two men in a jungle; one of the captives escapes after being punched in the face and falling and steals a vehicle, but is captured by North Vietnamese mercenaries and later steps on a landmine in a long shot in which we see only a large shaft of muffled exploding dirt (he seems to disappear in the cloud). A man swings a knife at a man who grabs it and stabs the first man in the stomach several times (we see blood flow). A man falls in a looped rope trap, tumbles down a hill, and frees his foot from the rope but cannot reach his backpack stuck in a tree above; he grunts and walks away, laughing.
► In a flashback, a squad leader tells his four members that whites put blacks in the most dangerous positions to use as cannon fodder; a squad member vows to kill white GIs, but the first man orders the squad to not do this and all five shoot their rifles into the air and shout for several seconds. We see footage of a woman bending over a dead Kent State student, Malcolm X, a 1960s protest, a coffin on a caisson, a man consumed by a fire he lit on himself, two children with napalm burns, and soldiers sweating in the jungles of Vietnam.
► A veteran in his 60s with PTSD has several panic attacks, screaming and lunging at an Asian man, and another time at two of his own friends; in other scenes, he shouts and curses at his adult son and finally leaves his group to wander through Vietnam jungles alone. A man struggles with and punches another man over a handgun until the second man falls with no injury seen. A man in a jungle throws a venomous snake toward another man's arm, the second man screams, shoots the snake below the frame, and sucks and spits out the venom from his arm (no wound is seen). A one-legged man hops on one crutch; he plants fireworks outside a cafe and four men come out and think the explosions are gunfire and mortars and dive face down on the sidewalk as the first man hops up and down and laughs. A man slaps another man in the face twice and tells him to straighten up.
► A man says his mother died in childbirth. A clip of a speech by Martin Luther King Jr. is followed by a caption that reads that he was assassinated one year later. Footage of Muhammad Ali in 1968 includes his anti-war comments about shooting poor hungry people living in the mud and lynching. In a current scene, a veteran talks to himself in the jungle about government mistreatment and then says the lymphoma that Agent Orange gave him will not kill him. Five men and a woman argue loudly among themselves in a few scenes. A man cries in two scenes and laughs and cries hysterically in another scene. Two men become tearful in a scene. A man tells friends that he talks with the ghost of an American GI every night and in a flashback, he sees the ghost, who hugs the first man who is crying. A close-up scene shows a tear streaking the cheek of a man's face.
► Four men dig up a rifle, dog tags, a skull and a rib cage and cry over the remains. A flag-draped coffin is carried off an army plane and mourners walk behind it. Two men pound a cross made of sections of wood into a grave that is below the frame.
► A merchant chops the head off a snake and tosses the snake to a customer (we see a small amount of snake blood). A man spits water out of a canteen. A woman says she needs to urinate in the jungle; she squats below the frame and we hear a trickle. A man says that poachers killed all the leopards that once were in Vietnam.
Da 5 Bloods LANGUAGE 10
– About 130 F-words and its derivatives, 86 scatological terms, 24 anatomical terms, 40 mild obscenities, 12 derogatory terms for African-American people, 3 derogatory terms for Vietnamese people, 1 derogatory term for French people, 1 derogatory term for Caucasians, name-calling (bastard, freeloading immigrants, reality TV clown, [anatomical term deleted]-whipped, cockroach, backstabber, trickster, crazy, stupid, imbecile, hard head, baby killers, punks, ignorant, gangster, fat boy, dirty rat, spineless rat, lazy, whore, 'ho, Soul Alley 'ho, fools, dope fiend, junkie, car thieves, guttersnipes, chain snatchers, President Fake Bone Spurs, Black Uncle Sam, Patty Heart, Banker Drysdale, Anti-Commie Kool Aid, OGs, fugazi, Thanksgiving jive turkey giblet sorry-[anatomical term deleted], Klansman), exclamations (wow, great googly woogly, oh my goodness, shut-up), 23 religious profanities (GD), 28 religious exclamations (e.g. Oh My God, Oh God, Jesus, Holy [scatological term deleted], Holy [mild obscenity deleted], I Swear To God, So Help Me God, For God's sake, Lord Have Mercy, Thank You Lord, Go With God, Godspeed, God Rest His Soul, God Is Love, God Is Great, Pray To God, Amen, a hymn, a graveside prayer, the 23rd Psalm). | profanity glossary |
Da 5 Bloods SUBSTANCE USE
– Two injured men swallow tablets of OxyContin in two different scenes, a man says a pain drug is addictive, and a man pours a bottle of a pain drug onto a dirt path and hobbles away. A man drinks a cocktail in an airport lobby and a club while dancing, four men drink cocktails in a cafe, a man and a woman drink from glasses of beer in a cafe and two men join them while drinking from beer bottles, and four men drink from beer bottles of a six-pack in a boat. A man lights and smokes a cigarette in close-up, a woman smokes a cigarette, three men smoke cigarettes in a jungle, and a woman smokes a cigarette not far from a vehicle that is leaking gasoline (no explosion occurs).
Da 5 Bloods DISCUSSION TOPICS
– The Vietnam Conflict, the My Lai massacre, political corruption, assassinations, Hollywood whitewashing of wars, abandoned children of American GIs overseas, Hanoi Hannah, PTSD, Black Lives Matter, Civil Rights, Martin Luther King Jr., white supremacy, MAGA, bigotry, greed, pain, paranoia, ghosts, the African-American experience, activism, social conscience, landmine remediation, honor, justice, forgiveness, hope.
Da 5 Bloods MESSAGE
– War never ends, so learn to love one another.

Be aware that while we do our best to avoid spoilers it is impossible to disguise all details and some may reveal crucial plot elements.
We've gone through several editorial changes since we started covering films in 1992 and older reviews are not as complete & accurate as recent ones; we plan to revisit and correct older reviews as resources and time permits.
Our ratings and reviews are based on the theatrically-released versions of films; on video there are often Unrated, Special, Director's Cut or Extended versions, (usually accurately labelled but sometimes mislabeled) released that contain additional content, which we did not review.
---
We are a totally independent website with no connections to political, religious or other groups & we neither solicit nor choose advertisers. You can help us keep our independence with a donation.
Become a member of our premium site for just $1/month & access advance reviews, without any ads, not a single one, ever. And you will be helping support our website & our efforts.
We welcome suggestions & criticisms -- and we accept compliments too. While we read all emails & try to reply we don't always manage to do so; be assured that we will not share your e-mail address.
We are a totally independent website with no connections to political, religious or other groups & we neither solicit nor choose advertisers. You can help us keep our independence with a donation.
Become a member of our premium site for just $2/month & access advance reviews, without any ads, not a single one, ever. And you will be helping support our website & our efforts.
We welcome suggestions & criticisms -- and we will accept compliments too. While we read all emails & try to reply we do not always manage to do so; be assured that we will not share your e-mail address.