The Tomorrow War
| 2021 | PG-13 | – 1.7.5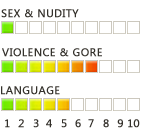 Why is "The Tomorrow War" rated PG-13?
The MPAA rating has been assigned for "intense sequences of sci-fi violence and action, language and some suggestive references." The Kids-In-Mind.com evaluation includes a couple of kisses, many scenes of alien attacks with human and alien blood and gore shown, a few time travel sequences with injuries and death at the point of impact, discussions about the end of humankind, child abandonment, and at least 1 F-word and other strong language. Read our parents' guide below for details on
sexual content
,
violence
&
strong language
.
---
With the fate of humanity on the line, a former soldier (Chris Pratt) is recruited to travel to the future and fight a war against voracious and predacious alien creatures that are overwhelming life on the Earth. Also with J.K. Simmons, Betty Gilpin, Sam Richardson, Jasmine Mathews, Yvonne Strahovski, Edwin Hodge and Mary Lynn Rajskub. Directed by Chris McKay. [Running Time: 2:20]
The Tomorrow War SEX/NUDITY 1
– A husband and his wife hug and kiss in a couple of scenes. A man describes a fantasy where he is with "… a woman in her birthday suit with a jar of pickles and a bottle of baby oil."
► A man is told to take his shirt off during a medical evaluation (we see his bare chest and abdomen). Women wear low-cut tops and dresses that reveal cleavage. A woman wears a cropped top that reveals cleavage and bare abdomen.
The Tomorrow War VIOLENCE/GORE 7
– During a "jump" to the future there is a malfunction and the people being sent are dropped from a great distance onto hard surfaces and the ground; people fall through clouds and smoke and crash into a swimming pool (one man struggles in the water and cannot swim), onto the rooftops of buildings and to the ground far below (we see this a couple of times); several people are shown lying motionless and others are injured and moaning and we see a city in rubble and flames. Many aliens watch as people move through a stairwell; the aliens lunge down at the people and we see their mouths with many sharp teeth and appendages that shoot bony spikes and several people are attacked, thrown, bitten, decapitated and killed while some aliens are shot repeatedly and blood splatters. Many aliens chase people as they run for rescue vehicles: the vehicles are attacked by the aliens and overturned (we see the occupants grabbed, thrown and bitten) and the people run away as bombs are dropped and one man falls through an opening breaking his leg (we see some blood and possibly bone) when he lands below; other people jump down to help him and they are followed by a swarm of aliens, and flames blow through the area killing many aliens and people. A man shoots at an alien, it lunges forward and the man uses an axe to slam it in the head and another man shoots the alien before it attacks the first man (goo sprays). Many dead bodies are shown hanging from their feet and wrapped in tendrils. Soldiers shoot ropes into an alien and it struggles to get away, and lunges around the area attacking people throwing them and biting them (one person is shown being cut in half); the alien attacks a woman and pins her against a rock wall until the alien is pulled into a cage and flown away and many other aliens converge on the area with some jumping onto a helicopter (they are cut by the spinning blades and goo sprays); another helicopter is attacked and it spins out of control.
► A woman is shot in the back with a spike and we see it as she pulls it out from her abdomen and there is blood on her vest. A man drives a military vehicle and a woman shoots the large gun attached to the roof as aliens chase them. A woman is grabbed by an alien and they slide down a ramp elevated over many aliens below; the woman falls toward the many aliens and presumably dies. Several aliens inside pods are injected with a toxin and they thrash and die (they burst out of the pods and seem to melt on the floor); other aliens burst out of their pods and attack people. A man shoots several aliens and another man uses a saw to cut an alien's head off (goo splatters in snow); a man blows up an alien vessel killing himself in the process and another man is thrown by the blast. Two men chase an alien and it attacks what it thinks is one of the men, the alien is shot repeatedly (blood and goo splatter) and falls over a cliff but reappears and attacks the two men; one man jabs the alien in its appendage and it bites it off when it begins to turn black, the alien lunges toward one of the men that has cut his hand (we see blood) and the other man grabs it from behind and slashes its throat, and then shoves a toxic capsule in its mouth causing its face to melt and he kicks it over the cliff (we see it bouncing down the rocky hillside for a while and it splatters on the snowy ground below).
► An explosion in a glacier opens a hole and caves where an alien vessel is uncovered and we see many pods containing alien creatures that burst out and attack people as they try to destroy them. Swarms of aliens breach a perimeter and planes shoot at them as people run away; two people are trapped and a woman shoots a gas pipe that explodes and blows flames on several aliens. Fighter planes are deployed to drop bombs on an area where there are many aliens and humans rush to get out; the bombs are dropped and several people are caught in the blast. An explosion opens a glowing portal onto a soccer field and a stadium filled with people watch as armed people step out of the portal and talk about being from the future. After a "jump" to the future is initiated, we see people being pulled off the ground and they become pixels of light. Sirens blare and lights flash in a draft facility where people are lined up for a "jump" to the future. Many people are transported back in time and they slam to the ground when they land. People on a rooftop watch as aliens attack other people on the ground and then apparently eat them (it is from a distance and not very clear). Aliens chase wild horses, trap them and kill them (we see this from a distance). As people walk through a burned out city, we see many dead bodies, smears of blood, and spikes embedded in hard surfaces. A dead alien is shown on the floor and a man cuts out one of its claws (we see some slime). An alien nest is shown filled with piles of bones.
► A man is strapped into a chair, his arm is placed in a device and we see an X-ray image of something being clamped onto his arm as he yells and we later see that a heavy cuff has been attached to his arm. A man cocks a gun and points it at another man. People are given weapons in a draft facility and we see one woman demonstrating target practice, blowing a target's head off.
► We hear that civilians are being drafted to go to the future to fight an alien horde that is bent on killing off all humans. A woman talks about wanting to find a way to kill all the aliens and save the world. Two men argue and one accuses the other of entrapment. A man talks about returning from Vietnam and being in a "dark place," and suffering from anger that led him to leave his wife and son. People in a therapy session talk about their experiences when being sent to battle aliens and we see several of the people missing limbs and with metal replacements; a man talks about remembering the "clicking" sounds. A man tells a person conducting a medical evaluation to "Get out of my face or I will bite your finger off." A woman lists the consequences of trying to run from a draft that include threats against a man's family. Protestors chant and yell outside a draft station. A young girl has a bad dream and seems to hyperventilate. A man is disappointed when he is turned down for a job and he hits a garbage can several times, and then kicks it over. A man tells another person, "You look like a murderer." A man talks about having been stung repeatedly by jellyfish and that he hates the beach. A man tells another man, "You're gonna get eaten." A woman describes that a man was in a car accident and that she, "… heard your last heartbeat." A man says that he will be dead in 6 months from cancer. A man talks about wanting to die the way he wants to die. People describe the future of a planet being devoid of human life. A woman says, "We are food." A woman argues with her father about leaving her and her mother and says, "It nearly killed mom." A man describes "rioting at the border" and says that NATO was disbanded.
► A woman is shown with a scar on her cheek. A man mocks his son for not being able to grow a "real beard," and for the kind of car he drives. A man digs in the ground with a shovel and we see that he has cut through a cable in the process; he asks his young daughter to take the blame. A man wakes up in a medical tent and we see a bloody bandage on his shoulder.
The Tomorrow War LANGUAGE 5
– At least 1 F-word, 2 obscene hand gestures, 46 scatological terms, 4 anatomical terms, 10 mild obscenities, name-calling (metro sexual, windup toy, high roller, coward, white spikes, dumb [anatomical term deleted], Santa nightmare, selfish [anatomical term deleted]), exclamations (shush, uh-oh), 2 religious profanities (GD), 3 religious exclamations (e.g. Jesus, Oh My God, Holy [scatological term deleted]). | profanity glossary |
The Tomorrow War SUBSTANCE USE
– A man throws a glass of whiskey on another man's shirt, and people drink at a bar.
The Tomorrow War DISCUSSION TOPICS
– Disappointment, time travel, alien invasion, hope, estranged families, sacrifice, conspiracy, trust, entrapment, separation, divorce, draft, saving the world.
The Tomorrow War MESSAGE
– Second chances are worth pursuing. Science can save the world.

Be aware that while we do our best to avoid spoilers it is impossible to disguise all details and some may reveal crucial plot elements.
We've gone through several editorial changes since we started covering films in 1992 and older reviews are not as complete & accurate as recent ones; we plan to revisit and correct older reviews as resources and time permits.
Our ratings and reviews are based on the theatrically-released versions of films; on video there are often Unrated, Special, Director's Cut or Extended versions, (usually accurately labelled but sometimes mislabeled) released that contain additional content, which we did not review.
---
We are a totally independent website with no connections to political, religious or other groups & we neither solicit nor choose advertisers. You can help us keep our independence with a donation.
Become a member of our premium site for just $1/month & access advance reviews, without any ads, not a single one, ever. And you will be helping support our website & our efforts.
We welcome suggestions & criticisms -- and we accept compliments too. While we read all emails & try to reply we don't always manage to do so; be assured that we will not share your e-mail address.
We are a totally independent website with no connections to political, religious or other groups & we neither solicit nor choose advertisers. You can help us keep our independence with a donation.
Become a member of our premium site for just $2/month & access advance reviews, without any ads, not a single one, ever. And you will be helping support our website & our efforts.
We welcome suggestions & criticisms -- and we will accept compliments too. While we read all emails & try to reply we do not always manage to do so; be assured that we will not share your e-mail address.