Killerman
| 2019 | R | – 6.8.10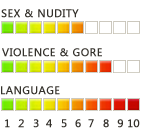 Why is "Killerman" rated R?
The MPAA rating has been assigned for "violence, pervasive language, drug material and some sexuality." The Kids-In-Mind.com evaluation includes a few sex scenes with partial nudity, and several revealing outfits; many scenes of violence ending with death and bloody wounds by gunfire and machete attacks, torture scenes with men locked in dog cages, and a dog attack; and over 165 F-words and other strong language. Read our parents' guide below for details on
sexual content
,
violence
&
strong language
."
---
After an accident a New York City jeweler (Liam Hemsworth) cannot remember and has no explanation as to why he possesses bags full of cash and illegal drugs. As he seeks answers, he is pursued by a violent group of corrupt cops, as well as drug dealers and a fiancée (Diane Guerrero) that he does not recognize. Also with Emory Cohen, Zlatko Buric, Nickola Shreli, Mike Moh and Suraj Sharma. Directed by Malik Bader. [Running Time: 1:52]
Killerman SEX/NUDITY 6
– A woman in a club pushes a man into an empty room (we learn later that it is a washroom), pushes him against a wall after removing his shirt (he is still wearing a T-shirt) as they kiss and we hear moaning and panting; the woman's skirt lifts briefly to reveal bare buttocks and one thigh that the man rubs and he seems to be thrusting, and we then see her face against a wall as he stands behind her, thrusting below the frame.
► A twenty-something woman wearing a short sleeved knee length dress sits on an older man's desk, pulls her skirt to mid-thigh and spreads her legs, angled away from the camera; the man reaches between her thighs and a closer shot shows him reaching farther and rubbing her crotch area (we see a brief glimpse of flesh but no details as the scene ends).
► A man in a club stares at a woman's clothed breasts and the bare shoulders of a woman wearing a spaghetti-strap top that shows cleavage. In a bathroom stall two women shown from the waist-up wearing bras (we see cleavage, bare shoulders and backs) embrace and kiss for several seconds. A woman wearing a loose sleeveless dress reveals some cleavage in a rounded neckline and a large abdomen (we hear that she is pregnant); her fiancé touches her clothed belly and they hug briefly. A woman wears a long skirt slit to mid-thigh to reveal one thigh and leg and a woman wears a short skirt ending at mid-thigh. A woman wears short-shorts that reveal bare legs to the top of the thighs and another woman beside her wears knee length shorts. On a crowded sidewalk, a man grabs another man's buttock jokingly and the second man shouts and pushes him away.
► An older woman describes a younger woman who was a topless dancer by saying, "Her boobs jumped up and down." A man says about a woman, "I was gonna hit that tonight, but had to cancel." A man accuses another man of having a sexual relationship with a 19-year-old and the second man says she is 20.
Killerman VIOLENCE/GORE 8
– A man with a drawn handgun enters a warehouse and shoots another man (he falls off-screen and we see no blood), another man points a pistol into a dog cage and is about to shoot a beaten man inside, but the first man shoots him in the back from behind (he falls off-screen with no blood showing) and he is shown from waist-up as he grovels on the floor, and then laughs as the first man shoots him below the frame again, causing him to lie back and gulp; the first man uses a machete to hack loudly several times at the man, who is completely below the frame and the caged man looks frightened and shudders (we see the man on the floor with a wide gash on his throat and a large pool of blood under his head); the man with the machete spits white spittle at him (the spittle goes below the frame) and the other wounded man pulls himself into the frame where he is hacked several times (the victim is below the frame and we do not see the injuries, but blood splatters the machete man's face).
► Two police detectives lock a man into a small wooden dog cage in a warehouse, and one detective uses a thick wooden pole to jab through the cage door at the man as we hear shouts of pain (we see the victim's face a few times over the course of three such attacks with blood covering is face and hands, some clotted blood, swollen black eyes, and blood covering cuts and bruises on his hands and arms); we see another beaten man in another dog cage and his face and hands are covered in bloody streaks and a detective opens another cage to release a dog and instructs it to attack the second caged man when the door opens and we hear snarling, chomping, and a man's screams from off-screen for several seconds (we see the man dead, face down, with blood smeared over the back of the cage and pooled under the door in a wide swath). A man ties another man up and puts him in a car trunk, moves him to the passenger seat, drives to a parking garage and exits the car when another man gets into the car, points a handgun into the man's groin, and then shoots him in the temple, exploding blood and gore to cover the side window; the shooter steals bags from the trunk and drives away in a another car.
► A man with a handgun enters a business and pours flammable fluid across the floor, lights it, and argues with two men and fires the gun, wounding one man in the arm (blood drips to his hand); the wounded man charges the gunman with a machete and the gunman shoots him in the stomach (he falls off-screen with no blood seen) and we see the wounded man crawling on the floor as flames rise in the background (he presumably dies there). A man yells maniacally and shoots two other men with both falling off-screen; the camera then cuts to one victim in a chair with blood covering his throat and the front of his shirt and jacket. A man with a gun chases a man and a woman and they run into a restaurant where the gunman points a gun at the woman, the other man hits him in the head with a fire extinguisher, the gun discharges and the woman gasps as she is struck (we see blood covering her abdomen); the other man carries her into a hospital, displaying blood on his hands and we see an operating room monitor register a flat line. A man shoots another man off-screen and presumably now dead, and shoots another man in the head and this victim falls off-screen without blood flow. A man charges another man with a club and the second man shoots him in the stomach, with some blood flow.
► Two men fight in a bathroom, rolling on the floor: one man pounds the other man in the face with a fist several times, and pistol-whips him once to unconsciousness (we see blood on and under the victim's nose). A man helps a badly beaten man out of a dog cage and into a car and they drive to a drug lord's business where they put bags of drugs and money on a desk; when the drug lord opens one bag he squeals, jumps back and says he was not being literal when he asked for the heads of two dirty cops (we do not see the heads), and he screams at the first two men when another man hits one of the two men on the head and drags him from the office and the drug lord gives the other man a handgun and says, "Empty it in his head."
► Four men draw guns as a car carrying two other men rushes up, screeches to a halt, and the two men exit and start shooting, although no one is struck and a mortar launcher and an assault rifle are fired into the frame by another man, but all shots miss targets. A man walks outside, where another man shoots in the air and grabs him, pushes him into the backseat of a car and threatens to shoot his brains out. Two men with guns drawn enter an apartment and find a pregnant woman (please see the Sex/Nudity category for more details). A man argues with another man loudly, pointing a handgun into his face, and then shouting and shooting out of a window that shatters.
► Two men in a car race down one-way alleys the wrong way, pursued by men in two cars with lights flashing; the first car hits a delivery van, sails over it and hits another vehicle and we see a man with blood on his face and hands as he gets out of the car and pulls another blood-splattered man out. A hospital room scene shows a man's arm with two IV lines taped to it and another man pulls the patient into a wheelchair, and into a car where they drive to a private physician who gives the unwell man two unmarked prescription bottles of pills (we do not see the patient take any pills).
► A man and a woman argue and both cry briefly. A man tells another man, "They killed my girl and my baby."
Killerman LANGUAGE 10
– About 169 F-words and its derivatives, 15 scatological terms, 4 anatomical terms, 2 mild obscenities, name-calling (stupid, liar, monkeys, pigs, dirty snake, two-bit-drug-run, twisted fairy tail), exclamations (1 shut-up), 1 religious profanity (GD), 6 religious exclamations (e.g. Oh My God, God, Jesus Christ, 'Bozhe Moi' [My God, in Russian]). | profanity glossary |
Killerman SUBSTANCE USE
– We hear that corrupt cops steal cocaine from their evidence room to sell, a person snorts a small amount of cocaine, a man in a club snorts white powder from a small vial and begins to sway and stagger, and two men attempt to sell a large bag of cocaine and two other men steal it. A man enters a liquor store and buys a half pint of whiskey (we see shelves filled with beer and other alcohol), several drinks and empty glasses are seen on tables in a club, and two women sip alcoholic drinks and a man drinks a double shot of whiskey in a club. Several men smoke cigarettes on a sidewalk as well as other outside locations and in a car, and a man smokes a large cigar in his office in two scenes.
Killerman DISCUSSION TOPICS
– Amnesia, drug dealers, corrupt cops, money laundering, ambition, ethics, friendship, violence, murder, death, revenge, self-preservation, justice, 1970's exploitation films.
Killerman MESSAGE
– Drug trafficking is a horrific business, for both law enforcement and drug dealers.

Be aware that while we do our best to avoid spoilers it is impossible to disguise all details and some may reveal crucial plot elements.
We've gone through several editorial changes since we started covering films in 1992 and older reviews are not as complete & accurate as recent ones; we plan to revisit and correct older reviews as resources and time permits.
Our ratings and reviews are based on the theatrically-released versions of films; on video there are often Unrated, Special, Director's Cut or Extended versions, (usually accurately labelled but sometimes mislabeled) released that contain additional content, which we did not review.
---
We are a totally independent website with no connections to political, religious or other groups & we neither solicit nor choose advertisers. You can help us keep our independence with a donation.
Become a member of our premium site for just $1/month & access advance reviews, without any ads, not a single one, ever. And you will be helping support our website & our efforts.
We welcome suggestions & criticisms -- and we accept compliments too. While we read all emails & try to reply we don't always manage to do so; be assured that we will not share your e-mail address.
We are a totally independent website with no connections to political, religious or other groups & we neither solicit nor choose advertisers. You can help us keep our independence with a donation.
Become a member of our premium site for just $2/month & access advance reviews, without any ads, not a single one, ever. And you will be helping support our website & our efforts.
We welcome suggestions & criticisms -- and we will accept compliments too. While we read all emails & try to reply we do not always manage to do so; be assured that we will not share your e-mail address.