Insidious: The Red Door
| 2023 | PG-13 | – 2.6.5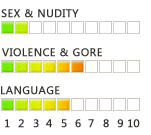 Why is "Insidious: The Red Door" rated PG-13?
The MPAA rating has been assigned for "violence, terror, frightening images, strong language and suggestive references." The Kids-In-Mind.com evaluation includes a kissing scene, a few suggestive remarks, scenes with copious vomiting, many encounters with beings representing evil and darkness causing some bloodshed and injury, many startling scenes of beings moving in the shadows, discussions of mental illness, discussions of secrets and lies, several arguments, and at least 1 F-word and other strong language. Read our parents' guide below for details on
sexual content
,
violence
&
strong language
.
---
In this, the 5th installment of the
"Insidious"
franchise, after surviving paranormal trauma a man (Patrick Wilson) and his son (Ty Simpkins) find themselves estranged and struggling to sort out their feelings, hoping that the truth will bring them closer. Also with Rose Byrne, Sinclair Daniel, Hiam Abbass, Andrew Astor and Juliana Davies. Directed by Wilson. [Running Time: 1:47]
Insidious: The Red Door SEX/NUDITY 2
– A young man hides under a bed in another young man's room, the other young man comes into the room, sits on the bed and drops several condom packs on the floor before going into the bathroom (we see him wearing a diaper around his waist and his bare chest and abdomen are shown). Several young men at a frat party are shown wearing diapers wrapped around their waists and we see their bare chests, abdomens and legs. A man wearing a T-shirt and boxer shorts gets out of bed (we see his legs).
► A young woman kisses a young man as an excuse for why they are in a room when the owner of the room enters.
► A young woman asks a young man if he wants to "blow my hooter" (a musical instrument), and he seems concerned after she was using it and she says, "My cooties are good cooties." A young man is confused when his dorm roommate is a young woman. A young man and a young woman joke about the condition of a young man's bed sheets being crusty.
Insidious: The Red Door VIOLENCE/GORE 6
– A man searches for a young man and when he opens a door, he sees the young man vomiting blood (we see the blood pour from his mouth). A young man hears someone vomiting repeatedly in a bathroom (we hear a lot of splatter and moaning), he opens the door, finds a young man whose face appears to be decayed leaning over the toilet and he asks, "Make it stop. I can't stop"; the vomiting young man walks toward the other young man and we see a lot of goo on his shirt and face. A young man pulls himself out from under a bed and another young man vomits copious amounts of goo on his face (we see a torrent of goo). A young man smears blood on a painting and the lights go out; he hooks up a battery backup, the lights come on and one light bulb is smeared with blood making the light red, he sees a bloody handprint on bedclothes and tries to wipe it off but it smears, he turns and something rises out of his bed covered with a sheet; he panics and falls to the floor as a young woman enters the room. A young woman plugs in string lights under a bed and sees a being in the shadows moving toward her; she pulls away yelling.
► A young woman moves toward someone standing in a dark corner and breathing deeply, the being turns around to face her and we see decayed flesh and blood in his mouth as he gestures toward her throwing her hard against a wall; the being moves toward her and wraps a rope around his hands (as if to strangle her), she threatens him and he collapses to the floor (off-screen). A hole opens up in a wall and an arm reaches through to grab a young woman around the throat, strangling her; she falls to the floor unconscious and a being stands over her. A man is placed in an MRI machine and we hear the loud humming and thumping of the machine; the lights go out and the man is unable to communicate with the staff, someone asks, "Is someone with you," he yells to be let out when we see hands reaching toward him from behind his head and he yells and panics when someone skitters toward him (we see the decaying face and arms of a person wearing a hospital gown); the man pulls himself out of the machine and a doctor enters the room saying that the man had fallen asleep and the lights never went out.
► A young man and a man seem to fall asleep in several scenes and they appear to be entering a dark realm where we hear odd sounds (creaking and growling) as they search for something; one scene shows the young man picking up a lantern and looking back into a room where he sees what looks like himself sleeping in a chair as the young man with the lantern walks through dark hallways and enters a young woman's room, plays a few notes on a musical instrument startling the young woman awake, and he runs away. Beings move toward a young man and a young woman and we see them skittering unnaturally with decaying flesh and their limbs move unnaturally. A man says, "This ends with me," as we hear a heartbeat slowing and stopping; the man later wakes up with a gasp.
► A woman tells a man that he tried to kill his family, stating, "You chased us around the house with a baseball bat," and we see the woman with two young boys hiding in a basement as a man pounds on the door yelling; the man enters the room and throws the woman to the floor, and raises a hammer over a young boy seated on the floor until a young man tackles the man, the man pins the young man by the throat on the floor, and sees a boy fall off a ladder and a room with mannequin pieces before waking up lying flat on the floor on his back. A young woman punches a young man in the crotch and he moans and falls to his knees.
► A professor tells students to draw their ugliest innermost thoughts with their eyes closed; one young man draws heavy dark lines feverishly and jumps away from the canvas with a bloody cut on his hand (the drawing shows what looks like a tool protruding from the paper) and blood trickles down the paper. A famous Goya painting is shown with a large creature eating the head of a person (blood and tissue are seen); a professor describes it as a father devouring his son. A painting shows a man's face with a manic expression with his mouth wide open and a stream of saliva trickles from his lips; he seems to be holding a weapon. Several drawings with dark themes and monstrous beings are shown, and discordant strains of music accompany the opening credits.
► A man tapes photos on window panes as a memory game and we see what appears to be a figure outside the window, moving closer as he plays the game a few times until the figure crashes through the windows, shattering the glass and knocks the man to the floor; they struggle briefly, he gets up and runs to a room where a force pushes the man into a closet and he hits his head on a bar knocking him unconscious. A young man has several flashbacks that startle him and he gasps.
► A man sits in a car and we see what looks like a person approaching the vehicle from behind, then it disappears before the man sees him. A man passes the door of a room where his mother was before she died and when he passes it again, the door is open and the lights are on. A woman talks to a man in the street and when he gets in his car and turns around, the woman has disappeared.
► A man and his son argue bitterly and the son says, "No wonder mom divorced you." A professor critiques students' artwork and one student is offended when she tells him to tear up his work; he says he won't do it and she tells him to leave the class. We hear about a boy being comatose due to viral meningitis and he says that he doesn't remember an entire year of his life. We understand that a husband and his wife have separated and they seem awkward when they meet in a few scenes. A graveside funeral is shown and a family and mourners are gathered around a casket. A man tells his teen son to get out of his "little funk." A young man says that he thought a photo of his grandmother looked like she was hiding something. A man says that his father left when he was young. A young woman says that her parents died when she was young and her grandmother raised her. A young man says that he is afraid of the dark and he plugs in a nightlight in his dorm room. A man complains of suffering from a fog and being unable to focus and a doctor asks about stresses in his life and whether any family members have suffered from mental illness. A young man makes a welcome speech at a frat party and talks about protecting their right to party and says that theirs is the "last house where men can still be men." A young man makes a rude remark to a young woman about her appearance and why he doesn't find her attractive. A man says that his father jumped off the roof of a mental hospital, killing himself.
► A young man and a young woman are offered "diaper pudding" when they arrive at a frat party and we see a small cloth in the shape of a diaper filled with chocolate pudding on a tray held by a young man wearing a diaper wrapped around his waist. A young man gargles with mouthwash and seems to swallow it. A young man's stomach grumbles and he goes into a bathroom telling a young woman in his room that he will be there for a while.
Insidious: The Red Door LANGUAGE 5
– At least 1 F-word, 2 sexual references, 7 scatological terms, 4 anatomical terms, 6 mild obscenities, name-calling (useless, ungrateful, creep, instability, freaking annoying, madness, curse, gross, insane, weird, fool, clown, cryptic), exclamations (hey, let me out, get me out), 1 religious profanity (GD), 3 religious exclamations (e.g. God, oh God, oh my God). | profanity glossary |
Insidious: The Red Door SUBSTANCE USE
– Young people at a frat party are shown drinking liquor, and a young woman accuses a young man of drinking too much "frat juice."
Insidious: The Red Door DISCUSSION TOPICS
– Paranormal activity, hypnotism, depression, mental illness, alternate realms of reality, death of loved ones, estranged relationships, parenting, secrets, trauma, single parenting, rules, Francisco Goya's "Saturn Devouring His Son," suppressing memories, misogyny, abandonment.
Insidious: The Red Door MESSAGE
– Confronting dark memories can help one to move past them.

Be aware that while we do our best to avoid spoilers it is impossible to disguise all details and some may reveal crucial plot elements.
We've gone through several editorial changes since we started covering films in 1992 and older reviews are not as complete & accurate as recent ones; we plan to revisit and correct older reviews as resources and time permits.
Our ratings and reviews are based on the theatrically-released versions of films; on video there are often Unrated, Special, Director's Cut or Extended versions, (usually accurately labelled but sometimes mislabeled) released that contain additional content, which we did not review.
---
We are a totally independent website with no connections to political, religious or other groups & we neither solicit nor choose advertisers. You can help us keep our independence with a donation.
Become a member of our premium site for just $1/month & access advance reviews, without any ads, not a single one, ever. And you will be helping support our website & our efforts.
We welcome suggestions & criticisms -- and we accept compliments too. While we read all emails & try to reply we don't always manage to do so; be assured that we will not share your e-mail address.
We are a totally independent website with no connections to political, religious or other groups & we neither solicit nor choose advertisers. You can help us keep our independence with a donation.
Become a member of our premium site for just $2/month & access advance reviews, without any ads, not a single one, ever. And you will be helping support our website & our efforts.
We welcome suggestions & criticisms -- and we will accept compliments too. While we read all emails & try to reply we do not always manage to do so; be assured that we will not share your e-mail address.