Godzilla vs. Kong
| 2021 | PG-13 | – 1.6.4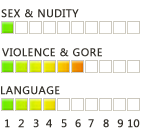 Why is "Godzilla vs. Kong" rated PG-13?
The MPAA rating has been assigned for "intense sequences of creature violence/destruction and brief language." The Kids-In-Mind.com evaluation includes a kiss on the cheek, some cleavage, many scenes of giant creatures fighting each other with some bloody wounds shown, a couple of decapitations of creatures with goo and fluid spraying and pouring, a giant creature in the sea destroys many sailing vessels and we understand that many of the people onboard must have been killed, many scenes of whole city blocks being destroyed as giant creatures slam into buildings and stomp through streets, and some strong language. Read our parents' guide below for details on
sexual content
,
violence
&
strong language
.
---
An attempt to create an AI Godzilla backfires when the real Godzilla is apparently alarmed, rampages through several city blocks, destroys many ships and engages in extensive MMA fights with King Kong. With Alexander Skarsgård, Millie Bobby Brown, Rebecca Hall, Brian Tyree Henry, Shun Oguri, Eiza González, Julian Dennison, Lance Reddick, Kyle Chandler, Demián Bichir and Kaylee Hottle. Directed by Adam Wingard. Several lines of dialogue are in sign language with English subtitles. [Running Time: 1:53]
---
Editor's Note:
There is a sequence with bright, flashing strobe light effects that may prove uncomfortable for some viewers.
Godzilla vs. Kong SEX/NUDITY 1
– A man kisses a woman on the cheek in excitement and apologizes. A teen boy says, "I really don't understand women."
► Kong wakes up and walks into water and we see him scratch his fur-covered buttock. A young woman wears a very low-cut blouse that reveals cleavage and a teen wears a camisole that reveals cleavage in a few scenes.
Godzilla vs. Kong VIOLENCE/GORE 6
– A giant ape (Kong) is shown with large fangs, he roars and pounds his chest and causes property damage in several scenes; we see large slash scars on his chest; a giant reptilian creature (Godzilla) has a large mouth full of teeth and large spines on its back and a long tail; it can also projects heat beams from its mouth and other creatures are shown moving inside a cocoon-type containment and a teen girl calls them "skull crawlers."
► Kong becomes anxious and thrashes against restraints holding him on a large navy ship as Godzilla swims toward it; another ship fires cannons at Godzilla and Kong holds his ears, Godzilla breaks through one ship cutting it in half and it sinks, planes shoot at it and it thrashes its tail knocking a plane out of the sky and it pulls another ship by its anchor through the water before destroying another ship; Kong is shown underwater and restrained when the ship he is on is overturned, Kong is released and the two titans fight each other, and we see a woman and child trapped in a room on the overturned ship until it is righted and they get out unharmed; Kong throws a bomber plane at Godzilla and it explodes (the pilot ejects safely), the two fight underwater and depth charges are fired into the water allowing Kong to surface before drowning and he coughs out a wave of water as he flops onto a ship (we see a few people with bloody cuts on their heads and faces). Kong and Godzilla fight in an extended scene in a city and we see a great deal of property damage as the giants throw each other around, shoot heat beams around the area, Kong swings a glowing axe and hits Godzilla in the mouth and they continue jumping around the city and fighting and roaring at each other until Godzilla bites Kong and slams him to the ground stomping on his chest several times (we hear bones crunching), and Kong seems to relent. Flying ships shoot at Kong and we see him struck in the back until he grabs the ship out of the sky and crushes it. Armed guards shoot into a control room where a teen boy, a teen girl and a man are trying to access information. A mechanized titan fires rockets at Godzilla and they blow heat beams and lasers at each other; the mechanized titan pulls Godzilla's mouth open and prepares to kill it until it is attacked by Kong and the three of them fight; the mechanized titan is disabled and Kong cuts off its arms and legs with a giant axe (it spews fluid), and it falls motionless and Kong pulls its head off and we see what resembles a spinal column dangling from the head and dripping fluid.
► A man attaches himself to a mechanized titan and when it charges up we see his eyes roll back in his head and he apparently pilots the machine; the man is electrocuted and control of the machine is lost as it crashes through an observation room where a man is standing (we understand that the man is killed as he is swiped off-screen).
► Giant flying creatures with beaks fly around people and Kong in a cave, a man is snatched by one of the creatures, it stomps on the man and we see blood spurt as the first creature fights another creature for the man's remains. A man, a teen boy and a girl enter a dark area as alarms blare and the man says that the place is a "sacrifice pit"; the teen girl finds what looks like a giant bloody eye and stem on the floor and she says that it stinks; a creature is let out of a holding area and charges toward the three humans as they dodge into a safe room and watch as a mechanized monster attacks the creature and cuts it in half with a laser blast (goop splatters on the window of the safe room).
► Godzilla stomps through a city as people run screaming trying to evacuate the area and we see it charge up and fire a blast into the ground. Godzilla walks through a city and blows heat beams as people run for cover and scream. Godzilla swims underwater and when it surfaces fighter planes shoot at it and it knocks one plane out of the sky and blows flames around the area. A few sequences show Kong fighting a variety of other titans using punches and throws until he defeats them (the word "Defeated" appears on the screen). Several sequences show Godzilla fighting with a variety of titans using heat beams and bites and slamming with its tail until it defeats them.
► Kong struggles against restraints while being transported on a large sailing vessel. Kong pulls a tree out of the ground, strips it of its leaves and branches, roars and throws it like a spear into a force field that flashes and we see that the ape is inside a containment area made to look like a natural setting. Kong charges through a jungle toward a young girl who's holding a small doll resembling the ape and the animal stops and looks at her (he does not harm her). A young girl stands near Kong shackled on a ship and tries to calm him; they touch their fingers together. Kong is shown sedated and shackled on a large sailing vessel. Kong is shown sedated and in a large net being flown by several planes, placed gently on the ground and he awakens when explosive connections blow releasing the net. Kong is shown unconscious and a young girl explains that she can feel his heartbeat slowing down and that, "He's dying." A man detonates an explosive over the chest of an unconscious Kong and it works like a defibrillator, restarting his heart. Kong slams his dislocated shoulder against a building twice roaring in pain and we hear a crack as it pops back into place.
► Kong races through a tunnel followed by flying vehicles, and they all fall through a hole and into a glowing portal that transports them to another place where gravity throws them around and the flying ships nearly crash a few times; giant flying creatures attack Kong and one knocks a flying vehicle out of the sky, Kong fights the creatures and one wraps its long tail and large wing around him until it is shot by someone in a flying vehicle and it releases Kong; Kong then slams it to the ground, pounds on it and rips its head off (we see slimy goo and tendrils as Kong eats from the creature's head).
► A teen girl, a teen boy and a man break into a highly secured facility. Two armed guards hold a man at gunpoint and the wall next to them is blown away with a blast of flames (we see Godzilla outside the wall and rubble all around). Armed guards hold guns on a young girl and a woman. Alarms blare in a highly secured facility and we hear an announcement about a titan alert as people scramble to leave the facility.
► People discuss alpha titans and that they are ancient enemies. People discuss a theory that there is a place called "Hollow Earth" and describe it as the birthplace of titans.
► A teen girl and a teen boy speed in a van trying to find a man, the boy tries to change the radio station and the teen girl driving swerves but corrects and they argue briefly. A teen girl argues with her father about the actions of a titan. A man talks about his brother dying on a mission where he encountered a gravitational inversion that crushed him. A man talks about his wife having died. A man and a teen girl talk about their belief that fluoride in the drinking water makes you docile. A woman talks about a young girl's parents being dead and that Kong saved the child.
► Kong scoops up a handful of sea creatures and plants from the ocean and eats them.
Godzilla vs. Kong LANGUAGE 4
– A character says "What the f…," 7 scatological terms, 9 mild obscenities, name-calling (coward, weirdo, quack, fringe physics, whistleblower, crazy, stupid, nuts, villain hairdo, lizard people, scary, tap water, paranoid), exclamations (what the…, whoo, whoa, jeez, huh, shut-up, knock it off, boom, ow, oh no, I swear, oh my goodness), 1 religious profanity (GD), 11 religious exclamations (e.g. Oh My God, Oh God, I Swear To God, Playing God, What In God's Name). | profanity glossary |
Godzilla vs. Kong SUBSTANCE USE
– A man carries a flask in a holster and says that it contains whiskey, a man holds a glass of whiskey, and a flask of whiskey is poured onto a control board shorting it out.
Godzilla vs. Kong DISCUSSION TOPICS
– Cybernetics, technological advancements, AI, greed, conspiracy theories, doomsday machines.
Godzilla vs. Kong MESSAGE
– Some men's megalomania is more dangerous than giant creatures.

Be aware that while we do our best to avoid spoilers it is impossible to disguise all details and some may reveal crucial plot elements.
We've gone through several editorial changes since we started covering films in 1992 and older reviews are not as complete & accurate as recent ones; we plan to revisit and correct older reviews as resources and time permits.
Our ratings and reviews are based on the theatrically-released versions of films; on video there are often Unrated, Special, Director's Cut or Extended versions, (usually accurately labelled but sometimes mislabeled) released that contain additional content, which we did not review.
---
We are a totally independent website with no connections to political, religious or other groups & we neither solicit nor choose advertisers. You can help us keep our independence with a donation.
Become a member of our premium site for just $1/month & access advance reviews, without any ads, not a single one, ever. And you will be helping support our website & our efforts.
We welcome suggestions & criticisms -- and we accept compliments too. While we read all emails & try to reply we don't always manage to do so; be assured that we will not share your e-mail address.
We are a totally independent website with no connections to political, religious or other groups & we neither solicit nor choose advertisers. You can help us keep our independence with a donation.
Become a member of our premium site for just $2/month & access advance reviews, without any ads, not a single one, ever. And you will be helping support our website & our efforts.
We welcome suggestions & criticisms -- and we will accept compliments too. While we read all emails & try to reply we do not always manage to do so; be assured that we will not share your e-mail address.