The First Purge | 2018 | R | - 5.8.10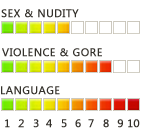 In this prequel to 2013's The Purge the prototype of the annual 12-hour period that legalizes murder in a future dystopian America occurs on Staten Island: Based on the findings of a behavioral scientist (Marisa Tomei) the government, led by the NRA-backed far-right party New Founding Fathers of America, expects that an annual bloodletting will both decrease crime rates for the rest of the year and reduce minority populations. Also with Lex Scott Davis, Y'lan Noel, Jovian Wade, Luna Velez and Melonie Diaz. Directed by Gerard McMurray. [1:37]
SEX/NUDITY 5 - At night a man and a woman in shadows seem to be leaning against a car in the background and thrusting as if having sex (we see his bare buttocks).
► Two prostitutes wearing tight, sleeveless, knee-length dresses enter a room and remove their dresses to reveal corsets (we see cleavage and bare legs to the hips) as they rub their hands over a clothed man's chest a few times and stop when an argument ensues (please see the Violence/Gore category for more details).
► We see a close-up of a woman's bare buttocks in thong underwear at the party. A woman on a screen wears a USA flag-print one-piece swim suit and gyrates as she dances in a street (her cleavage jiggles and her legs are bare to the hips). A man is shown shirtless briefly (we see his chest and abdomen, as well as long scars on a shoulder and one side). A poster shows a painting of two men shirtless in a boxing ring.
► Several women at a block party dance while wearing low-cut dresses and corsets, tutus and short-shorts, some with black fishnet stockings (we see cleavage, bare backs and some bare legs to the top of the thighs); two of the women in shorts twerk together. A woman dances close to a man, rubbing against him for a few seconds.
► A man asks another man if he wants some girls (meaning prostitutes) and the second man says he is not interested.
VIOLENCE/GORE 8 - Mercenaries enter a high-rise housing project with assault rifles drawn and masks and gas masks on their faces (many of the masks look like they're in blackface from bygone minstrel shows): they shoot men and women as they move floor to floor and we hear a lot of automatic rifle fire and see men and women falling dead, some into pools of blood and blood splashes cover many walls on each floor. Men gather assault rifles and explosives from a government warehouse and drive to a high-rise where one man enters and kills four soldiers inside in a stairwell using a rifle, kicks, punches, choking and throws; two soldiers on a stairway landing are shot dead with some blood flow, a soldier falls dead from bleeding wounds to the chest, and another man is strangled on the landing. An armed man in an apartment building shoots many times, killing a dozen soldiers with some blood seen, he hides a few people in a closet, tear gas bombs go off, soldiers break down a barricaded door and fire, and then load up a mortar. A woman in an apartment building shoots into the legs of armed soldiers and a young man and an older woman stab them several times in the throat (we see blood). A man is struck in the abdomen by a bullet and we see some blood. A man shoots off the head of another man (we see a burst of blood hit a wall); the shooter enters an apartment and slashes three men with a long, bloody knife (we hear slashing and grunting) before a soldier shoots and kills him (he falls off-screen). A man tosses an explosive into a room were five soldiers and a man are aiming their guns toward him and an explosion fills the screen with flames. Mercenaries speed along a street on motorcycles and in SUVs, they are joined by several units of KKK members (dressed in robes and hoods) and with assault rifles and they approach a church where black and Hispanic residents are hiding, they break open the doors and shoot assault rifles into the building: a wounded man walks out and falls down a staircase onto the sidewalk where he dies with some blood on his clothing and we later see dead men lying in blood around the church on sidewalks and in the street as well as some blood-covered women and teens who escaped (the blood is from the others).
► A man tapes three large syringes of poison onto his knuckles as claws and he uses this setup and a long knife to kill several people; we see blood flow from their chests where they were injected and see them fall dead. A man at a block party stabs two people and slashes a woman's throat (we hear slashing and thuds and see some blood as the people fall dead). Two women try to kill a man with a knife and they fight using kicks and punches; the man puts the women on the ground and chokes them until they give up the name of a man who wanted him killed and when he finds the other man, he shoots him between the eyes (we see blood as the man falls and blood splashes on the faces of two women standing nearby). A man cuts a woman's neck enough to let blood flow, and a young man stabs the other man in the back (we hear the stabbing and see blood as the man groans in pain). Silent video footage shows several people using ball bats on helpless individuals. In real time we see eight helmeted police officers with clubs pursuing a bloody crawling man on a baseball diamond; the scene ends when they reach him (a beating is implied).
► Groups of mercenaries armed with assault rifles drive around, shooting and killing men and women (we see a few intersections where men are lying dead with blood on their clothing) and at one intersection, a soldier's vehicle broadsides an SUV which turns upside down and catches fire; the driver and passenger are scraped across the faces and soldiers shoot assault rifles at them, but they escape.
► The aide to the US President becomes angry when people have parties instead of killing on Purge Night and he sends mercenary soldiers to African-American neighborhoods to murder them; when a woman learns of this she is also murdered and we see silent video footage of her being thrown out of a van to the pavement face down, stepping into a garage, and being shot dead by a circle of men (we see her fall but do not see blood). A woman is shot dead by soldiers and a man covers up her bloody chest and face with a jacket.
► Participants in the Purge wear large contact lenses fitted with tracking devices that they are told are used to award money to those who kill others; but the government uses the trackers to find and kill those wearing the devices and we see drones equipped with two assault weapons each, shooting several of these people dead, with some blood flow.
► Two elderly women wheel a shopping cart full of bloody stuffed animals and dolls along a dark street and a young man finds the bloody stuffed animals all over the pavement and in tree branches later; one teddy bear explodes and the young man runs to escape the fire that fills the screen while the women see him and laugh. A woman knocks a man down by using a club to hit him several times and then runs a knife blade over his face to scare him and lets him up. A man cuts a teen boy on the neck and another man fires a pistol several times at the first man but misses (we see the cut bleed onto the boy's white T-shirt and a few drops later on a rug). A young man points a handgun at the head of a man but drops the gun and runs; the man pursues the young man but cannot find him. A man is wounded in the leg and we see blood across the floor of a building; another man ties up the leg with a towel. A few dozen people leave their apartments after Purge Night, limping and groaning in pain (a few have a bloody towels wrapped around legs) and we hear ambulance sirens off-screen.
► A man asks if someone is angry and we see a close-up of a screaming man with scarification decorating his forehead and face; he's shouting and laughing that he is angry and will accept payment. Men and women tell scientists that they are angry and will participate in murder. A woman says that the Purge will save America. An extremely loud disaster siren sounds many times to begin the event. The US government pays poor residents $5,000 each to stay at home during a test of a 12-hour period where all crime is legal, with higher payments going to those who actively kill others.
► A large group of masked men and women carry ball bats, meat cleavers, weed whips, handguns, and automatic rifles as they hunt people to kill. We see several murderers wearing dark costumes, swinging long swords, knives, and assault rifles that are fired many times with loud retorts; attire includes dark capes and animal heads like steers, devil's heads, thick clown makeup, plastic capes and gas masks, skull masks, and masks with huge bloody teeth.
► We see and hear several loud scenes of protestors for and against the Purge and against immigration problems, unemployment, lack of jobs, cuts to aid programs, opioid abuse, and other social issues. Men and women shout as they wave signs and we hear gunshots off-screen a few times, followed by shouting. Several short arguments include two men, two women, and a woman with a man.
► We see people making their own swords and knives while an announcement off-screen tells them to unleash their anger and participate in the Purge. A huge billboard advertises assault rifles. Many men have tattoos on their necks and throats. Several soldiers all have skulls and crossbones tattooed on one forearm. A talking doll cries like a baby in the street at night a few times.
► A man throws a rock through a store window and it shatters loudly. A man breaks out two windows of an apartment building and the glass shatters loudly.
► A man wearing a raincoat and a weird shapeless papier-mâché mask jumps at a couple, scares them, and then shoots a water pistol. We see two men boxing lightly in a ring for a few seconds.
► A man spits when he talks several times and we see saliva spraying.
LANGUAGE 10 - About 50 F-words and its derivatives, 36 scatological terms, 11 anatomical terms, 17 mild obscenities, 11 derogatory terms for African-Americans, name-calling (stupid, fools, clowns, psycho, junkie, tough guy, Three Stooges, Skeletor), 3 religious profanities (GD), 8 religious exclamations (e.g. Oh My God, Jesus Christ, Holy [scatological term deleted], Thank The Lord, Lord Forgive Me, parts of the 23rd Psalm, Blessed Be The New Founding Fathers And America, May God Be With You All). | profanity glossary |
SUBSTANCE USE - A group of people place many green bricks of some drug on a table, we hear that a young man is selling drugs on street corners, three men smoke a drug pipe in a dark warehouse for a few seconds, and a woman says that she does not have her asthma pump with her. A woman in a church drinks from a flask of alcohol for several seconds, a man on a street drinks from a bottle of beer, a few dancing men and women at two block parties hold cans of beer and one woman holds a glass of red liquid (no one drinks), and a man in an alley pours liquor from a bottle onto a fire to make it surge briefly.
DISCUSSION TOPICS - Politics, fascism, racism, hate crimes, the NRA, the KKK, blackface, far-right politics, population control, declining US economy, violence, murder, torture, illegal drug sales, protests, resistance.
MESSAGE - Far-right politics can lead to dictatorship and genocide.

Be aware that while we do our best to avoid spoilers it is impossible to disguise all details and some may reveal crucial plot elements.
We've gone through several editorial changes since we started covering films in 1992 and older reviews are not as complete & accurate as recent ones; we plan to revisit and correct older reviews as resources and time permits.
Our ratings and reviews are based on the theatrically-released versions of films; on video there are often Unrated, Special, Director's Cut or Extended versions, (usually accurately labelled but sometimes mislabeled) released that contain additional content, which we did not review.
---
We are a totally independent website with no connections to political, religious or other groups & we neither solicit nor choose advertisers. You can help us keep our independence with a donation.
Become a member of our premium site for just $1/month & access advance reviews, without any ads, not a single one, ever. And you will be helping support our website & our efforts.
We welcome suggestions & criticisms -- and we accept compliments too. While we read all emails & try to reply we don't always manage to do so; be assured that we will not share your e-mail address.
We are a totally independent website with no connections to political, religious or other groups & we neither solicit nor choose advertisers. You can help us keep our independence with a donation.
Become a member of our premium site for just $2/month & access advance reviews, without any ads, not a single one, ever. And you will be helping support our website & our efforts.
We welcome suggestions & criticisms -- and we will accept compliments too. While we read all emails & try to reply we do not always manage to do so; be assured that we will not share your e-mail address.