Finding 'Ohana
| 2021 | PG | – 1.4.4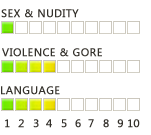 Why is "Finding 'Ohana" rated PG?
The MPAA rating has been assigned for "language, crude references, adventure action and some suggestive comments." The Kids-In-Mind.com evaluation includes some flirting and kissing between teens, risky activity undertaken by preteens and teens, discussions of pirates and treasure including flashbacks, some supernatural activity in caves, a fall causing a broken rib, a spider bite causing a hospitalization, a near drowning, many arguments some ending in tears, and some strong language. Read our parents' guide below for details on
sexual content
,
violence
&
strong language
.
---
A preteen girl (Kea Peahu) from Brooklyn and her older brother (Alex Aiono) reluctantly travel to their ancestral Oahu to help their family. Once there, they find adventure in an old journal that points to a lost pirate treasure, and as the siblings search for gold they come to appreciate their Hawaiian heritage. Also with Lindsay Watson, Owen Vaccaro, Kelly Bu, Branscombe Richmond and Ke Huy Quan. Directed by Jude Weng. Several lines of dialogue are spoken in Hawaiian with English subtitles and a few lines are spoken in Spanish with and without subtitles.
Finding 'Ohana SEX/NUDITY 1
– A teen boy flirts by smiling and standing close to a teen girl, who rejects him; he later hears her accept a date with another teen boy and is somewhat upset. A teen boy and a teen girl kiss for a few seconds and hug in a few scenes outdoors, in a cave, and in a hospital supply room as a nurse enters, quickly gets supplies and leaves as the teens gasp. A teen boy tells his tween sister that a teen girl once promised she would kiss him. A wife in a home movie sits in her husband's lap.
► An elderly man, a preteen boy, and another man with tattoos on his chest are all shown shirtless in different scenes (we see bare chests, abdomen and backs). A teen girl wears short shorts that reveal her bare legs to the top of her thighs. A woman wears a low-cut top that reveals cleavage.
Finding 'Ohana VIOLENCE/GORE 4
– We see a drawing of the ghosts of male warriors and hear they are Night Watchers who beat drums, blow conch shells and kill infidels. We hear disembodied whispering several times in a cave and see a number of human skeletons (one with a bullet hole in the head).
► A woman, two teens and two preteens run from a cave into a shed at night and we hear conch shells blown as horns off-screen, the shed door bursts open and several Night Watchers wearing feathered cloaks and carrying spears or staffs walk in; the living people bow face down to the floor, empty stolen treasure into a wooden bucket and a spirit wearing combat fatigue pants and army boots steps forward and the Watchers depart with the treasure, disappearing in stardust as they march into the sea (during this sequence, an elderly man sits on a hospital bed and prays in Hawaiian for spirits to protect the people in the shed).
► A dusty old journal glows magically as a preteen girl opens it after breaking into an old bus used for storage and she falls through a bus window and she takes the book to use to find lost treasure. A teen girl drives an ATV through a field, taking a tween boy to a cave where they climb part of a cliff face, pull down banyan roots, and walk into dark lava tubes by using flashlights; the floor collapses sending them several feet down into an air pocket, a teen boy and a teen girl try to reach the tweens, but also fall in and all four escape by crawling and dodging falling rocks. Four teens and tweens approach a rope bridge and it collapses before they can cross it; they edge around a ledge and successfully jump a short gap that spans a burning lava river (the two boys see two large spiders in a cave and one screams as a spider crawls onto his hand and bites him; his hand swells and he becomes groggy, but survives).
► A teen boy, a preteen boy, a teen girl, and preteen girl jump and grab banyan root ropes that trigger counterweights to open a door in a cliff and inside, and play with gold coins, crowns and jewels; a spirit voice from a wall moans, a blaring noise sounds, the group argues about taking the treasures and the teen boy fills a bag with treasure to keep as they leave the cave; the cave darkens, a mist rises up as they leave. Four teens and tweens walk among short waterfalls, grabbing banyan roots and using them to lower themselves to a deep body of water where they jump in; the teen boy floats down in the water, unconscious, but is pulled out by the teen girl and tween boy who both do CPR until the teen boy coughs up a lot of water and recovers (all four have dirt on their faces and a small bruise on foreheads or cheeks).
► A preteen girl is rude and whiny towards family and classmates in several scenes; she steals a book and unsuccessfully attempts to pickpocket a teen boy, and her grandfather berates her for stealing. A preteen girl races a bicycle through busy Brooklyn streets in a geocaching contest, rudely shouts at other contestants and runs into a man (he falls off-screen); she rides through a narrow laundromat and knocks frightened people and laundry out of her way, shouting "Sorry, it's a competition." A tween boy offers to shake a preteen girl's hand and she slaps his hand out of the way hard; the boy winces. A tween boy offers to shake the hand of a teen boy who then makes fun of him for being a redhead. A teen boy scares a preteen girl by telling her that in a film, Nazi's faces melted off.
► A grandfather falls at the foot of a rocky hill and his young granddaughter calls her mom and shouts hysterically; the scene cuts to the man lying in a hospital bed with an IV bandaged to his hand, and we hear he has a broken rib. A teen boy suffers a venomous spider bite and a large yellow blister appears on his hand; he recovers, we see a large bandage on the hand and he yells, "Ow" as he bumps it on a shelf. We hear that a large old cat is diabetic and usually rides on a wagon instead of walking. A preteen boy buries a dead bird in a small animal graveyard.
► Several flashbacks of a pirate legend show either a few pirates arguing or groups of pirates shouting and brandishing curved knives, swords, and axes (no one is shown injured); the pirates have the voices of preteens who are reciting the legend, adding current slang. In one flashback, two groups of pirates throw gold coins and crowns at each other for weapons, but no one is harmed. An elderly man flips out a switchblade to cut fruit and startles a teen boy and a preteen girl. A teen girl trips and drops a tray of brownies, but catches them on the same tray and is not injured. In a few scenes, one or more bats screech past startled people and out of a cave. Four young people swim underwater and a teen boy yelps at a fish coming toward him; a preteen girl cannot swim but learns to do so quickly.
► We hear that a widow of a U.S. veteran is raising two children alone. A woman argues with her children, once saying she will kill them, and argues with her father in separate scenes. A woman and her father talk and cry. In several scenes, a teen boy and a preteen girl scream at each other and the boy says he will kill the girl a few times; they both say, "I hate you." A preteen girl says that she gave a teen boy pink eye by rubbing her bottom on his pillow; the boy pushes the girl into a chair and she reaches up and pinches his nipples through his shirt, causing him to shout in pain.
► A preteen girl with a boy, steals a pickup truck, drives over a small garden statue, and drives on a highway, swerving lane to lane; cars honk as she screeches to a halt and the boy gets out and loudly vomits on the ground (we see brown goo). A teen boy retches and bends over and out of the frame in a couple of scenes (we do not see goo); two teens and two tweens all retch and cover their mouth in a cave in two scenes (no one vomits). A tween girl sneezes some white mucus onto her arm, wipes it and blows her nose loudly into a boy's shirt, which he had taken off.
Finding 'Ohana LANGUAGE 4
– About 11 scatological terms, 15 anatomical terms, 7 mild obscenities, name-calling (Bobby the Turd, Gingerbread, Slick Shoes, Barfy, John Wick, Keanu, sad Canadian, stupid, crazy, dumb, "hoale" tourists, tool, mongoose, crust gelt, old people, old timey people, weird, weirdo, fake, mainlander, bugger), exclamations (shut your mainlander mouth, shut-up, shhh, jeez, cheese on rice, dang it, heck, oh snap, whooo, wow, whoohoo, hey, ew), 9 religious exclamations (e.g. Oh My God, Oh God, Holy Cow, a Hawaiian prayer, a Hawaiian ritual of leaving a cookie wrapped in a large leaf at the mouth of a cave and asking invisible spirits permission to enter). | profanity glossary |
Finding 'Ohana SUBSTANCE USE
– We hear that a grandfather needs medication after a heart attack (we do not see the drug), and a woman uses smoking-cessation patches in a few scenes.
Finding 'Ohana DISCUSSION TOPICS
– 'Ohana (family and friends), aloha (peace and love), native traditions and identity, racial differences, family heritage, illness, death, grief, ghosts, supernatural curses, legends, rural life, traditional gender roles, misogyny/bullying in teen and tween boys, "real men," accepting help, accepting others, forgiveness/reconciliation, adventure, puzzle-solving, competition, peril, fear, courage, selflessness, respect, determination, overcoming obstacles.
Finding 'Ohana MESSAGE
– Meeting challenges can prompt young people to develop their own strong identities and to appreciate family histories.

Be aware that while we do our best to avoid spoilers it is impossible to disguise all details and some may reveal crucial plot elements.
We've gone through several editorial changes since we started covering films in 1992 and older reviews are not as complete & accurate as recent ones; we plan to revisit and correct older reviews as resources and time permits.
Our ratings and reviews are based on the theatrically-released versions of films; on video there are often Unrated, Special, Director's Cut or Extended versions, (usually accurately labelled but sometimes mislabeled) released that contain additional content, which we did not review.
---
We are a totally independent website with no connections to political, religious or other groups & we neither solicit nor choose advertisers. You can help us keep our independence with a donation.
Become a member of our premium site for just $1/month & access advance reviews, without any ads, not a single one, ever. And you will be helping support our website & our efforts.
We welcome suggestions & criticisms -- and we accept compliments too. While we read all emails & try to reply we don't always manage to do so; be assured that we will not share your e-mail address.
We are a totally independent website with no connections to political, religious or other groups & we neither solicit nor choose advertisers. You can help us keep our independence with a donation.
Become a member of our premium site for just $2/month & access advance reviews, without any ads, not a single one, ever. And you will be helping support our website & our efforts.
We welcome suggestions & criticisms -- and we will accept compliments too. While we read all emails & try to reply we do not always manage to do so; be assured that we will not share your e-mail address.