Cosmic Sin
| 2021 | R | – 2.7.8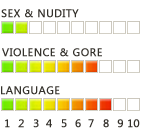 Why is "Cosmic Sin" rated R?
The MPAA rating has been assigned for "language including some sexual references, and violence." The Kids-In-Mind.com evaluation includes a couple of kisses and some sexual references, many encounters between humans and aliens with many deaths caused by laser fire and explosions and some human and some alien blood is shown, humans are seen after having been possessed by aliens, and nearly 40 F-words and other strong language. Read our parents' guide below for details on
sexual content
,
violence
&
strong language
.
---
In the 26th century, a military general (Frank Grillo) calls a dishonorably discharged war hero (Bruce Willis) back into action to battle aliens, whose first contact proved that they had malicious intentions toward humanity. Also with Brandon Thomas Lee, Corey Large, Perry Reeves, C.J. Perry, Lochlyn Munro, Adelaide Kane and Costas Mandylor. Directed by Edward Drake. [Running Time: 1:28]
Cosmic Sin SEX/NUDITY 2
– A man and a woman kiss twice in one scene and the man says that he has always wanted to have sex in his jumpsuit; the interaction ends there. Two flashbacks show a man and a woman embracing. A woman kisses a man on the cheek.
► A man says his crew will be "sucked off" by a black hole. A man asks a woman if she can handle a long rifle over six feet in length and she replies, "I've handled bigger." A man tells another man that he heard that a man and a woman "bumped uglies." A video recording states that aliens use their acidic blood to procreate, but we do not hear or see any further explanation.
► A woman wears a low-cut top that reveals some cleavage.
Cosmic Sin VIOLENCE/GORE 7
– Many scenes occur in darkened buildings and on extraterrestrial planets at night; we hear chattering, electronic noises and shrieking in several scenes, and we finally see aliens with featureless metal masks covering their faces and hoods covering their heads.
► A group of people that are overtaken are sprayed with cleansing chemicals in a decontamination chamber, causing boils to appear on their faces and they stagger, snarl, and spit out black blood; sirens sound and lights flash and we see a woman in close-up spitting black blood into the face of a man, who screams and falls to the floor (we later hear that the man's face was melted off); soldiers fire automatic rifles and handguns through a shattering glass window in the decontamination chamber and alien-humans escape. A man is struck in the head by gunfire and red blood spurts from the side of his head as he falls down a long flight of stairs; a nearby man is shot between the eyes (we see a black dot), and he falls below the frame (we later see him in a body bag). A man kills an alien with his handgun and walks away with blood running down the side of his forehead and face and he returns to see the alien moving until the man beats the alien with punches, kicks, and knee thrusts, stabs him in the shoulder and throat where we see a little black blood; he then beats the fallen alien in the head a dozen times with one fist, killing it. In a flashback in a long shot, a man approaches a figure dressed in white robes, shoots it in the head, and we see a large amount of blood shoot out of the back of its head. During a confrontation with aliens, a woman soldier holds a rag over a blackened spot on her cheek where alien blood burned her; when her superior officer tells her to get her gun and continue to fight, she crawls across the floor, grabs a handgun, and shoots and kills herself (she falls away from the camera and we do not see the wound or blood).
► In two prolonged scenes, men and women engage aliens in gunfights with hundreds of shots fired from automatic weapons, killing a few men and women, both military and civilians; many aliens fall dead (we see a few spots of red blood on a few human faces and throats, and aliens fall without blood seen), we hear loud shots as we see flashes of flame from gun barrels and electrical flashes from other guns and in both scenes a woman fires a rifle that is over six feet long, creating flashes that kill several aliens and leave a few small fires on a floor, while a man fires a flamethrower that disintegrates three aliens and leaves a moderate-sized fire burning as aliens and men fistfight briefly; an alien slams a man against a wall in both scenes and in the second scene a woman shoots a spaceship out of the sky, leaving a vanishing fireball (after the fights, she has a large bruise on her cheek, extending down to her chin). A man is taunted by a younger man in a bar and the first man punches the other man and slams the head of a third man into the bar; a brawl ensues with loud shattering glassware, men slamming each other into walls and to the floor, and general fist-fighting that leaves blood on a few faces; sirens sound loudly off-screen and most of the men run outside to take cover from possible alien attack, which does not occur.
► Five men and two women put on heavily armored spacesuits and stand on a transporter platform as mists rise and a flash of light sends them into space as a giant wheel fitted with energy guns rotates behind them; they fly through a debris field made of destroyed ships, and two men are struck by debris and spin away, a woman and two men land on a planet as streaks of energy shoot out of the back of their suits and aliens shoot at them (one man is struck in the shoulder and throat, gasping and wheezing and we see some blood); other human men and women appear and shoot and kill aliens without any blood seen. A man and a woman walk through woods and find several hooded alien bodies lying dead; the woman shoots one of the bodies below the frame multiple times to make sure it is dead (we see the body, but no blood); another man wearing an armored spacesuit lands with a thud nearby, and his helmet computer tells him he has a concussion, but he does not seem affected as a few ships in the background shoot flashes at each other and a couple of ships break up.
► Chattering, electronic noises, and shrieking occur off-screen on a mining planet as a man exits a tent; he shoots multiple shots from a rifle and walks off-screen where we hear additional gunfire, and the scene ends (we later hear that the man disappeared). Hundreds of alien ships gather on one side of a star gate as a man, and a woman who was possessed by an alien, stand on top of a ship hovering on the other side of the star gate; the woman pushes the man and a holographic sphere expands to push them away from each other into space. A man floating in a spacesuit calls a technician at a space cannon facility to give her his coordinates in order to blow up his suit for extra power when she launches a bomb; the man's adult son helps the woman pull the trigger and a cylinder containing laser beams launches on a rocket that ignites the man's suit when it reaches him and the star gate's outside rim falls to pieces as the man is sucked into the gateway; a giant flash follows and the gate becomes a ball of flames and the star gate and the fire disappear after a few seconds.
► A dying man with blood on his face and lips gasps and grunts on a cot while he and his crew are hiding from alien attackers until another man injects him with a canister of poison to kill him more quickly; the patient dies with his eyes open and a third man removes his dog tags and cross and closes his eyes. A man lies in an open body bag while another man removes the body's dog tags and cross, prays over the body, and a third man zips the bag shut. A woman possessed by an alien has a gray face with black lines across her forehead and corners of her mouth and she speaks in an echoing voice saying, "Scorpions dancing in my brain," describing how the aliens take over human bodies. In a flashback, a woman screams when an alien rubs acidic alien blood onto her face.
► A man and a woman argue briefly several times. A younger man argues with an older man briefly. A man intrudes on several conversations to make sarcastic remarks and is told to leave. We hear that a human colony on Mars failed after a few hundred years and a general ordered the dropping of a Q-bomb to kill 70 million people. We hear that war has been in progress for 13.8 billion years. In a radio broadcast about an alien encounter, we hear that aliens who survived their failed attack on humans surrendered unconditionally. In a few scenes, we see and hear that the aliens have taken over the bodies of several men and women, who speak with echoing electronic voices.
Cosmic Sin LANGUAGE 8
– About 38 F-words and derivatives, 3 sexual references, 12 scatological terms, 3 anatomical terms, 27 mild obscenities, name-calling (crazy, idiot, butcher, monster, warmonger, rent-a-cop, murderous, Secret Squirrel, General Blood), exclamations (shut-up, shut mouth…, open ears, oh my gosh, wow, what the …), 2 religious profanities (GD), 9 religious exclamations (e.g. Thank God, God, God Knows, Jesus Christ, Holy [scatological term deleted], May the god of war always be on our side). | profanity glossary |
Cosmic Sin SUBSTANCE USE
– A robot bartender shakes a cocktail shaker and pours a shot glass of whiskey in a bar, two men accept shots of whiskey from a server but do not drink, another man chugs a shot of whiskey, a man hands another man a glass of reddish liquor (no one drinks it), a woman drinks from a beer bottle, and a man drinks from a glass of whiskey. A soldier on duty lights and smokes a cigarette until his superior officer tells him to put it out.
Cosmic Sin DISCUSSION TOPICS
– Human colonization of space, first contact, alien attacks, war, war heroes, killing, death, weapons of mass destruction, quantum bombs, star gates, black holes, relationships, suffering, loss, regret, fear, courage, sacrifice, aging, loneliness.
Cosmic Sin MESSAGE
– It is a sin to wipe out an entire civilization, but humanity will strike first in the case of an extraterrestrial threat.

Be aware that while we do our best to avoid spoilers it is impossible to disguise all details and some may reveal crucial plot elements.
We've gone through several editorial changes since we started covering films in 1992 and older reviews are not as complete & accurate as recent ones; we plan to revisit and correct older reviews as resources and time permits.
Our ratings and reviews are based on the theatrically-released versions of films; on video there are often Unrated, Special, Director's Cut or Extended versions, (usually accurately labelled but sometimes mislabeled) released that contain additional content, which we did not review.
---
We are a totally independent website with no connections to political, religious or other groups & we neither solicit nor choose advertisers. You can help us keep our independence with a donation.
Become a member of our premium site for just $1/month & access advance reviews, without any ads, not a single one, ever. And you will be helping support our website & our efforts.
We welcome suggestions & criticisms -- and we accept compliments too. While we read all emails & try to reply we don't always manage to do so; be assured that we will not share your e-mail address.
We are a totally independent website with no connections to political, religious or other groups & we neither solicit nor choose advertisers. You can help us keep our independence with a donation.
Become a member of our premium site for just $2/month & access advance reviews, without any ads, not a single one, ever. And you will be helping support our website & our efforts.
We welcome suggestions & criticisms -- and we will accept compliments too. While we read all emails & try to reply we do not always manage to do so; be assured that we will not share your e-mail address.