Cocaine Bear
| 2023 | R | – 1.8.10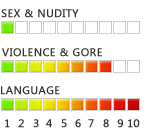 Why is "Cocaine Bear" rated R?
The MPAA rating has been assigned for "bloody violence and gore, drug content and language throughout." The Kids-In-Mind.com evaluation includes a couple of kisses, some flirting, a death by gunshot, a few gunshot wounds, many bear attacks leading to severed limbs and very bloody remains accompanied by screaming and moaning by the victims, several scenes of bears ingesting cocaine, a scene of two young children trying cocaine, and over 60 F-words and other strong language. Read our parents' guide below for details on
sexual content
,
violence
&
strong language
.
---
Based on a true story and set in 1985 in a national park in Georgia: a large shipment of cocaine is dumped from the plane carrying it, and when a bear discovers the drug and ingests some, it runs rampant and causes murderous mayhem. With Keri Russell, Alden Ehrenreich, O'Shea Jackson Jr., Ray Liotta, Isiah Whitlock Jr., Brooklynn Prince, Christian Convery, Margo Martindale, Jesse Tyler Ferguson, Kristofer Hivju, Hannah Hoekstra, Ayoola Smart, Aaron Holliday, J.B. Moore and Leo Hanna. Directed by Elizabeth Banks. [Running Time: 1:35]
Cocaine Bear SEX/NUDITY 1
– A man and a woman kiss a few times.
► A man tells a woman that the first thing he thought when he saw her was, "I want to make a baby with her." A man and a woman discuss wedding plans. A man makes a remark that a woman seems to understand as suggestive. A woman seems to want to be alone with a man and tries to orchestrate a private walk to the top of a mountain at sunset (her plans are scuttled).
Cocaine Bear VIOLENCE/GORE 8
– A man and a woman are grabbed by a bear and dragged into brush, the woman has blood on her face and her pants are torn to reveal a claw mark on her buttock, and she shoots at the bear and nearly hits the man and another woman; the man climbs a tree and the bear clambers up after him, grabs him by the leg and chews on him as the man screams and blood pours from his wounds, and the man is thrown to the ground dead along with his bloody severed leg (we see him bend unnaturally when he hits the ground) and the bear jumps down after him. A bear jumps onto a ledge where a man with a gun stands, the bear roars at the man, the man shoots the bear and it falls to a ledge below (it lies motionless); two cubs cry for he injured bear, cocaine floats through the air and the bear revives, climbs back up to the ledge, spits out a bullet and attacks the man now clinging to an overhead branch, slashing the man across the abdomen (we see his intestines pour out of the wound), and pulls him down onto the ledge (the two cubs pull on his intestines and chew on them as he dies).
► A man and a woman see a bear in the woods and the man says it's demented when he sees it pounding its head on a tree; the bear chases them through the woods, the man trips and the bear tackles the woman and she screams and then goes silent as the bear kills her behind some brush and one of her severed legs is flung out toward the man (we see blood, tissue and bone) as the bear's bloody face and mouth is shown. A teen boy opens a door and a bear is seen sitting outside, a woman with a gun shoots at the bear but hits a teenage boy in the head (we see blood and matter on the wall and the faces of the woman the another teen) and he collapses to the floor where blood pools; the woman thinks she hears the bear on the roof and aims at the fireplace as the remaining teen boy leans against the door but the bear reaches through and grabs his face as he screams and the scene ends.
► An ambulance arrives after a call and the medics push a door and they see a body on the floor and a lot of blood; a medic finds a woman with bloody wounds inside and another medic finds the dismembered body of a teen in a closet with a bear (we see the body parts, the room covered with blood and the bear has a lot of blood on its mouth and face); the bear slams the door of the closet off the hinges pinning a man under it, the man hits the bear with a bag containing drugs and the bear is distracted long enough for the man to run away and jump into the back of the ambulance that is now speeding away with a woman trapped on a stretcher; the bear leaps toward the ambulance and the woman on the stretcher tries to shoot it, the bear pulls the stretcher out and we see it crash to the road with the woman face down and dragging on the road (blood smears), the man is thrown through the ambulance and we see his hand dangling from an open wrist wound as the driver screams and slams into a tree (she is launched through the windshield and lies dead on the ground).
► Three teenagers with a knife threaten a man in a restroom: the man fights with them knocking each of them out with a skateboard and throwing them against walls, a sink and a urinal; after the fight we see that he has been stabbed in the back (blood is seen on his shoulder and shirt). A woman with a gun threatens two teen boys when she realizes that they have robbed a cash box. A man draws a gun on a teen boy and another man tells the man to drop the weapon; he does, but then tries to pick it up again and the second man shoots two of his fingers off (we see bloody stumps and the severed digits are picked up later). Two men hold guns on each other and one man is shot in the abdomen (we see the bloody wound and he falls back and dies). A man is shot in the shoulder (we see the bloody wound).
► A bear runs behind a young boy and a young girl, they stand still as it faces them, it sneezes powder on them (we see some spray) and we see the bear's nose covered with white powder. A young boy hiding high in a tree says, "A monster took her" when a woman asks where her daughter is. A bear sniffs around where a man stands on a roof, another man stands behind a gazebo and two others are lying on the ground; the bear walks toward the two men, sniffs one man and collapses unconscious on top of him; he squirms to try to get out but is trapped until the bear sniffs some cocaine nearby and revives to get it, it eats a whole brick of cocaine, falls on its back, squirms around, stands up and hugs a man, puts him back on the ground and roars at him until another man sprinkles cocaine in the air and the bear is distracted by it. A young boy hiding high in a tree climbs higher when a bear chases him, the boy kicks the bear in the face as it tries to grab the boy, and the bear is distracted and runs back down the tree. A woman trips on a dead body and we see the bloody remains of a man with part of his face missing.
► A man on a plane throws duffle bags of drugs out of the open door, then straps on a parachute and jumps out, knocking himself out as he tries to get through the hatch (we hear that he was found dead later when his chute didn't open). Police detectives are shown where a dead man is found and a number of weapons and drugs are seen on the ground near the body. A woman finds her young daughter hiding in a cave where two bear cubs are seen covered with cocaine and rummaging in a duffle bag filled with more of the drug.
► Three people walk on a ledge under a waterfall; a man with a gun walks along the ledge and threatens the others to retrieve a duffle bag stuck on a branch above them, two bear cubs attack the man with the gun and he kicks them and hits one in the head with the gun (it squeals), and the first three people jump off the ledge and into water below (they are all unharmed). Two men fall into water from a ledge under a waterfall (we see them OK later).
► A young girl hides in a cave and wraps a shirt around a wound on her leg (we see a bloody slash later). A man pounds on a table in a restaurant and demands that another man find a missing drug shipment. A woman tells a man that she doesn't like his brother's band and doesn't want them playing at their wedding; the man is dismayed and walks away. We hear that a man's wife died from cancer and the man cries and grieves in a few scenes. Two children skip school and walk through a forest toward a waterfall; when the mother of one of the children is called from the school, she searches for them. A woman talks about teenagers stealing from people in a park and slashing them with a knife. A man says that he is going to kill a dog (he does not). A man argues with his son and says, "You are no son of mine." A young boy yells at a man and tells him he is a "bad dad."
► A young girl cuts open a brick of cocaine and scoops some onto the knife blade, she puts it in her mouth and spits it out coughing (we see saliva and goo); a young boy does the same thing (we see saliva and goo).
► A man cries and shows a fresh tattoo with his deceased wife's name misspelled. We hear a dog chewing on something off-screen and we understand that it is chewing on a man's severed fingers. A man steps in gum and we hear a squish. A woman says of her ex-husband on the phone, "He is always in the bathroom. What is wrong with him?" A teen boy talks about his father dying.
Cocaine Bear LANGUAGE 10
– About 64 F-words and its derivatives, 1 obscene hand gesture, 32 scatological terms, 2 anatomical terms, 13 mild obscenities, name-calling (terrible, shifty, demented, out of his mind, bossier, cokeheads, bad dad, pervert, devil bear, beast, liar, drug dealer, foul mouth, distracting, damsel in distress, burden, delinquents, punks, dumb, inappropriate), exclamations (sick and tired, relax, shut the [F-word deleted] up, driving me nuts, shut-up), 4 religious profanities (GD), 15 religious exclamations (e.g. Jesus, I swear to God, thank God, oh God, God almighty, Holy [scatological term deleted], Christ). | profanity glossary |
Cocaine Bear SUBSTANCE USE
– A man throws many bags of drugs off a plane mid-flight and samples some drugs in the process, many scenes show a bear eating whole bricks of cocaine (please see the Violence/Gore category for more details), and two young children each try a mouthful of cocaine and spit it out. A man drinks a shot of liquor in a bar and the bartender tells him that he cannot have any more, a woman drinks a glass of wine, and two men in a bar drink bottles of beer. A woman smokes a cigarette in a visitors' center.
Cocaine Bear DISCUSSION TOPICS
– Drug trafficking, bears, bear attacks, Colombian drug cartels, seeking attention, stress.
Cocaine Bear MESSAGE
– Drugs can have extreme effects on wildlife.

Be aware that while we do our best to avoid spoilers it is impossible to disguise all details and some may reveal crucial plot elements.
We've gone through several editorial changes since we started covering films in 1992 and older reviews are not as complete & accurate as recent ones; we plan to revisit and correct older reviews as resources and time permits.
Our ratings and reviews are based on the theatrically-released versions of films; on video there are often Unrated, Special, Director's Cut or Extended versions, (usually accurately labelled but sometimes mislabeled) released that contain additional content, which we did not review.
---
We are a totally independent website with no connections to political, religious or other groups & we neither solicit nor choose advertisers. You can help us keep our independence with a donation.
Become a member of our premium site for just $1/month & access advance reviews, without any ads, not a single one, ever. And you will be helping support our website & our efforts.
We welcome suggestions & criticisms -- and we accept compliments too. While we read all emails & try to reply we don't always manage to do so; be assured that we will not share your e-mail address.
We are a totally independent website with no connections to political, religious or other groups & we neither solicit nor choose advertisers. You can help us keep our independence with a donation.
Become a member of our premium site for just $2/month & access advance reviews, without any ads, not a single one, ever. And you will be helping support our website & our efforts.
We welcome suggestions & criticisms -- and we will accept compliments too. While we read all emails & try to reply we do not always manage to do so; be assured that we will not share your e-mail address.