YOUR HELP NEEDED
Although our site is very popular, the current economic climate has reduced our revenues just when we need extra security to prevent attacks from hackers who don't like what we do. If you think what we do is worthwhile, please donate or become a member.
---
---
---
HUH? WHAT IS THIS?
» We enable adults to determine whether a movie is appropriate for them or their children, according to their own criteria. Unlike the MPAA we do not assign an inscrutable rating based on age but 3 objective ratings for SEX/NUDITY, VIOLENCE/GORE & PROFANITY, on a scale of 0 to 10, and we explain in detail why a film rates high or low in a specific category; we also include instances of SUBSTANCE USE, a thorough list of DISCUSSION TOPICS that may elicit questions from children, and the MESSAGE the film conveys. Since our system is based on objective standards, not the viewer's age or the artistic merits of a film, we enable adults to determine whether a movie is appropriate for their own children...
[more »]
---
---
| | | |
| --- | --- | --- |
| | | We're a totally independent website, with no connection to any company or political group or individual. We want to keep it that way, and you can help with a donation. |
---
NEW REVIEWS -
---
Lean on Pete - 3.5.10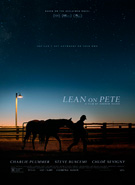 A teen boy (Charlie Plummer) that lives with his father (Travis Fimmel), finds a job caring for quarter horses at a nearby track. When the horse he befriends loses one too many races, he undertakes a mission to save it. Also with Steve Zahn, Chloë Sevigny, Steve Buscemi, Amy Seimetz and Alison Elliott. Directed by Andrew Haigh. [2:01 - R]
---
Super Troopers 2 - 8.7.10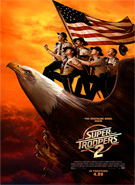 In this sequel a group of quirky former police officers face a dilemma when the mayor and residents of a French-Canadian town on the US border object to being annexed by the US. The reenlisted Vermont State Troopers (Jay Chandrasekhar, Kevin Heffernan, Steve Lemme, Paul Soter and Erik Stolhanske) are called in to set up a new Highway Patrol station in the disputed area. Also with Sean William Scott, Rob Lowe, Brian Cox, Will Sasso, Lynda Carter and Damon Kyle Wayans Jr. Directed by Jay Chandrasekhar. A few lines of dialogue are spoken in French with English subtitles and a few lines of French gibberish have no translation; a dream sequence includes dialogue in Japanese with English subtitles. [1:40 - R]
---
I Feel Pretty - 6.4.3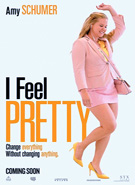 After a head injury a woman (Amy Schumer) who had been self-conscious about her appearance finds renewed confidence when she is convinced that she has changed and starts seeing herself as being beautiful. Also with Michelle Williams, Tom Hopper, Rory Scovel, Adrian Martinez, Emily Ratajkowski, Aidy Bryant, Busy Philipps, Lauren Hutton, Sasheer Zamata, Angela Davis and Caroline Day. Directed by Abby Kohn & Marc Silverstein. [1:50 - PG-13]
---
the listings continue below...
---
NOW PLAYING IN THEATERS -
---
Truth or Dare - 6.6.5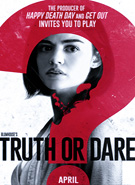 Several young men and young women take their "final" Spring break trip together to Mexico and inadvertently become entangled in a deadly game of Truth or Dare. With Lucy Hale, Tyler Posey, Violett Beane, Sophia Ali, Landon Liboiron, Nolan Gerard Funk, Sam Lerner, Gary Anthony Williams, Brady Smith, Hayden Szeto, Morgan Lindholm and Aurora Perrineau. Directed by Jeff Wadlow. [1:40 - PG-13]
---
Rampage - 1.6.5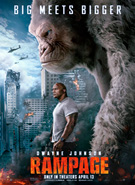 An anti-poaching primatologist (Dwayne Johnson) has few human connections but has a special bond with an intelligent silverback gorilla he rescued as a baby. When exposed to a gas from a genetic-editing experiment gone wrong, the friendly ape becomes a giant raging monster, while other giant, odd creatures emerge and rampage across cities and a geneticist (Naomie Harris) helps the primatologist look for an antidote. Also with Malin Akerman, Joe Manganiello, Jake Lacy, Marley Shelton and Jeffrey Dean Morgan. Directed by Brad Payton. Apes and a man communicate using American Sign Language while the man provides English translations. [1:47 - PG-13]
---
Beirut - 6.7.8
A former US diplomat (Jon Hamm) is called back to 1982 Beirut, Lebanon after a CIA operative and friend is kidnapped and he must negotiate his release in an environment separated and dominated by political and religious factions -- Christians, Muslims, the PLO and the Israelis. Also with Rosamund Pike, Mark Pellegrino, Dean Norris, Shea Whigham, Douglas Hodge, Jonny Coyne, Leïla Bekhti, Kate Fleetwood and Idir Chender. Directed by Brad Anderson. Several lines of dialogue are spoken in French and Arabic with and without subtitles. [1:49 - R]
---
Chappaquiddick - 1.4.5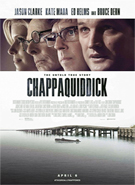 Based on the events of the summer of 1969 when the late Senator Ted Kennedy (Jason Clarke) at age 37 drove his car off a bridge and crashed into a pond, where his passenger Mary Jo Kopechne (Kate Mara) died under still ambiguous circumstances. Also with Clancy Brown, Olivia Thirlby, Ed Helms, Bruce Dern, Andria Blackman and Jim Gaffigan. Directed by John Curran. [1:41 - PG-13]
---
The Miracle Season - 2.3.3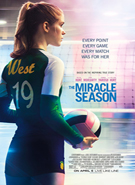 Based on the true story of the Iowa City West High School women's volleyball team and their 2011 season that started with the death of their captain and star setter. All the members of the team and the coach and the young woman's father struggle to come to terms with their grief and find a way to best channel their emotions. With Helen Hunt, Tiera Skovbye, Erin Moriarty, Danika Yarosh, Jason Gray-Stanford, William Hurt, Burkely Duffield, Rebecca Staab, Nesta Cooper, Natalie Sharp and Lillian Doucet-Roche. Directed by Sean McNamara. [1:39 - PG]
---
A Quiet Place - 2.7.0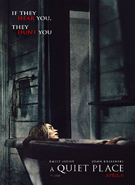 A family tries to survive in a post-apocalyptic landscape where the slightest sound can bring forth insectoid alien monsters that while blind can apparently hear everything. The parents (John Krasinski and Emily Blunt) and their children (Noah Jupe, Millicent Simmonds and Cade Woodward) must live silently, using only sign language and facial expressions. Also with Leon Russom. Directed by Krasinski. Almost all dialogue is in American Sign Language accompanied by English subtitles. [1:35 - PG-13]
---
Blockers - 8.4.10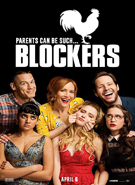 Three high school seniors (Kathryn Newton, Geraldine Viswanathan and Gideon Adlon) pledge to each other to lose their virginity on prom night. The straight-laced parents (John Cena, Leslie Mann and Ike Barinholz) find out about their plans on social media, become alarmed and join forces in an ill-planned preemptive strike against the sex pact. Also with Graham Phillips, Miles Robbins and Jimmy Bellinger. Directed by Kay Cannon. [1:42 - R]
---
Isle of Dogs - 1.5.2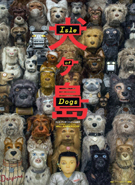 Stop-motion animation feature set in future Japan, where a corrupt mayor has banished all of his city's dogs to a bleak island. When a 12-year-old boy's dog is the first to be exiled, he undertakes a mission to rescue his loyal companion. With the voices of Bryan Cranston, Koyu Rankin, Edward Norton, Bob Balaban, Bill Murray, Jeff Goldblum, Kunichi Nomura, Akira Takayama, Greta Gerwig, Frances McDormand, Akira Ito, Scarlett Johansson, Harvey Keitel, F. Murray Abraham, Yoko Ono, Tilda Swinton, Liev Schreiber, Fisher Stevens and Courtney B. Vance. Directed by Wes Anderson. There are many lines of dialogue spoken in Japanese without subtitles and there are Japanese symbols shown, usually accompanied by an English translation. [1:41 - PG-13]
---
Tyler Perry's Acrimony - 6.6.7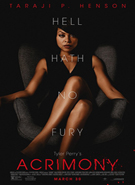 A woman (played at different ages by Taraji P. Henson and Ajiona Alexus) finds herself in an untenable situation with a man (played at different ages by Lyriq Bent and Antonio Madison) she has loved, married and supported for years. When she musters the courage to leave him after feeling betrayed, she has to decide how far she will take her plans for revenge. Also with Crystle Stewart, Jazmyn Simon, Ptosha Storey, Danielle Nicolet, Nelson Estevez, Kendrick Cross and Jay Hunter. Directed by Tyler Perry. [2:00 - R]
---
The Leisure Seeker - 5.3.5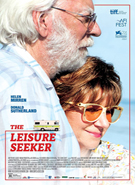 A retired couple (Helen Mirren and Donald Sutherland) undertakes an adventure in their family Winnebago that takes them from Massachusetts to Key West, Florida. Along the way they face illness and misadventure and unpleasant events from their past are revealed. Also with Christian McKay, Janel Moloney, Dana Ivey and Dick Gregory. Directed by Paolo Virzì. [1:52 - R]
---
Ready Player One - 3.5.5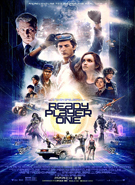 Based on Ernest Cline's best-selling novel: Set in 2045, life is bleak and people escape by participating in an online virtual universe called the Oasis, where you can be anybody you want to be. When the creator of the Oasis dies he leaves behind a series of puzzles that will grant the person that solves them sole ownership. The competition gets heated and one young man (Tye Sheridan) fights against all odds to try to win the prize and save the Oasis from unscrupulous corporate interests. Also with Olivia Cooke, Ben Mendelsohn, Lena Waithe, T.J. Miller, Simon Pegg and Mark Rylance. Directed by Steven Spielberg. One line of dialogue is spoken in Japanese with English subtitles. [2:20 - PG-13]
---
Paul, Apostle of Christ - 1.5.2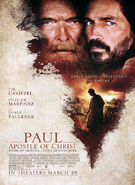 A Greek physician (Jim Caviezel) travels to Emperor Nero's dungeon where the Apostle Paul (James Faulkner) is tortured and held as a scapegoat for the burning of Rome. The physician convinces Paul to allow him to record the apostle's testimony for Christ. Also with Olivier Martinez, Joanne Whalley, John Lynch and Noah Huntley. Directed by Andrew Hyatt. One line is shouted in an unknown foreign language without translation. One character has a heavy accent as he speaks English. [1:45 - PG-13]
---
Unsane - 4.7.9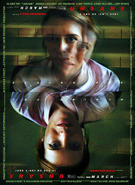 A woman (Claire Foy) inadvertently becomes committed to a mental health facility and is told that she must remain for seven days so they can monitor her behavior. Unfortunately, she finds herself facing her greatest fear while there and no one believes her when she tries to explain the situation. Also with Joshua Leonard, Sarah Stiles, Amy Irving, Jay Pharoah and Juno Temple. Directed by Steven Soderbergh. [1:37 - R]
---
Sherlock Gnomes - 2.2.1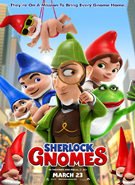 When all but two of the gnomes in a small English garden disappear, it's a case for the protector of the garden gnomes, Sherlock Gnomes (voiced by Johnny Depp), to see what's afoot. Also with the voices of James McAvoy, Emily Blunt, Mary J. Blige, Julio Bonet, Michael Caine, Jamie Demetriou, Chiwetel Ejiofor, Dexter Fletcher and Ozzy Osbourne. Directed by John Stevenson. A few lines of dialogue are tapped out by ornamental rabbit ears and accompanied by subtitles. A couple of lines are meowed by ornamental cats and accompanied by subtitles. [1:26 - PG]
---
Pacific Rim: Uprising - 2.5.4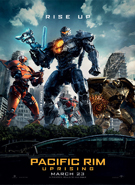 In this sequel a dead war hero's son (John Boyega) reluctantly takes up his father's duties and charged with training young men and women to fight an army of large reptilian enemies, he finds more determination and courage in them than he imagined as the new generation of warriors saves humanity. Also with Scott Eastwood, Cailee Spaeny, Rinko Kikuchi, Charlie Day, Burn Gorman, Adria Arjona and Jian Tian. Directed by Steven S. DeKnight. Many lines of dialogue are spoken in Mandarin with English subtitles and several characters speak with heavy accents from Australia, China and Japan. [1:51 - PG-13]
---
Tomb Raider - 1.6.4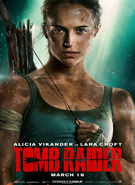 Based on the video game franchise: Adventurer Lara Croft (Alicia Vikander) is convinced that her explorer father, who disappeared seven years earlier, is still alive. She follows clues to a remote island where she encounters merciless mercenaries using slaves to find an ancient grave reputed to hide mystical powers. Also with Dominic West, Walton Goggins, Daniel Wu, Kristin Scott Thomas and Derek Jacobi. Directed by Roar Uthaug. [1:58 - PG-13]
---
7 Days in Entebbe - 1.5.5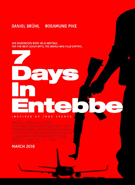 Based on the 1976 events when a plane on route to Paris from Tel Aviv was forced to land in Entebbe, Uganda by pro-Palestinian hijackers. A daring rescue by Israeli commandos was undertaken to free the hostages. With Rosamund Pike, Daniel Brühl, Eddie Marsan, Ben Schnetzer, Nonso Anozie, Denis Ménochet, Lior Ashkenazi and Angel Bonanni. Directed by José Padilha. Several lines of dialogue are spoken in French, German, Arabic and Hebrew with English subtitles. [1:46 - PG-13]
---
Love, Simon - 4.2.5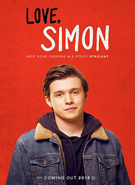 A teen boy (Nick Robinson) has a great family and friends, but he hasn't told them that he's gay. He struggles with when and how to tell them but when he is outed, he realizes that he can no longer come out on his own terms. Also with Josh Duhamel, Jennifer Garner, Katherine Langford, Alexandra Shipp, Jorge Lendeborg Jr., Keiynan Lonsdale, Miles Heizer, Talitha Eliana Bateman, Logan Miller and Tony Hale. Directed by Greg Berlanti. [1:49 - PG-13]
---
I Can Only Imagine - 1.4.1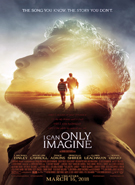 The Christian rock band MercyMe's "I Can Only Imagine" is considered the most-played contemporary Christian song, earning multi-platinum status. The movie recounts the travails of Bart Millard (Brody Rose and J. Michael Finley), writer and singer of the song, who composed it for his father (Dennis Quaid), an abuser that became a Christian to overcome his violent tendencies. Also with Cloris Leachman, Madeline Carroll, Trace Adkins and Priscilla Shirer. Directed by Andrew Erwin. [1:50 - PG]
---
Thoroughbreds - 1.5.8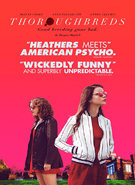 After being apart for years, two teenage girls (Olivia Cooke & Anya Taylor-Joy) re-connect in their Connecticut suburb and discover that they can help each other sort out some pressing personal issues. Also with Anton Yelchin, Kaili Vernoff and Paul Sparks. Directed by Cory Finley. [1:32 - R]
---
---

---

COPYRIGHT POLICY

» You can print a page for your own use or to share with friends; sure, you can e-mail a page to a friend; and yes, please go ahead and link to our site. However, any commercial reproduction of anything appearing within this site without our written permission is illegal and in really bad taste and we will take action to prevent...

[more »]

---

---

---

---